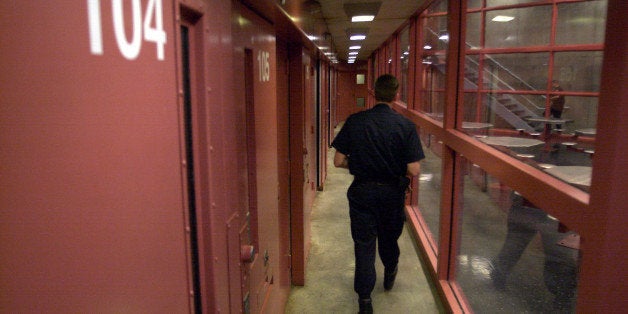 In the next 10 years we want to do two things:
1) Shine a light on how incredibly enormous, barbaric and ineffective our criminal justice system is. Most of us have some sense, but lack a true idea of the colossal depth of its hell.
2) Successfully utilize new technology and emerging trends in culture in creating a national movement to radically reform this beast.
As many already know, we are in the final months of a new documentary feature film called The Survivors Guide to Prison-- an investigative report on the world's largest "corrections" system.
What's exciting about this film besides the film itself, one we're incredibly proud of and excited to share with you, is the incredible coalition coming together to support it. Prison reform activists like Russell Simmons and Wayne Kramer have joined the ranks appearing in the film along with the incredible national organizations on the front lines like the ACLU and the Innocence Project.
What we hope is going to be a launching point for a new decade in social activism are the technologies and action-based content we're going to try and build to support this movement. And we're proud to account that we've conducted our first experiment in that regard.
On Saturday April 18th we joined forces with our partner Bryn Mooser of RYOT.org and unveiled a Virtual Reality experience of what it's like to be in solitary confinement aka "the hole" at Tribeca Interactive in NYC.
People who paid to see the latest in entertainment media got to do something I never thought I'd see in my lifetime. We put on a pair of VR goggles on people's heads and transported them into a scary-as-hell 7 x 9 foot cell with no windows, a concrete slab for a bed and no way out for 23 hours a day.
There in that virtual reality people found out that over 80,000 Americans -- some as young as 13 years old are also here in "the hole." There are no rules for this. You could just piss off a guard, fail a drug test or be in danger of getting beaten up -- you could do literally anything or nothing and find yourself in the hole.
I watched people pull off the goggles after the 3 minute "experience," most of them in a state of shock. They couldn't believe the average amount of time spent in the "hole" in the USA is 7 years. They couldn't believe that the American hikers who spent time in solitary confinement in Iran said that California prisons were worse. In Iran nobody gets put in solitary for more than a few weeks. In CA there's a man who'd been in solitary confinement for 42 years.
Having experienced this little taste, nobody was surprised that spending time in the hole leads to massive mental health issues, increases the likelihood you will commit suicide by 500 percent and most useless of all -- that you're actually more likely to commit a crime (whether or not you ever committed one in the first place) after you've been thrown in solitary.
Folks experiencing the virtual tour, listening to the sounds of people going mad around them don't need to just take Supreme Court Justice Anthony Kennedy's word for it when he recently said "Solitary confinement literally drives men mad," because the folks at Tribeca got a real feeling for it themselves. Brought to them by the good people at Oculus and Samsung.
Technology affords us a new hope. With the advent of the iPhone we're in a national state of shock regarding the incredibly destructive "shoot first" culture of many police departments. This shock could lead to major reform that could uplift and save so many lives. We hope the same will apply when we start using technologies like Virtual Reality.
Of course that doesn't replace the hard ground work. We had the ACLU there on the floor with us explaining the facts and getting people eagerly signing petitions to ban solitary confinement. We had actor/producer Maggie Grace and filmmaker Bryn Mooser helping fit VR goggles and headphones around people's heads of all ages, adjusting the fit and troubleshooting bugs. It was a sight to see.
You can get a taste of the VR experience in this new technology by watching the 360 video below. Please comment, and tell us what you think. But most important, let it inspire you to take a few clicks and sign those petitions.
I remember when Adrian and I did HBO's Teenage Paparazzo, we interviewed the great writer and professor of media studies at NYU Mark Crispin Miller and asked him about technology, and he told an amazing little anecdote. He said every time there's been a major advance in technology we expected that to usher in an era of conflict resolution and well-being which never materialized.
Miller gave as an example of the Wright Brothers thinking the invention of the airplane would lead to world peace -- once we saw each other from the fragile perspective of thousands of feet above all civilized nations would recoil in horror at further warfare and disband their armies. Eight years after the bicycle mechanics first flew across the sands at Kitty Hawk, N.C., the airplane made war exponentially more devastating.
So we have an opportunity with our new-found technologies. The smart phone, virtual reality, etc. We really can use it to escape from the dark. Or disappear deeper into it. We're planning to join forces with the best in the business to try and use the 10 years of technological advances to work for social good. And we hope to learn from your thoughts and experiences as well. As Robert DeNiro said in Terry Gilliam's brilliant 1984-esque satire, Brazil, of a society deeply in the dark... "We're all in it together."
Confinement is a short virtual reality piece by RYOT and Matthew Cooke
This post is part of a series commemorating The Huffington Post's 10 Year Anniversary through expert opinions looking forward to the next decade in their respective fields. To see all of the posts in the series, read here.
REAL LIFE. REAL NEWS. REAL VOICES.
Help us tell more of the stories that matter from voices that too often remain unheard.