Melanie runs Rare Finds Travel, a unique travel agency that offers unforgettable escapes to their clients. Unlike most travel agencies, Rare Finds offers up a wholly unique experience by doing more than planning a vacation: Melanie and her team design travel. Their business thrives based on two integral principles to any start up: listening to the market, and carefully controlling and orchestrating the quality of their service.
Rare Finds operates in what can only be called a niche market. There, they provide a truly personalized experience often-sought and rarely-found in this age of internet bookings. Melanie says, "If you can dream it, we can plan it!" Rare Finds destinations are off-the-beaten path--think cave hotels and castles, treehouses and lighthouses, barges, villas, and more. One way they ensure customer satisfaction is by sourcing the right experts and locals to ensure the best experience. Rare Finds personally vets their guides to guarantee that guests receive an unforgettably unique and high quality experience--be it dinner in the home of Italy's Cesarines or a camel ride to nomad tents in Morocco.
Steve Mariotti: How did you become a travel designer?
Melanie Tucker: It all began the summer I was seven: my Dad bought a Shasta camper and we road-tripped us around the West. We did ordinary things that alchemized into extraordinary, indelible memories.
Fate deposited me in Tiananmen Square the very day they declared martial law... I saw my first cobra in Marrakech and rode the Orient Express.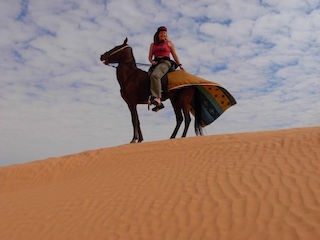 Melanie as a Bedouin Princess on a horse in the Sahara
My travel passion was ignited!
And along the way, I met a lot of other people who wanted to travel like this too. They didn't want to be in a group and they yearned for that one-of-a-kind experience. But they often didn't have time to plan and, despite all those ideas on the internet, they wanted the guidance and expertise of someone who had on-the-ground experience. So, I decided to start my own company where I could bring the magic of this specific style of travel to other people.
SM: Your tagline is "If you can dream it, we can plan it." What are some of the most unusual trips you've planned?
MT: For the Photo Club in Cinque Terre, I found a Nikon-certified photographer who was boyhood friends with the director of the National Park. For the Harry-Potter-crazed family in Edinburgh, I found the captain of the local muggle Quiddich team. When marathon-runner Joe went to Italy, I found a private running guide so he could jog at dawn through Piazza Navona!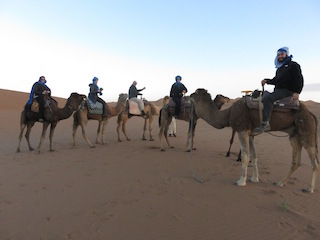 The Gordons from NJ head out to sleep under the stars of the Sahara in Morocco!
Rare Finds has found success in planning 100% unique travel.
Here are a few examples:
Test-drive a Lamborghini.
Go deep-water soloing in Thailand.
Swim with 25' manta rays.
Stay on a secluded island, 3 hours offshore in Belize.
Sleep in a monastery.
Sleeper-train to Scotland for a day of falconry.
Take an Oyster Paddle in Tamales Bay.
Do a Quechuan homestay, high in Peru's Andes.
Sneak into a Savannah speakeasy.
Camp on the Great Wall.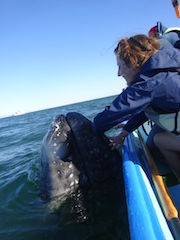 One of Rare Find's satisfied clients petting a baby gray whale in the tightly permitted San Ignacio Bay of Baja Sur
SM: How do you market my business?
MT: I blog 2-5 times a week: always in first person because readers want to know that I have been there. I shoot and publish LOTS of video: here are a couple of examples in the Cambodia (here and here) and Havana. I exhibit at big Travel Adventure shows around the country, teach, talk on the radio, and publish a bi-monthly ezine. But the best? I send old-fashioned hard-copy hand-addressed mail. Clients love that! Few people send hand-addresssed envelopes via the post office anymore, so these letters are opened 100% of the time. Not only the envelopes but also each letter is personally addressed TO each client and they are one-pagers on various topics from a new product I am launching to a recent remarkable experience I had "on the road". The goal is to inspire people, to show them the possibilities, and to keep reminding them that Rare Finds Travel is here to help.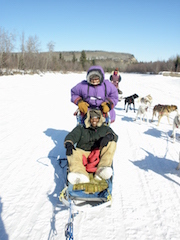 Honeymooning with the huskies!
SM: What are your long-term business goals and philanthropic goals?
MT: I have plans underway to organize trips for inner-city kids to give them a chance to experience the calm of nature and to dream of other lifestyles. I am imagining an adventure in Maine, like biking Acadia's carriage roads, running traps with a lobsterman, and learning to sail. I would also love to mentor disenfranchised young adults who want to start their own businesses.
SM: What five tips would you give people aspiring to a career like yours? MT:
Always work your passion - it's the secret sauce!
Do not be scared of a narrow niche (read The Big Leap)
Plan to work hard.
Develop your mindset - success will be 20% skills and 80% mindset.
Invest in yourself - training, experience, support.
Forgive yourself and keep going!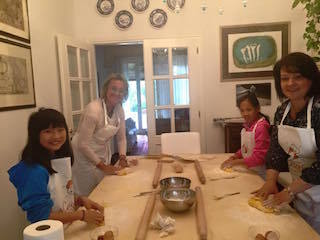 Mother and daughters learning to make farfalline by hand in the home of a Cesarine hostess in Bologna