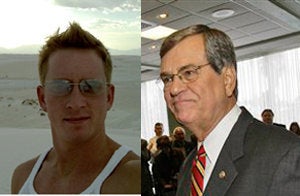 A San Antonio-based gay male escort categorically denied Monday that outgoing GOP Sen. Trent Lott had ever procured his services, putting to bed one of the more stunning rumors to emerge following Lott's announcement earlier in the day that he was leaving Congress.
The charge was first published by the Washington DC blog Big Head DC, which claimed to have emails where the escort, Benjamin Nicholas, allegedly playing coy, declined to go on the record because "Trent is going through his fair share of scrutiny right now and I don't want to add to it."
But in an email message, Nicholas himself said the item was false.
"There's nothing to be said, as Lott and I have no connection whatsoever," Nicholas wrote in an email to The Huffington Post. "How these 'quotes' have been fabricated are beyond me. The Senator is someone I have had no personal dealings with, ever."
In a subsequent posting on his own Web site, Nicholas wrote, "I have not, nor have I ever seen or had contact with Senator Trent Lott. It's as simple as that. It never happened."
Big Head DC's founder, Rob Capriccioso, is no stranger to allegations of sloppy sleuthing.
Earlier this month, Radar Magazine dropped Capriccioso as a freelancer after he reported that veteran newsman Sam Donaldson's phone number was in the records of infamous DC Madam Deborah Jean Palfrey.
What Capriccioso failed to note, Radar wrote in an online post, was that Palfrey insisted that the single telephone call to Donaldson had nothing to do with prostitution, and was simply a wrong number.
Capriccioso defended the Lott piece, telling The Huffington Post "Big Head DC stands by our quotes and item 100 per cent," but he declined to share any of the emails Nicholas allegedly sent to the blog.
The item, peppered with links to YouTube videos of Nicholas flexing for the camera, quickly made the rounds of email inboxes inside the Beltway and beyond. It was even picked up by the wildly popular celebrity gossip site PerezHilton.com.
"The boy happens to be real, and his "stage name" is Benjamin Nicholas. One of the politicos Big Head DC has learned he's alleged to have been involved with is the married Sen. Trent Lott," read the original post on Big Head DC.
Nicholas later said the quotes attributed to him in the Big Head DC item were "falsely pieced-together" to "sensationalize a completely fabricated scoop."

Popular in the Community