THOUGHTS ON ANOTHER LOST GENIUS. AND FRIEND.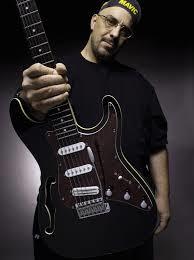 And I'm not sure I've known a more devoted Dad and Son.
Wait. As I re-read that opening paragraph, I need to put extra emphasis on the songwriting part. Describing him as "Primary songwriter for The Smithereens" while of course true, really doesn't properly do justice to the undeniable fact that Pat DiNizio was one of the truly greatest Poets in the history of Rock 'n Roll. (Right, Jann Wenner? Do the right thing, brother!).
Since I woke up Wednesday morning to what has sadly become a way too frequent occurrence in my life--a text from a dear friend passing along the jarring news of the loss of another dear friend--I've been mourning, listening, thinking...remembering. I was initially disinclined to write because not only do I not have much to add to the wonderful outpouring of tributes that continue to come out from people who knew him better and know rock better, but because our relationship was an unusual one – one that spanned nearly 30 years and had many interesting incarnations. Hard to characterize. But I feel I should pay tribute and share a little glimpse of our friendship with his fans who are mourning just as I am. And let's face it, there can be no such thing as too many tributes to Pat DiNizio...
I desperately hope he went gently and peacefully, and I choose to trust that he did.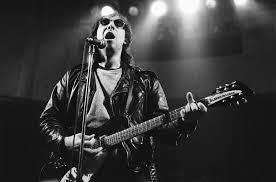 The cause of death is unclear, but it was no secret that Pat and physical health fought a long and often very difficult battle. Particularly later in life, the gregarious, thoughtful and lively front man we consistently saw on stage--with that soul-melting voice that grew only sweeter with age--was in fact, often plagued by pain and discomfort of some sort. He was a master at soldiering through that stuff though, and very few people ever knew when he was struggling.
For two people who actually spent very little face-to-face time together (we even recorded duets in separate studios), we were simpatico. We sort of bounced through adulthood crossing paths at random different phases of our lives, and not all of them music-related. For example, the first time we met, on the set of The Smithereens' video for House We Used To Live In, I found him…affected. But it was early on and the band was in utter skyrocket mode—the kind of thing that, at first, can throw even the most grounded person for a serious loop. Several years later when we reconnected and the friendship really began, any affectation was nowhere to be found. Only generosity, good humor, and love. Oh, and gratitude. He was utterly blessed and he knew it.
Pat was an eclectic one. His interests, accomplishments and projects outside of The Smithereens were vast, as you will see if you click through some of the hotlinks in my opening paragraph or do a simple Google search. I guess that's the key thing that really drew us to each other. I'm into all kinds of different stuff too, and always have been. People like Pat and me can be confusing to deal with for that reason. Darting around, hands in all kinds of pots, what have you. And those pots can consume us completely. It's passion-fueled.
We hadn't talked in several months but we never really were about that. When one of us had a project or an issue to discuss, we connected. When The Smithereens and I happened to be in the same place at the same time, we hung out. Though I saw them at soundchecks and exchanged the occasional pleasantries with his fellow 'reens Dennis Diken (D), Jimmy Babjak (G) and Mike Mesaros (B) (and later of course THE THRILLA who replaced Mesaros when he left), I never got to know them very well. The four of them were absolute brothers and when it was Smithereens Time, they were all business. There was really no room for idle shit-shooting. I cannot imagine the pain these guys are feeling right know. My condolences, fellas.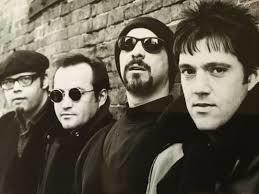 We spoke a lot about kids. He had a daughter whom he adored who was the same age as my eldest daughter. We were both divorced Dads. Our children were always on our minds and we bonded over that as well. He was very private when it came to his family, so I'll leave it there and wish her, if she ever happens to see this, my love and condolences.
When a friend wanted to host one of Pat's legendary "Living Room" shows, where for a surprisingly small fee he would show up at your house with a guitar on his back and regale you and your friends all night long, often winding up crashing on your couch, I facilitated it. Hosted a few of my own, in fact, but I always joked that I didn't want his snoring ass on my couch.
I'm not sure I am aware of a more fan-friendly rock star than Pat was. He was obsessed with breaking down walls between artists and fans, and he went to great and innovative lengths to do so.
There is so much I could say, but I'm running out of space. And a lot of those things are obvious or better left to others, anyhow. So I'll just sign off with a note and a clip of one of my favorite songs….
The fuck? Thanks for the heads-up, dude! I fully trust you all are in a lovely place and having a gay old time, because down here it sucks. And the global suck-age is in turbo mode. Your loss leaves a gaping, unfillable hole.
Thank you for your kindness, your generosity, and for leaving the world with so much to treasure in perpetuity through your unparalleled artisty, which will only grow finer and more beloved as time marches on.
I love you. We all do. Rest well, my dear friend. –CJ
PS: I'll stay on Wenner. It'll happen…
I can't really single out one favorite Smithereens tunes to share, but here's my favorite one today. "Especially for You." He suggested I cover this song — an extraordinary example of how deep he ran. Listen and love...
Calling all HuffPost superfans!
Sign up for membership to become a founding member and help shape HuffPost's next chapter
This post was published on the now-closed HuffPost Contributor platform. Contributors control their own work and posted freely to our site. If you need to flag this entry as abusive,
send us an email
.