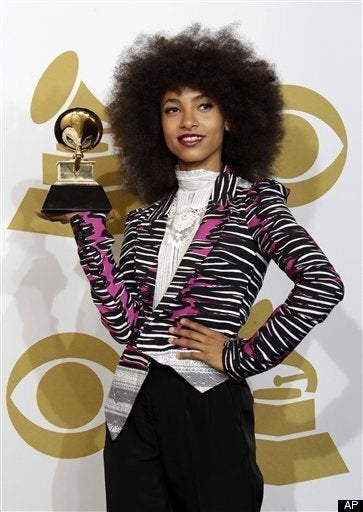 Esperanza Spalding may have won the Grammy for Best New Artist, but some have reveled in her talent for years.
A 26-year old, classically trained jazz/chamber music fusion musician and singer, Spalding has been making headlines in the jazz world since before her 2006 debut solo album, "Junjo." Having attended the Berklee Academy of Music, where she immediately became a professor after graduating at 20 years old, she began to travel with well known jazz musicians -- and then, the President.
"Chamber Music Society" is actually her eighth overall album, including her teenage band and collaborations with famous jazz musicians. But she's still excited to be considered Best New Artist.
"I feel really lucky that I got to be acknowledged on this stage in front of so many people who hopefully will get to experience my music, and I got there by doing what's really dear to my heart," she told the AP after her win.
To earn the Grammy, she beat out an impressive field, including teen idol Justin Bieber, rapper Drake and band Florence + The Machine. Beliebers, as Bieber's are known, hacked into her Wikipedia page after the upset win, making changes such as saying she won, "even though no one has heard of her."
Clearly, that's not the case.
WATCH
:
NEW YORK -- From the time Esperanza Spalding appeared on the scene in 2005, the dynamic singer, bassist, composer and arranger has been heralded as jazz's next big thing. Her impressive musicianship has won her White House recital dates, praise from the likes of Stevie Wonder and Herbie Hancock, and critical acclaim.
But last year, as she prepared to perform in front of a huge mainstream audience at a tribute to musical mentor Prince at the BET Awards, she started to think about how the moment could catapult her into pop stardom.
"I was really on this mission, kind of in my mind, to figure out how I was going to take my music and make it accessible to the pop world. `How am I going to turn this into like an Alicia Keys thing?'" she recalled thinking.
But when she got to rehearsals with her famous counterparts - including her idol Keys - she decided fame had somehow warped the purity of their artistry, and she didn't want that happening to her.
"Every person looked like a California raisin - this incredibly delicious, tasty, captivating artist, who has a magnificent magnetism and a unique flavor about what they do and who they are, but all of that has just been sucked out in every direction. ... The industry has surrounded them with all of these superficial pyrotechnics and I think it's really sucked the life out of their creative spirit, and I find that really sad," she said in an interview a few weeks after the ceremony.
"I decided that I was just happy to be a visitor from the liberated realm of jazz, and I decided then, whatever happens, I always want to be surveyor of the territory," said Spalding, who grew up studying classical music in Portland, Ore., before switching to jazz in her teens. "I want to be the one deciding what my art means, how it's presented, even if that means not becoming a pop superstar."
It turns out that being a surveyor has brought her closer to her discarded goal.
Spalding, who released her third album, "Chamber Music Society," last summer, is a surprise contender for best new artist at Sunday's Grammy Awards in Los Angeles. She's competing against a field that includes Mumford & Sons, Florence & The Machine, Drake and perhaps the most pop of pop sensations, Justin Bieber. She's also set to perform on the show and host the Recording Academy's pre-telecast ceremony with Bobby McFerrin.
"It's exciting, I think it's inspiring for me. I guess I didn't realize that on a broader scale people were aware of my music," the 26-year-old said last month.
While popular audiences may just be getting to know Spalding, she's a star in the world of jazz. Her previous albums have been strong sellers and established her as the genre's bright future, and for good reason: She's a multifaceted performer. When she's not wowing audiences with a heavenly sounding soprano and scatting like the vets of old, she's impressing them with her bass playing (she also plays other instruments). So impressive were her musical gifts that after finishing the renowned Berklee College of Music in Boston at an accelerated pace, she became an instructor there when she was 20, making her the college's youngest faculty member.
Spalding expected less mainstream attention for "Chamber Music Society," which blends her classical roots with her jazz world.
"It was really focused on composition and the intimacy of classical music and jazz-improvised music, and to me, that seems like it would be received by a smaller audience, yet there it is with a nomination on such a broad field," she said.
Spalding is perceived as a long shot to win best new artist, but Gil Goldstein, who co-produced "Chamber Music Society," is hopeful voters will recognize her unique gifts.
"I've been kind of joking, saying it would be nice that if once in a while, the best new artist would be someone who reads and writes (music)," he said, laughing.
"It would be like a real breakthrough victory if she would win, sort of like when Herbie won album of the year," he said, referring to Hancock's surprise win in 2008 for the album "River: The Joni Letters."
If the upset does happen, don't expect Spalding to alter her musical path. After her brief flirtation with wanting bigger stardom, she's more determined than ever that the most important thing she can do is make good music.
"The music that I make is pretty sincere; it's from my heart and I love it, and what just happened is more people have started to connect with my heart, and I haven't followed some kind of marketing scheme," she said.
And she hasn't let her Grammy nomination change her life, either.
"I'm going to buy a dress that I wouldn't have normally bought to go to the awards ceremony," she said, "(but) I still take the subway ... things are pretty much as they were before."
Popular in the Community