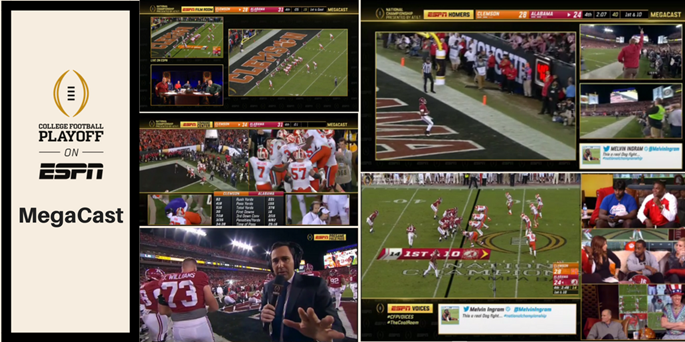 A quick note before we go any further — Be sure to download your WATCH ESPN APP or the new ESPN APP from either the iTunes or Google Play store so you will be ready come Monday night. If are a cable or satellite subscriber you will need to use your login information. If you are not a pay TV subscriber and are a streamer checkout these outlets for a free trial of ESPN for Monday night and beyond.
Monday night in Atlanta the College Football Playoff National Championship for 2017 will be decided as Georgia will face Alabama in an all SEC final 8 pm ET/5 pm PT on ESPN. John Lasker, VP of Digital Media Programming, ESPN joined me on the Stream On podcast and he went into detail about the extensive coverage the network has planned for the lead up to the game as well as some cutting edge things they will offer fans during the broadcast of the championship.
In talking with Lasker about the Megacast he was very excited about adding more content to the package. The record-setting number of MegaCast productions is up from the 14 offered last year to a staggering 20 available on the ESPN App. That is music to the ears of streaming video fans as once again ESPN proves why they are the "Worldwide Leader," when it comes to live sports on all platforms.
LISTEN TO THE ENTIRE PODCAST NOW AND HEAR ALL ABOUT WHAT YOU WILL BE ABLE TO DO PRIOR TO AS WELL AS DURING THE GAME.
Here are a few topics we talked about during the podcast.
Lasker was very pleased with the fact that ESPN has built a reputation for quality video not on their linear platform but across the digital and streaming world.
"We look at streaming video as a huge component serving sports fans anywhere be it at home or on the go. We follow trends on how people consume content and we see it as our job to provide the highest quality product to the end user no matter what device they chose to watch us on."
Lasker on the game coverage for Monday's night.
"You can sit in the comfort of your living room watching your 60-inch TV and watch multiple feeds of the game. You not only have the great telecast on ESPN with Chris Fowler, Kirk Herbstreit, Tom Rinaldi and Maria Taylor calling the game but we give many other options. We will once again offer the "Homer telecasts," so if you are a Georgia fan you will get a Bulldog friendly broadcast, and Crimson Tide fans will be able to watch a telecast featuring the Alabama broadcasters. But that really only scratches the surface of what we will be offering viewers."
BE SURE TO LISTEN TO THE PODCAST FOR MORE DETAILS
Here are a few things to checkout Monday night and I hope that you really take the time to explore all 20 feeds just to get a feel for everything. Remember that ESPN is making all of their feeds on their App.
ESPNU's Voices Expanded, now Includes Five ESPN-Centric Shows on One Screen that will be featured over on ESPN3. It is wild so be sure to take some time to give it a look and see what you think.
Do not miss the Coaches Film Room: , Colorado State's Mike Bobo and Northwestern's Pat Fitzgerald, former Texas A&M head man Kevin Sumlin are among the college coaches who will be involved in breaking down the game in real time.
One of my favorite items allows you to "direct," your own coverage of the game. Be sure to checkout ESPN 3 where you will have access to Sky Cam, High Sky Cam, and up to 22 other options.
Also, one our Stream On friends, super star and Grammy Award winner Kendrick Lamar will be the featured performer at Halftime from Centennial Olympic Park.
ESPN will have more than 110 cameras inside the new Mercedes-Benz Stadium, including utilizing more than 80 for the College Football Playoff National Championship game. One of the cameras that I am excited to see is the new first-and-10 cam. The cool part of this one is that there is a camera inside the first down marker, providing viewers a look at the line to gain
There will also be a Dual SkyCam System that will use a second SkyCam, positioned higher than the traditional SkyCam, providing viewers two different vantage points from, typically, behind-the-offense. Both of the SkyCam's individual feeds will be available as part of the MegaCast production.
Here is a link to a complete list of all the things and shows that will be part of Monday's College Football Playoff National Championship. CLICK HERE
Many thanks to ESPN for all of their help in researching this story.
Comments and questions are always welcome.
Calling all HuffPost superfans!
Sign up for membership to become a founding member and help shape HuffPost's next chapter
This post was published on the now-closed HuffPost Contributor platform. Contributors control their own work and posted freely to our site. If you need to flag this entry as abusive,
send us an email
.