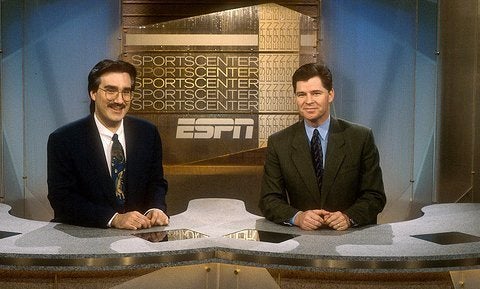 The greatest film about a TV network ever produced, Sidney Lumet's "Network," foretold the coming major media spiral into backbiting, betrayal and sensationalism. A few years later, a little regional sports network began on shoe leather and charisma in Connecticut, and as it grew into a worldwide, multi-faceted empire, controversy was never found wanting.
The rivalries, vices and abundance of secrets that were byproducts of the network's rapid rise were detailed in the tell-all oral history, "Those Guys Have All The Fun," released this year by James Andrew Miller and Tom Shales, and now, those backstage stories, finally exposed in print, will come to light on the big screen, too. Deadline reports that 20th Century Fox is closing in on a deal to grab the film rights to the book, with Michael De Luca, Dana Brunetti and Julie Yorn producing.
De Luca and Brunetti, it should be noted, were two of the producers of another cultural landmark's tell-all story, last year's Facebook movie, "The Social Network." Alongside Scott Rudin, Relativity Media and Columbia Pictures, they presented the story of the drama that went into a seven year old website, so presumably, they should have no trouble spinning this 32-year history into a compelling drama.
ESPN began as an outrageous gamble with a lineup that included Australian Rules Football, rodeo, and a rinky-dinky clip show called Sports Center. Today the empire stretches far beyond television into radio, magazines, mobile phones,the internet, video games and more, while ESPN's personalities have become global superstars to rival the sports icons they cover. Chris Berman, Robin Roberts, Keith Olbermann, Hannah Storm, Bill Simmons, Tony Kornheiser, Stuart Scott, Erin Andrews, Mike Ditka, Bob Knight, and scores of others speak openly about the games, shows, scandals, gambling addictions, bitter rivalries, and sudden suspensions that make up the network's soaring and stormy history. The result is a wild, smart, effervescent story of triumph, genius, ego, and the rise of an empire unlike any television had ever seen.
Calling all HuffPost superfans!
Sign up for membership to become a founding member and help shape HuffPost's next chapter