After another round of layoffs hit top talent at ESPN late last month, conservative pundits were quick to blame the company's struggles on its perceived slide into liberalism.
But Jeremy Schaap and Bob Ley, two of the network's longest-tenured television reporters and news hosts, say that won't work in the modern world of sports. 
Ley, who has worked at ESPN since its inception in 1979, even sees a tinge of hypocrisy in the criticism that the company is "too political." The host of the popular "Outside The Lines" program, which focuses on deeper coverage of sports issues beyond the playing field, said it wasn't long ago when sports fans and pundits wanted athletes to be more aware of the world around them.
Ten years ago, people were screaming, "Hey, where are the athletes who care? Who is the next [Muhammad] Ali? When is Michael Jordan going to speak up about the conditions making his sneakers in Vietnam?" Ley said in a recent interview.
Ley believes ESPN naturally skews liberal ― largely because it was founded in Connecticut ― and he has said in previous interviews that the company could use more "ideological diversity." But "there's no cabal," he said, adding that the network's reporters are capable of covering political issues comprehensively and fairly.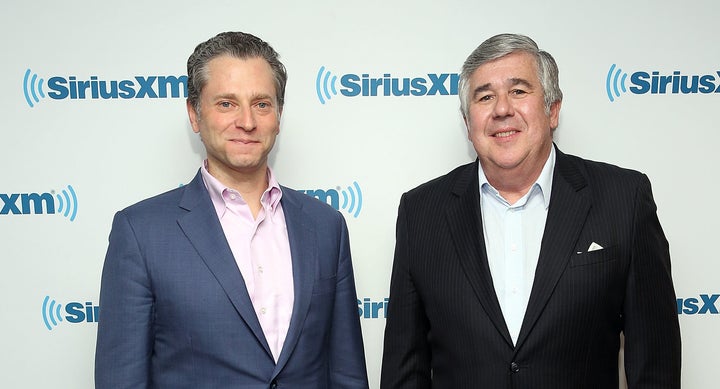 Conservatives' perceptions of ESPN's politics may come from the outspokenness of some of the network's reporters, analysts and personalities on social media. But the company is also aiming to maintain its place as, in Schaap's words, "the source of record on sports news." And from a journalistic perspective, that requires covering stories like Sam's and Kaepernick's, which bridge the gaps between sports, politics and social issues ― especially as those subjects become increasingly intertwined.
"Our country has become a lot more politicized over the last year and a half, two years, than it has been in a long time," Schaap said. "Sports has become a lot more politicized in the last three or four years than it has been in the past. That's a story we've covered: the engagement of athletes."
"The idea that we're talking too much about Colin Kaepernick seems wrongheaded to me. It was arguably the biggest off-field NFL story of last fall. How are you not going to talk about it?" asked Schaap, who came to ESPN in 1993 and is the lead host of "E:60," a televised news magazine program. "What kind of political decision would it be to say, 'We're not going to cover Colin Kaepernick's protests?'"
Some journalists and media observers have also questioned ESPN's commitment to rigorous and ambitious sports reporting amid the layoffs, since many of the employees who lost jobs last month were high-profile journalists.
But the company's executives insist ESPN remains committed to sports reporting, and Schaap and Ley may be the best evidence they have to support that argument.
Starting this weekend, Schaap will reboot "E:60," which is known for its deep reporting but has bounced around without a set timeslot for years. Now it will air every Sunday morning and share a new studio with Ley's "Outside The Lines," which will remain in its daily afternoon slot. "Outside the Lines" is also re-branding with a new look and format, and Ley and his reporting team will contribute to "E:60."
Sports has become a lot more politicized in the last three or four years than it has been in the past. That's a story we've covered.

Jeremy Schaap
The layoffs didn't miss the two shows entirely, since multiple ESPN reporters who often contributed to "Outside The Lines" reporting projects lost their jobs. But revamping the shows reflects ESPN's "redoubling" on the sort of journalism "E:60" has done since it began a decade ago, Schaap said.
"I think it says that we are, more than ever, committed to doing journalism that matters, journalism that is expensive, that isn't always necessarily about getting the most eyeballs but serves the audience," Schaap said.
The new "E:60" will mix human interest stories ― like an upcoming feature on Dallas Cowboys quarterback Dak Prescott ― with investigative reporting. Some of ESPN's most accomplished reporters will participate, and Ley said that ESPN executives have assured the duo that they have the company's full commitment.
The opening episode will feature a nine-month reporting project covering the Syrian national soccer team's attempt to qualify for the 2018 World Cup even as the country remains embroiled in a complex and brutal civil war.
The story features interviews with players who are now refugees and explores the fact that "The Dictator's Team," as the episode is titled, "represents a government accused of committing war crimes against its own people, and soccer is woven into [Syrian President Bashar Assad's] grisly campaign of state-sponsored oppression," ESPN said in a release.
This may be a sign of ESPN's journalistic ambition, but it also shows that the network is willing to pursue stories that intersect with deep and divisive global political issues, just as it did in the past.
"I was at the Barclays Center when LeBron James decided to wear the 'I Can't Breathe' t-shirt," Schaap said. He came to the Brooklyn arena that night in 2014 to cover a visit from Prince William, but James' unexpected decision to join NBA-wide protests over the death of Eric Garner ― an African-American man killed by an NYPD officer ― forced him to focus on a contentious political issue instead.
"News broke out," he said. "What were we supposed to do, not talk about it?"
Calling all HuffPost superfans!
Sign up for membership to become a founding member and help shape HuffPost's next chapter