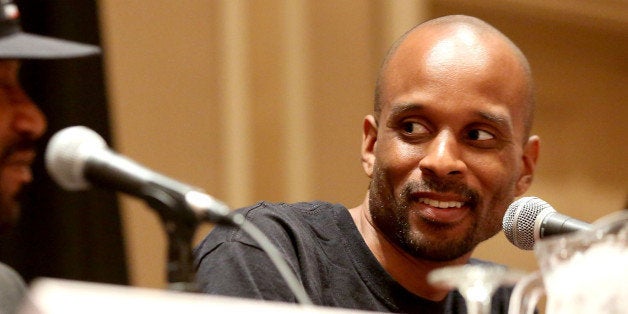 In a society that can feel overly divided by politics and ideology, the quest for common ground and compromise is often a virtue -- one that we as Native Americans prioritize as we work to strengthen and fortify our communities. However, when we think beyond our day-to-day work and consider enduring moral principles of equality, there can be no compromise. In the fight against bigotry, we must instead aim for steadfast consistency, even if it makes some people uncomfortable.
This truism -- embodied by the great civil rights leaders throughout history -- was most recently put on public display by ESPN's Bomani Jones. An outspoken critic of racism in sports, Jones recently appeared on television wearing a t-shirt illustrating the hypocrisy of professional sports declaring its general opposition to bigotry, while promoting symbols like the Cleveland's so-called "Chief Wahoo" that caricature and insult Native Americans.
Jones' move to spotlight the Cleveland Indians follows similar arguments he's made about Washington's professional football team. Echoing the themes of the "Change the Mascot" campaign, he has pointed out the hypocrisy of the NFL depicting itself as a force against racism, while also promoting, marketing and profiting off a dictionary-defined racial slur.
ESPN, Major League Baseball and the NFL are feeling the heat from Jones' points. They and so many other powerful leaders and institutions tied to professional sports no doubt want to have the flexibility to publicly stand against bigotry only when it happens to be convenient -- that is, when it does not make those with a vested interest in the status quo too uncomfortable.
That discomfort, though, reflects how a society that rhetorically honors the ideals of equality still unfortunately accepts some forms of bigotry. When that society is forced to look in the mirror and see that contradiction, some get angry and some want to look away. In the case of Jones, his superiors asked him to zip up his sweatshirt to hide his illustration of the hypocrisy.
There is no small amount of irony in some of the negative responses that flooded ESPN's comment boards, many of which centered on the "racist" nature of Jones' shirt. A central argument by those supporting offensive mascots has been that calls for change are examples of political correctness run amok. Yet these same opponents cry foul when the shoe is on the other foot or, in this case, the wrong shirt is on a black man's back.
For many of us, though, Jones offers an important and laudable model. We see the effort to illustrate the continued struggle with bigotry -- and the inherent double standards at play -- as a positive step that can help us move toward fixing the situation. America can, for instance, stop promoting symbols that disparage Native Americans.
Cleveland's city council, for instance, recently declared that its public property will no longer be a place to display the baseball team's logo. The NFL could take similar steps to force its Washington franchise to change its name.
Critics of such initiatives accuse proponents of stirring up racial resentments. The idea is that it is somehow a virtue to make the fight against bigotry selective, thereby appeasing the status quo and not offending too many people. The truth, though, is the opposite. As Bomani Jones has shown, the only way to successfully and credibly combat racism is to be consistent -- and to speak out against it wherever it emerges, even if powerful forces would rather us remain silent.
Calling all HuffPost superfans!
Sign up for membership to become a founding member and help shape HuffPost's next chapter