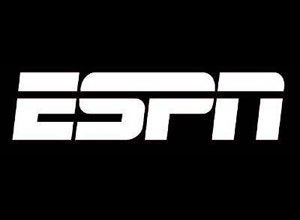 As ESPN anchor Stuart Scott boarded an airplane traveling to his Monday Night Football broadcast location, little did he know that his stomach ache would forever change his life. The following day his appendix had to be immediately removed, and days later a doctor told Scott he had cancer. After presenting The Jimmy V Award at the 2008 ESPYs with ABC colleague Robin Roberts who is also battling the disease, the normally charismatic SportsCenter host opened up about his darkest moments.
Below is an edited transcript of Scott's July 26th conversation with ESPN's Graham Bensinger.
Graham Bensinger: Tell me about presenting the Jimmy V Award at the ESPYs.
Stuart Scott: I've been supporting the Jimmy V Foundation since 1995 or 1996. I go down to the golf tournament every year which is in North Carolina where I grew up. When I was a news reporter back in Raleigh in 1988 - 1990, I used to cover Jim Valvano. He was really good to me. His wife was really good to me. Even though he was a North Carolina State man and that went against all credo that they teach us at North Carolina, I really liked him. So it affected me when he got sick and passed away. The biggest reason why it was so meaningful this year is because both Robin Roberts and I have had to battle cancer. Robin had Breast Cancer. I had Appendiceal Cancer -- my appendix was cancerous. Robin went through about six to eight months of chemotherapy and radiation. I went through six months of chemotherapy. It brought it home.
Bensinger: I know usually around ESPY time I have you on my radio show to talk about all the cool parties and all the Hollywood gossip and who we see. Obviously this time is considerably different. I want to take you back to November 26th, 2007. What do you recall from that day?
Scott: I was our Monday Night Football Countdown person on the road. Steve Young, Emmitt Smith, and I were on the road on site at the stadium for every Monday Night game. I had gone to Pittsburgh because it was a Pittsburgh game that Monday. When I left Connecticut on Sunday morning, I just had a stomach ache. I thought it was a bad piece of food that I had the night before or something, but it never went away. It continued getting worse. I woke up the next morning and got a workout in and it still hadn't gone away. I was supposed to go to the ballpark at 3 PM but I went to the hospital at 1:30 PM instead just to double check. They said my appendix was inflamed. It had not ruptured, it was just inflamed. They said we have to take it out. Who wants to have your appendix taken out? But they had to do what they had to do. They had it taken out. I missed the game, of course. I remained in the hospital trying to go home Wednesday or Thursday. The doctor came in on Wednesday and said we tested your appendix and this just got a lot more complicated because you have cancer. Only one-tenth of one percent of all appendixes are cancerous. I had to have surgery two days after that. I went to New York. They went back in -- I have a big, old, fun, 12 inch scar on my stomach. They took out everything that was anywhere near the appendix: part of my colon and some of my lymph nodes. Then, they checked all of that and it had not spread beyond some of my lymph nodes. It had not spread to my colon or my kidneys or lungs or anything. But cancer cells start microscopically and they wanted to do some chemotherapy for six months in case there were some they hadn't seen. That way that could try and kill any cells that might be bad.
Bensinger: I would imagine the initial shock of learning you needed to get your appendix immediately removed was enough, but then when you later find out you have a malignancy in your appendix...what was your reaction?
Scott: The very first thing I thought of is "I'm going to die." We all know what cancer is, but when you hear it associated with yourself I think the very first thing you think is "I'm going to die because cancer kills." My second thought was "I don't want to leave my two daughters without a father." That's as dark as anything that you'll ever think. A thought can't get any worse than that.
Bensinger: How did you explain it to your daughters?
Scott: Their mom and I kind of debated how to do it. I wanted to tell them before I told ESPN. I thought that was the right thing to do because they were going to have to go through it with me. I sat them down after my second operation and I told them the truth. I said this is how we're going to do it. We're going to pray about it, we're going to tackle this thing, and we're going to have a good attitude. I said I'm strong because of you all. There are going to be some tough times but our life is not going to change. I'm still going to work, work out, and we're still going to travel. I actually ended up taking them to Arizona for a week about a third of the way through my chemo. We went to Orlando after my third treatment. I said we're just going to live. That's that. We're not going to let it take over our life. Telling them that, that way, they were never scared. They had questions the night that I told them. They had questions over the following few weeks, but they were a part of the whole process. During my chemo, I had a pack that I took with me. I'd have chemo for about four hours and then I'd have a slow drip for 46 hours. It was just a pack that was attached to me. My daughters named it. They got a kick out of that.
I had a port in my chest. A lot of times, in chemotherapy, they don't go in your arm or vein anymore. They surgically put a port in your chest. Each time you have chemo, the medicine goes into the port so it doesn't destroy your veins. One of my many doctors (who was very good) gave me a duplicate port because my youngest daughter was really interested in it. She took it to school and had a show and tell day with it. She was explaining to her classmates what it did. Her teacher's mother was actually going through chemotherapy at the same time so my daughters were concerned, but they were never scared. I'm convinced they weren't scared because I didn't address it with them in a fearful way.
Bensinger: What have you been told about the short and long term impacts of your cancer?
Scott: One day when I was sitting around with my oldest daughter, my 13-year-old, she said, "Daddy, can Appendiceal Cancer kill you?" I said it can if you don't catch it in time. I said we caught it so, God willing, it won't. I had 11 chemo treatments. My scan was actually clean before I started but they wanted to get any cells that may have microscopically been cancer cells. My deal now is that every six months I have to have what they call a CT scan. I have to do that for five years. If all of them are clean then I'll have one a year. The prognosis is good. There was no cancer in my body at my last scan. But, you know, you take it with you. You take it with you for the rest of your life.
One of the coolest things about having cancer, and I know that sounds like an oxymoron, is meeting other people who've had to fight it. You have a bond. It's like a fraternity or sorority. You meet someone else who has had cancer and you know what they've been through. You know the days they've felt like hell. The days when chemo has just knocked you on your rear end. I know what it's like when your stomach is just awful. When you're in the bathroom a lot more than you want to be. A lot of times, if I meet someone who has had to fight cancer, I just want to give them a hug and I need one too.
Bensinger: What was chemotherapy like for you?
Scott: Chemo is a weird deal, man. For whatever reason, there are days where you actually feel decent. Then, there are days where you're just crushed. There is a rhythm to your chemo. You pretty much know the days when you're going to feel worse. I had chemo every two weeks. I'd have it on Monday. I'd feel pretty bad on Monday. I'd still feel kind of bad on Tuesday. Wednesday, Thursday, and Friday were the worst. It was always a few days later. Saturday, Sunday, and Monday kind of felt like the Monday and Tuesday before. I didn't really start feeling better until eight or nine days passed. It was like the tenth day afterward that I'd actually feel good. Then, I'd have like two or three days feeling pretty good before I'd have to go back in.
One of the ways that I wanted to fight it was every single day that I left chemotherapy I went right to the gym. Now, it wasn't a serious workout where I'm slamming weights and on the treadmill for 40 minutes. It wasn't a pre-cancer work out, but it was a workout. At least 30 - 35 minutes doing some cardio and weight lifting. I still worked out about two to three times a week during chemo but that day was always the most important day. The way I felt that day was that I'm not going to let cancer and chemo get the better of me. I'm going to go to the gym to prove my point. While you're kicking my rear end, I'm going to kick yours. Period. Every single time. It was my personal "forget you", and "forget" wasn't really the "F" word that I used in my mind.
Bensinger: The first time you did that workout immediately after having chemo. What do you recall?
Scott: It was kind of spiritual, to be honest with you. I'm on a treadmill. Instead of running, I'm walking fast. I'd run a little bit even though I wasn't really supposed to because I had a needle in my chest. I was still connected to the port which was giving me medicine. The gym that I would go to had workout equipment by [the manufacturer] LifeStyle. I would be on the machines and looking down at the word "LifeStyle." I would just be praying that I have life, contrary to the first thought that I had. To prove that, I just got out of chemotherapy an hour ago and I'm at the gym. I did a lot of my praying there in the gym to myself. Even though the workout wasn't as physically demanding as I'm used to, it was actually one of the more emotionally soothing parts of my chemotherapy because it was one of the strongest ways that I dealt with it. It actually felt like I was in control and the disease and chemotherapy was not.
Bensinger: Your first day back at work after learning you had cancer. Describe what it was like.
Scott: I went back to work as soon as I healed from my second surgery. I guess I have my own stereotype of what a cancer patient is -- someone who is sick and shut in. I didn't want to be that. I'm sure it was a stereotype because most people probably aren't like that. November 26th was my appendix surgery. November 30th was my second procedure. I went back to work December 19th or 21st. Our ABC coverage for NBA basketball began the 25th on Christmas Day. I didn't want that to be my first broadcast. I just kind of wanted to get my feet wet. The thing that struck me...there were many many many well-wishers. People who cared, were concerned, and wanted to know how I was doing. I recall hearing Robin Roberts say that the well-wishers can be overbearing (not because they're trying, completely noble intentions). I wanted to go to work and just do my job. I was dealing with cancer every second of every minute of every day. There were probably 15 - 20 people who came by my office wanting to ask me about it. That was kind of unsettling. It was weird. I mean, I understood perfectly where they were coming from. I didn't want to talk about cancer, though. I wanted to talk about the basketball games that night. I just wanted to be at work and do my job and talk about sports. It was extremely conflicting emotions. As much as I appreciated everyone coming by, I just didn't want to do it then. I probably should have gone by work one day when I wasn't working just so people could see me and I could see them.
Many many people called. Lance Armstrong reached out to me while he was in Africa on some Goodwill tour. He sent me an email. Ernie Johnson from TNT. Great guy. I had maybe met him once and he called me three or four times. It was cool talking to him because he gets it. He battled cancer a few years back. I remember the very first time we talked on the phone...we sat and talked on the phone for an hour. Dudes don't talk on the phone an hour! [laughs] It was very cathartic.
REAL LIFE. REAL NEWS. REAL VOICES.
Help us tell more of the stories that matter from voices that too often remain unheard.