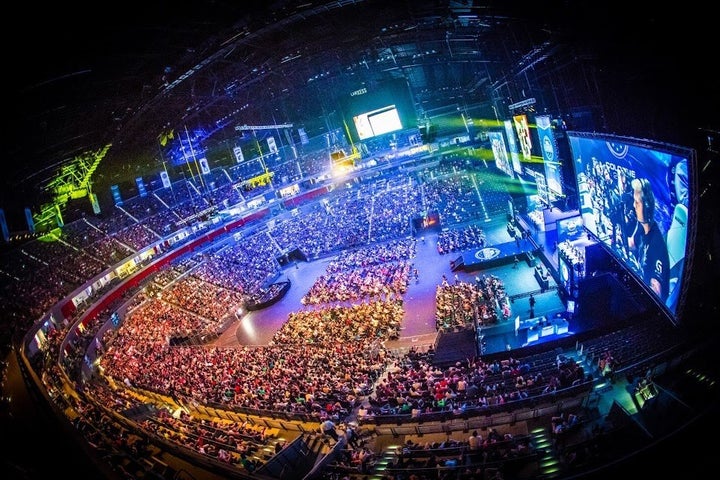 The world of competitive video gaming may be about to grow up in a major way.
At a Friday press conference in London, the Electronic Sports League, the largest organization inside the rapidly growing world of competitive video gaming, along with eight of the industry's most prominent European teams, will announce the formation of the World Esports Association, one of the first efforts to create an international governing body for competitive gaming.
Think of WESA almost as a "FIFA for e-sports" -- an organization that could set standards; help bring consistency and regulation to competitions; create rules for player contracts, compensation and movement between teams; and otherwise organize the broader world of e-sports. At least that's the aim.
"WESA is an open and inclusive organization that will further professionalize esports by introducing elements of player representation, standardized regulations, and revenue sharing for teams," the organization said in a press release. "WESA will seek to create predictable schedules for fans, players, organizers and broadcasters, and for the first time bring all stakeholders to the discussion table."
"It's nothing new," Pietro Fringuelli, who will serve as WESA's interim commissioner as it launches, told The Huffington Post. "At the end of the day, what we have tried to do is to do exactly what the other [sports] have done -- to find an organization that covers the whole industry."
Over the past two decades, e-sports have blossomed from a small phenomenon into a major video gaming market, with a total market size of more than $400 million in 2016. That figure, according to European market analysis firm NewZoo, is expected to grow to more than $1 billion by the end of the decade as investment from around the world continues to pour in.
Based around some of the most popular video games in the world -- titles like League of Legends, Counter-Strike: Global Offensive and Dota 2 -- the industry has amassed millions of competitors and followers worldwide. More than 200 million people either competed in or watched e-sports tournaments in 2014, according to NewZoo, and that same year, the League of Legends World Championship drew 40,000 fans in Seoul and 27 million viewers on online platforms across the world.
The industry's growth has led to efforts to bring standards to competitive gaming, of which WESA is the latest. The Swiss-based organization is a project of the ESL, a league that now boasts more than 6 million members worldwide and eight of the top European teams in the industry -- Fnatic, Natus Vincere, EnVyUs, Virtus.Pro, Gamers2, Faze, mousesports and Ninjas in Pyjamas.
WESA has grown "out of years of experience, and different experiences," Wouter Sleijffers, the CEO of Fnatic, told HuffPost. "Certain things have grown out of a natural evolution of e-sports. There were instances where you would say, 'Wouldn't it just be better if we put more of a framework toward it?'"
"Now we're importing a more formal structure for the association," Sleijffers said.
Investors and broadcast companies interested in tapping into the thriving market have already begun to move into the industry -- ESPN and Turner now broadcast e-sports events in the United States -- and in theory, an overarching organization that sets guidelines and standards within competitive gaming will make the industry more professional and an even more attractive option for new sponsors and investors, Fringuelli said.
A leak of WESA documents on Reddit and other forums earlier this week drew largely negative reactions from many in the gaming community, in part because the organization will revolve around just one league for one game -- the ESL Counter-Strike: Global Offensive Pro League -- and eight teams, all based in Europe, for the time being. That led to concerns that top teams in North America, Africa, and particularly Asia, where the industry traces its deepest roots, would be excluded, as might teams and players participating in other popular games.
But WESA's founders say they are following the model laid out by other organizations -- like FIFA, or major American and European leagues -- that started small and grew into the titans of their sports. If the organization takes root, it could expand to other leagues, games and teams, they said. And WESA's current teams and players, the backers said, will be allowed to participate in competitions and other games outside of WESA.
That small start, they insist, is necessary to form the type of body that can take the growth of e-sports into its next phase.
"Every league worldwide has always started with seven, eight, ten teams. You can't bring every team in the first step to the table, because then the discussions will never end," Fringuelli said. "We think once we find a fantastic compromise for all of these regulations with these guys, then of course we'll fit for the whole industry."
For now, fans of competitive gaming likely won't notice changes brought by the organization, Fringuelli said. But players and teams will.
The most immediate benefit of WESA, in fact, may be for players -- at least those on the eight teams involved. The organization will set up a Players Council, made up of a player representative from each of the eight teams, that will have a say in all of the league's policies, including on standard contracts, revenue sharing and player transfers between teams.
That "will enable all of us to get a real say in decisions that directly influence us," Wiktor "TaZ" Wojtas, a player on Team Virtus.Pro, said in WESA's release. "With a Player Council sitting at the table with the rest of the decision makers, we're going to continue [to] improve the tournament and league organization."
Other organizations and video game companies have attempted to bring similar structure to e-sports in the past, but with its level of player and team involvement, WESA is hoping its efforts help launch a new era of professionalized gaming.
"The proof is in the pudding," Sleijffers, the Fnatic CEO, said. "Right now what we've created is something on paper. The next stage is to make sure we live up to our ambition."