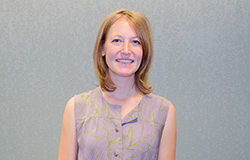 By Clare Berke
If your family is anything like mine, conversations at the dinner table eventually move from pleasantries to politics. Recently, I was sitting in a suburb of Columbus, Ohio, with my in-laws and their close friends, when the subject of the Common Core State Standards inched its way in between Donato's pizza and hopes for the Buckeyes to win the Sugar Bowl. Since several people in the room were current or retired educators, this was no surprise. Most people, in and outside of education, have opinions on what skills and content should be taught in our nation's public schools, and how these skills should be assessed.
These days, it is the assessments created for the Common Core that are dominating discussions at home, in schools, and in the local and national press. Earlier this month, U.S. Secretary of Education Arne Duncan laid out his vision for the reauthorization of the Elementary and Secondary Education Act (ESEA), which includes maintaining annual statewide assessments. Two organizations, PARCC (Partnership for Assessment of Readiness for College and Careers) and Smarter Balanced, are rolling out their Common Core-aligned exams this year. Both assessment consortiums will certainly have their share of hiccups and naysayers. Not least among the complaints will be the amount of time spent preparing for and taking the tests. My ninth grade English students at a public high school in Washington, D.C., have already experienced the strain of taking multi-day unit tests designed by our district to mimic the PARCC exam. As difficult as these days of trial and error are though, I have no trouble remembering why the Common Core State Standards and the associated tests are so essential -- they delineate and measure the skills that my students will need to be successful in college and in life.
A few years ago, I proctored the PSAT at a local high school and watched a room full of tenth graders shut down at various intervals during the three-hour test designed to help students practice for the SAT. As I walked around the room encouraging students to continue, my mind wandered to questions of inequities in education. I thought of the high school alumna I had recently met, a published author and PhD, who had been discouraged from taking college prep classes during the early years of integration in the DC Public Schools. Her counselor had even refused to tell her when the SAT was scheduled to take place.
This story is just one example of the legacy of injustice that pervades our nation's schools. I am not suggesting that standards and tests will right the wrongs, but I do believe that the Common Core is a step in the right direction, especially for students who have previously struggled to achieve academic success. As an English teacher, I love that the standards and their accompanying exams measure students' abilities to read, analyze, and evaluate unfamiliar, complex texts. As my students adopt literacy skills that transfer to multiple disciplines, their confidence and future opportunities grow exponentially. And as teachers get better at teaching the complex skills of critical reading, reasoning, and writing, I expect to see much less shutting down on college preparatory exams like the PSAT.
When I prepare my ninth grade students for the PARCC exam this spring, I am not wasting valuable instructional time because the test measures the skills I want my students to improve. We spend our "test prep time" annotating an author's main argument, engaging in discussions, and outlining essays. The time that we lose while students are actually taking the tests is annoying, but I see this as a temporary problem. As teachers, students, and schools adjust to the standards, and as exam items are released each year, I hope that the amount of time spent on interim assessments will decrease, or at least become more efficiently folded into existing semester exams.
One of the most widely touted benefits of the Common Core State Standards is that the assessments will show how students compare to each other across the country. But what I am most excited about is the individual growth I expect to see. In English classes, the Common Core State Standards encourage strong teaching practices, and our nation's students will experience the benefits of learning to independently access, evaluate, and respond to complex texts. Whether students are practicing for or taking the PARCC and Smarter Balanced exams, they are exercising the literacy skills that will benefit them in the future.
Just as my relatives hoped, the Ohio State Buckeyes won the Sugar Bowl. Earlier this month, the Buckeyes also won their final test of the year: the National College Football Championship. And just like a football fan who doesn't hope for fewer games because she wants the players to spend more time practicing, I will cheer my students through the Common Core assessments they must take as they sharpen their skills for their own championship games -- college degrees and successful careers.
Clare Berke is a 9th grade English teacher at Benjamin Banneker Academic High School in Washington, D.C. She is a Teach Plus Teaching Policy Fellow.
Popular in the Community