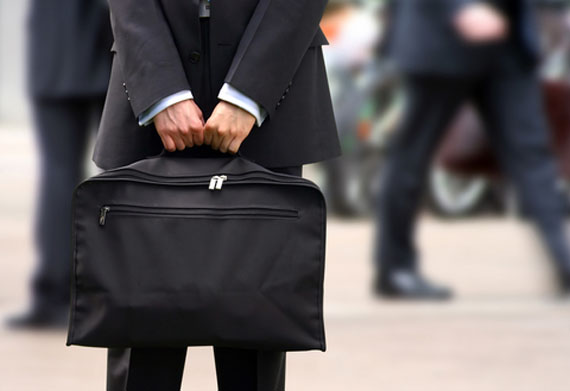 (Photo courtesy of Shutterstock)
John Steinbeck's famous quote, "A journey is like marriage. The certain way to be wrong is to think you control it," never rings truer than at the holidays. With Thanksgiving travel in 2011 reported at a 4 percent increase over last year, holiday travelers are looking at a potentially jammed-up December, made even more challenging by luggage fees and higher fuel prices. It's time to toss all excess baggage aside -- along with all expectations of arriving on time, hairs in place, with your welcome committee waiting at the designated spot.
But does this mean you need to lose your personal style? Your essential entertainment? Experts say no. We surveyed three traveler archetypes with one thing in common: they wouldn't travel five minutes in a state of personal disarray. A peek inside their hand luggage may be your key to keeping sane, suave and safe during your holiday season travels.
He's several income notches above the typical road warrior, but Tumi CEO Jerome Griffith actually prefers lengthy highway journeys to any other sort of travel. Always the sort to seek out remote cross-continental roads on his off time, Griffith criss-crossed multiple continents himself on a motorcycle to promote the new Tumi Ducati luggage collection. We asked him to choose one piece of luggage small enough to go on the back of a bike, and fill it with five essential items for a solo cross-continental journey.
The Bag: Tumi Ducati Backpack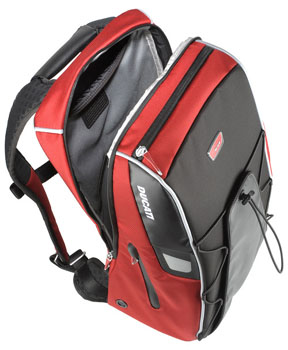 •Leatherman: A road traveler never knows when some extra tools may be needed. A Leatherman allows you to have all your tools in one compact device.
•Tumi Alpha Bravo Riley Kit: Make sure all your toiletries are compact and safe from spilling on anything else in your bag. Motorcycle rides can get a bit bumpy.
•Clothes in packing cubes: During a motorcycle ride it is extremely easy for even T-shirts and jeans to get wrinkled. Packing cubes not only organize a bag perfectly, but keep clothes wrinkle-free.
•iPad: In a protective case in the event it gets dropped.
•An electronic adapter: I never go anywhere without this. My favorite is the Tumi adapter with Ballistic Case. It combines every charger or adaptor you could need in one handy little gadget.
It's one thing to be a working mother, and another to be working with an infant in tow. However, with the standard nine-to-five office workweek giving over to a "gig economy" and single-income households less financially feasible than ever, more and more new moms are stepping out with a laptop on one shoulder and a diaper bag on the other. We asked Warner Brothers costume stylist Claire Hammonds to pack just one handbag/diaper bag hybrid with essentials for mother and baby -- and keep it classy. While babies definitely force some life changes, they shouldn't force a businesswoman to turn frumpy unless she wants to.
The Bag: I agonized over diaper bags. I didn't want to be stuck with some "baby bag" as my purse. You already lose a lot of yourself once you become a mom. I carry one by Skiphop that's black nylon and doesn't look like a diaper bag. I'm a fan of a simple look. If you like busy patterns and colors, the Hadaki Hannah's Tote is a good price, good size, and wipes clean inside and out.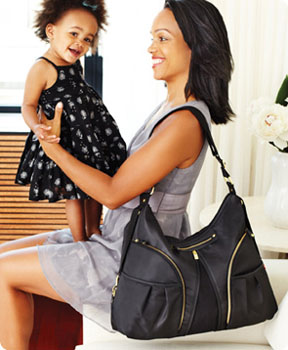 •Wallet: I really wanted the Coach diaper bag, but I couldn't justify the price. However, my Coach black leather wallet is a few years old now, and I still love it. It's good quality and fits everything, plus the style doesn't change drastically over the years.
•Smart phone: The Sprint Evo does it all. We always said that when we start traveling with our little girl, we'd buy a portable DVD player, but we don't have one yet, so my husband uses the Evo to play cartoon videos for her.
•Diapers and wipes: Also a change of clothes, maybe...and toys. Everything for baby is essential. If anything you wind up sacrificing your makeup bag!
•Lip Gloss: I actually realized that I sacrificed my makeup bag and just carry gloss these days. I'm a huge fan of Mary Kay Nourishine Plus.
•Baby snack: One of many reasons it's important to find a bag that wipes clean, inside and out.
Intercontinental Creative
Always among the least structured of professional groups, creative professionals have taken telecommuting to new levels recently (i.e. the blogger who only works on his Blackberry). Visual effects designer Thorsten Thiem typifies the specialized creative professional: When he's up to his elbows in a project, he needs to be fully plugged into his Mac...but at all other times, he might be anywhere from Tibet to Malibu. And all his essentials can be contained in a hip-bag (Take that, overhead space restrictions!).
The Bag: I inherited an underwater Minolta camera, and it came with a beautiful yellow Cubic hip-bag made out of bright lemon yellow nylon. To me it's a design piece. A nice hip-bag is a man clutch that you don't have to carry in your hand, but you can still have 'on hand.' If you're buying new, get one made out of canvas and nylon -- backpack material. In Europe, men carry them to the left of the leg, but hipsters are also carrying them like pistol holsters [wrapped across the body].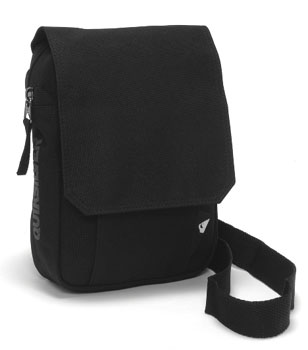 •Credit card holder: Wallets are just a black hole for junk. I have a little credit card pouch that fits credit cards, ID and a train ticket. Loose cash goes in my pants pocket.
•Dental hygiene kit: Toothpaste and toothbrush. Won't go anywhere without 'em.
•Camera: I explicitly bought a small-bodied Panasonic GF2 digital SLR camera that can use different size lenses. For everyday use, I would put a small poundcake lens because it's flat enough to fit in the hip bag.
•A smart phone: I've had the iPhone and the Android, and no matter which, it's always a love-hate relationship.
•In-ear headphones: If you want something more specialized than the ones that come with the iPhone, Audeo and Monster Beats both make nice in-ear and over-ear as well.
•For smart phone apps, get a GPS that also works offline, so you don't get charged data roaming costs. I use NAVV.
•MSW is Magic Seaweed, a beautiful surf app. It has swells, weather forecasts, and photos from all over the world.
•TuneIn is my favorite music app. It's a radio station finder. Free on the Android, costs #1 on the iPhone.