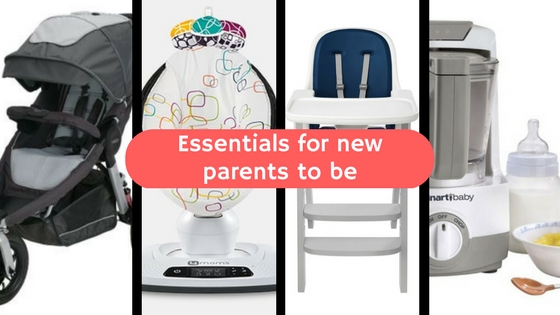 We all have our everyday essentials that we can't live without. For some it's their phone, for others, it's the coffee cup that is guaranteed to keep your favorite brew piping hot for 12 hours. These essentials may change as the world around you changes, especially if you've reached that exciting time in life when your first child is on the way. Somewhere between fighting off baby-brain and getting a decent nap, you realize that there is a whole new list of essentials that you need to have to make sure that your child is prepared with everything they need. Since we know you are certainly tired and you have bigger things to worry about (like finally indulging on whatever it is that you and baby have been craving), we decided to put together a list of essentials for new parents to be. These basics will get you off to a good start when planning your registry, but you may like them so much you go out and buy them yourself. Check out the list below: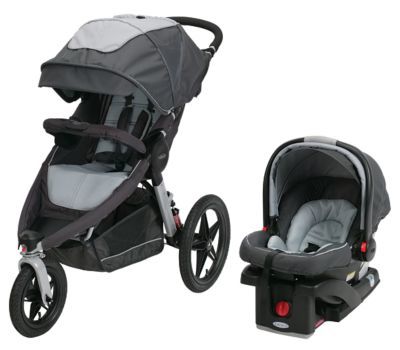 No matter if you have your baby in the hospital, you opt for a birthing center, or you have a home birth, one thing is for certain, as new parents, you are eventually going to need to take your little one out on the town. That's where the team over at Graco comes in. They have perfected the travel system with their top-rated Relay™ Travel System. The Relay™ Travel System comes with everything you need to travel with your baby, including the SnugRide Click Connect 35 Infant Car Seat which attaches directly to the stroller companion transforming it into the ultimate performance jogger. The performance part of that name derives from the design and key features that ensure baby is riding in comfort. The Relay™ stroller features air-filled rubber tires, a locking front-swivel wheel with tracking, premium suspension, and a lightweight frame. It has reflective, tech-fabric that helps keep you and baby visible in low light and the UV50 canopy gives your child sun protection. This makes it the perfect stroller/car seat combination for parents who have an active lifestyle. Not to mention, the deluxe parent storage console with cup holder, zippered storage, and a cell phone pocket helps keep your other essentials close. Best of all, this system accommodates your child from newborn through toddler. Learn more about it here.
When it comes to soothing your baby and getting them to relax, nothing is as good as being in your arms, but the mamaRoo4 by 4moms definitely comes comes. They realized (unlike some other brands) that parents don't have a vibrate function (if they did this would be an entirely different article on a whole other subject). Dad may sway, mom may rock, grandma might bounce, and grandpa may wave. These natural motions have been replicated in the mamaRoo4 to create what we believe is the best infant seat on the market. When designing the mamaRoo4 , 4moms put sensor vests on parents to understand those motions and then replicated the bouncing and swaying in the mamaRoo4 to soothe and entertain better than traditional infant seats. The mamaRoo4 comes with built-in Bluetooth capabilities, that allow you to control motion and sound from your compatible smart device. The built-in speakers and mp3 input allow you to play baby's favorite song or the pre-programmed soothing sounds. The fully adjustable seat reclines to just about any position. There is also interactive, reversible toy balls that keep baby entertained with a rattle, mirror, and crinkle ball. Best of all the seat covers are machine washable, just in case baby's day at the mamaRoo4 spa get a little messy. Check out the video above to learn more and be sure to visit 4moms to purchase.
To us, there is nothing more essential than meal time. That's why we've reserved the last two spots on our essentials for new parents to be list for meal time-related items. The first of which is the OXO tot Sprout chair. This award-winning chair is designed for extended use, ranging from 6 months all the way up to 5 years (talk about a must-have item!). As your child grows, you won't need any tools to make the height and depth adjustments. You can also easily remove parts to take this chair from high chair to youth chair. The chair is also built for comfort with plush seat and back cushions that are contoured to promote good posture. Want to see how it works, check out the video below:
Let's continue the meal time talk with the Cuisinart Baby Food Maker and Bottle Warmer. This two-in-one combo machine makes meal time easy. When mama's milk is all baby has a thing for, the built-in bottle warmer safely heats your baby's bottle to just the right temperature without any guesswork. When they step up to solid foods, the Cuisinart Baby Food Maker really shines. It boast a 4-cup work bowl, which allows space to make plenty of healthy, homemade food that you can easily store in the freezer. The unit also purees and steams right in the bowl for less mess and stress, unlike some baby food makers that only puree (wouldn't that be a food processor). As an added bonus, for the meal-peppers of the world, Cuisinart throws in their Cuisinart Baby® recipe booklet for healthy meal planning. Check out the recipe video below to see an example of what you can make.
So there you have it. Be sure to grab these essentials for new parents to be and let us know what your essentials are. We'd love to hear and see what you can't live without as a new parent.
REAL LIFE. REAL NEWS. REAL VOICES.
Help us tell more of the stories that matter from voices that too often remain unheard.
This post was published on the now-closed HuffPost Contributor platform. Contributors control their own work and posted freely to our site. If you need to flag this entry as abusive,
send us an email
.