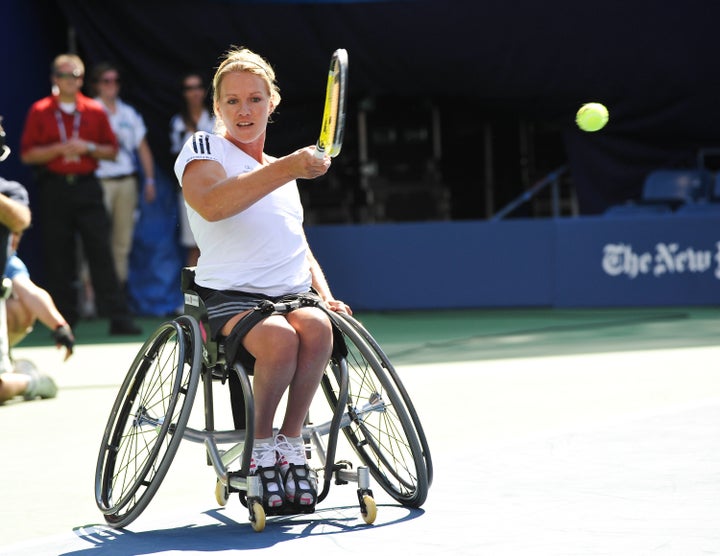 Esther Vergeer is, without hyperbole, the most dominant athlete living today -- and you've probably never heard of her.
In 1989, Esther, an active girl who loved to play outside, was lying on her stomach in a hospital bed at the University of Amsterdam, in the Netherlands. She had just finished a grueling nine-hour surgery to stop a hemorrhage near her spinal cord.
"To have surgery around your spine is quite risky, but there was nothing else to do -- we actually had no choice," says Esther of the decision to undergo the procedure. After informing both Esther and her family that they believed the surgery to have been a success, the doctors continued to perform routine tests to verify their prognosis. They checked her eyes and her fingers -- things seemed well. However, when a sharp tool was applied to her foot in an attempt stimulate the movement of her toes, there was no response. Something had gone wrong.
Esther Vergeer was paralyzed from the waist down. She was eight years old.
Fall has arrived in the Netherlands, and with it, so too has the foliage. "It's beautiful," says Esther, describing her home town of Woerden. The grass is green and lush. The leaves are orange, although soon they will turn red and fall gently from their branches. From the summer heat and humidity comes a cool breeze, and the ineffable scent of autumn. Woerden is 26 miles from Amsterdam, with a population of 47,000 people, and it is known around the Netherlands for its cheese making tradition (gouda in particular). It has a traditional Dutch windmill in the center of town, and it used to be home to a Roman castellum, although a medieval church now stands on its foundation. The Oude Rijn River flows around the city center.
It's evening, and the sun is beginning to set. On the tenth floor of an apartment building, overlooking downtown, lives the city's most famous resident. She has blonde hair and blue eyes -- she's very pretty. Esther's just returned home from training -- which she does four hours a day, six days a week. She unpacks her tennis gear, puts away her specially designed wheelchair, which she created with the help of a kinesiologist, and sits down on the couch. On the table next to her: two gold medals, both won at this summer's Paralympic Games in London. The medals have gone everywhere with Esther recently, the golden symbols of her achievements practically glued around her neck. Since returning home from England a champion, she's been busy attending sponsorship events and parties, and making other appearances where she's asked to show off her shiny new accessories. She looks at the medals with pride.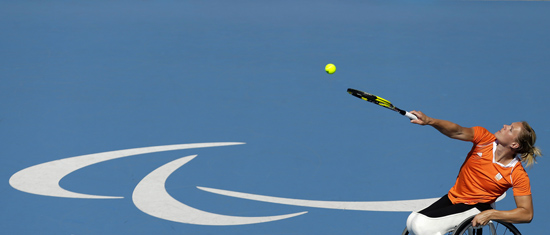 Esther Vergeer competing at this summer's Paralympic Games in London, where she won two gold medals in wheelchair tennis (Photo: AP)
It all happened very quickly for Esther in London. With a large contingent of orange-clad Dutch supporters on hand at Eton Manor (a 10,500-seat tennis facility built solely for wheelchair tennis in London's Olympic Park), the fans, including those people closest to her, are cheering passionately. It's only 59 minutes in to the gold medal match, and already it's championship point. Aniek van Koot is on the other side of the net, a compatriot of Esther's in this all-Dutch Paralympic final. As the tennis ball comes her way, she maneuvers her wheelchair gracefully into position. "Ballet on wheels" as one local journalist called it. She spots her opening, and swings.
In wheelchair tennis, Esther has been ranked number one in singles since October 1998. Since then, she's dominated every major tennis tournament in the world. She's won the Australian Open nine times, and both the French Open and the U.S. Open six times each. She has one silver and seven gold medals in the Paralympic Games, 13 year-end championships and 11 world team tennis championships. Overall, her record in singles is 687 wins and 25 losses. To put it in some perspective, Esther's 21 singles grand slams exceed even Roger Federer, who has 17. (Pete Sampras won 14.) Tiger Woods, the most dominant golfer of his generation, has 14 Major Championships to date.
If you include Esther's doubles play, where she is also dominant, she has won 458 international tennis tournaments, and has a combined record of 1,127 wins and 60 losses. Most impressively however, is that Esther Vergeer has only lost in singles once since 2001 -- a winning streak of 470 straight matches.
As the sun sets, Esther gets off the couch and excitedly readies herself for the evening. She's 31 years old now, and tells me she thinks about tennis less than she used to. Tonight, the Esther Vergeer Foundation is having an event downtown; all of her friends and family will be there. On top of her sporting excellence, Esther also has a degree in economics, management and law. Through her foundation she's able to put her intellect to work and pursue her other interests, such as coaching and marketing her sport. She dreams about the integration of disabled and able-bodied athletics. She wants to educate able-bodied people about disabled sports "so they don't have to be afraid anymore," she tells me. She and her boyfriend are considering starting a family.
Esther's finished getting ready. She looks for her keys, finds them, grabs her purse and glances in the mirror. She turns off the light and heads for the door. As she rolls past the couch and table, she can see the medals, lying expectantly, shimmering even in low light. She stops, stares at them for a moment, and continues out of the apartment -- closing the door behind her.
REAL LIFE. REAL NEWS. REAL VOICES.
Help us tell more of the stories that matter from voices that too often remain unheard.