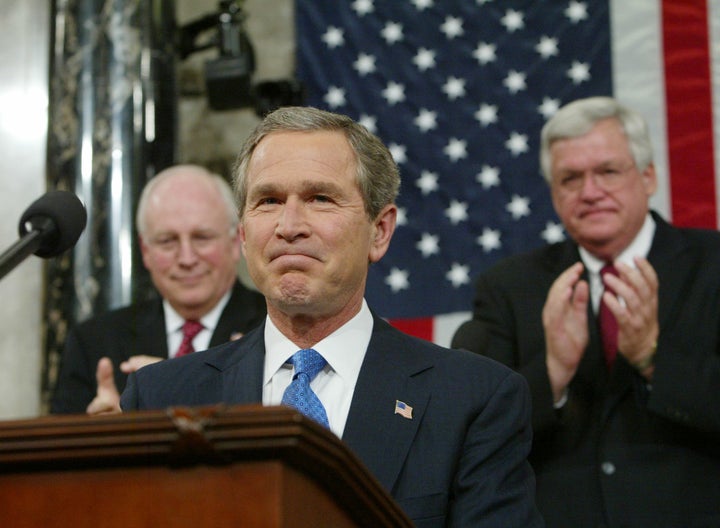 Who even remembers that, back in September 2002, Lawrence Lindsey, then President George W. Bush's chief economic adviser, offered an upper limit estimate on the cost of a future war in Iraq at $100 billion to $200 billion?  He also suggested that the "successful prosecution" of such a war "would be good for the economy." That December, Mitch Daniels, director of the Office of Management and Budget, contradicted Lindsey, indicating that the real costs of such a war might be only $50 billion to $60 billion. And the top officials of the Bush administration weren't particularly worried about paying for the occupation that was slated to follow since, as Deputy Secretary of Defense Paul Wolfowitz put it in May 2003 after Baghdad had been taken by the U.S. military, Iraq was floating "on a sea of oil."
Of course, by that pre-invasion September, President Bush and his top officials had already decided to invade, take out Saddam Hussein, and turn Iraq into a bastion of American power in the oil heartlands of the Middle East. It was just a matter of how and when to make the case to the American people. (As White House Chief of Staff Andrew Card put it that month, "From a marketing point of view, you don't introduce new products in August.")
That was a decade and a half ago. Just recently, the Costs of War project at Brown University's Watson Institute offered a new estimate of what America's wars in Afghanistan, Iraq, Syria, and Pakistan will cost the country through fiscal year 2018 and it's a figure ― $5.6 trillion ― that should make your head spin.  It certainly leaves Lindsey's and Daniels's estimates in a ditch somewhere on the road to Baghdad.  Put another way, we're talking at a bare minimum about a cost per American taxpayer since September 12, 2001, of more than $23,000.  Good for the economy?  Hmmm.  And the Costs of War report's estimate doesn't even include interest on the borrowing that's taken place to pay for those wars, which, it suggests, is "projected to add more than $1 trillion dollars to the national debt by 2023."
Worse yet, these days America's 16-year-old set of wars only seems to be expanding and is now regularly referred to in the Pentagon and elsewhere as a "generational struggle."  Translation: we're still going to be at it in 2027, maybe even in 2037, or 2047, pouring down the black hole of war trillions more in taxpayer dollars that might have gone into the American economy and our crumbling infrastructure.
Isn't this, then, an appropriate moment to offer a small tip of the cap to George W. Bush, Dick Cheney, Donald Rumsfeld, and the rest of the crew for imagining a world in which such invasions and occupations would lead to the American domination of this planet until the end of time?  It's in this context that Rebecca Gordon, author of American Nuremberg: The U.S. Officials Who Should Stand Trial for Post-9/11 War Crimes, considers the favor Donald Trump has done Bush and the rest of his former administration.  As she writes in "The Rehabilitation of George W. Bush," he's made them look good at a moment when they should look truly terrible.  Ah, Donald, how thoroughly big league of you!
Calling all HuffPost superfans!
Sign up for membership to become a founding member and help shape HuffPost's next chapter
BEFORE YOU GO