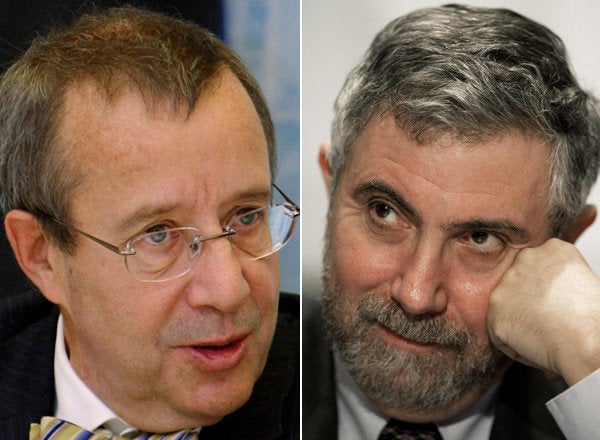 The president of Estonia chewed out Paul Krugman on Wednesday, using Twitter to call the Nobel Prize-winning economist "smug, overbearing & patronizing," in response to a short post on Estonia's economic recovery.
Krugman's 67-word entry, entitled "Estonian Rhapsody," questioned the merits of using Estonia as a "poster child for austerity defenders." He included a chart that, in his words, showed "significant but still incomplete recovery" after a deep economic slump.
President Toomas Hendrik Ilves responded to Krugman in a series of outraged tweets, taking offense to Krugman's tone and writing that Krugman didn't know what he was talking about.
"We're just dumb & silly East Europeans. Unenlightened. Someday we too will understand," he tweeted. "Guess a Nobel in trade means you can pontificate on fiscal matters & declare my country a "wasteland". Must be a Princeton vs Columbia thing."
Estonia, which in 2011 became the latest country to join the eurozone, has been heralded by some as an austerity success story. That year, it clocked a faster economic growth pace than any other country in the European Union, at 7.6 percent. Estonia is also the only EU member with a budget surplus, and had the lowest public debt in 2011 -- 6 percent of GDP. Fitch affirmed its A+ credit rating last week.
Krugman has yet to reply to Hendrik's harsh words.
Support HuffPost
The Stakes Have Never Been Higher
Related
Popular in the Community