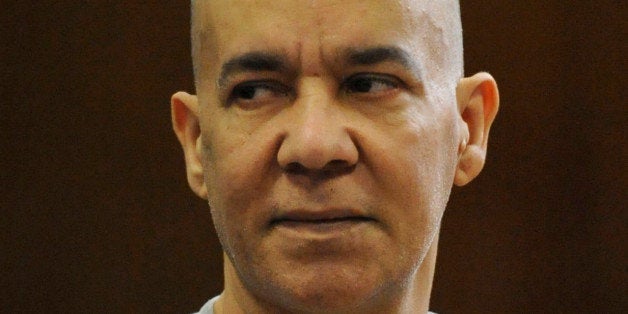 (Adds additional testimony from defendant's brother-in-law)
NEW YORK, Feb 3 (Reuters) - Prosecutors in the trial of a former deli worker accused of kidnapping and murdering a 6-year-old boy in New York City in 1979 laid out details in court on Tuesday of the last day the child was seen alive.
Pedro Hernandez, 54, faces charges of kidnapping and murdering Etan Patz in a case that ignited a national movement to find missing children.
Patz vanished while walking alone to a school bus stop for the first time in Manhattan's Soho neighborhood. His body was never found, but in 2001 he was declared legally dead.
Testimony on Tuesday focused on the morning of May 25, 1979, when the boy was last seen walking to the bus stop.
Karen Jansons, the mother of two children who lived in the same neighborhood, testified that she helped look for Patz the day he failed to get on the school bus.
Calling Patz "a beautiful, beautiful boy," Jansons recalled once seeing him walking by himself to the corner deli.
"My daughter asked why was Etan allowed to walk by himself, and I said I didn't think he should be walking on his own. He is too small," she testified.
Hernandez confessed in 2012, but his defense says the confession was coerced and that he is mentally ill. In his confession, Hernandez said he lured Patz to the basement of the Soho deli where he worked, strangled him and dumped him in an alley.
Hernandez's brother-in-law Juan Santana, who worked at the same deli, took the witness stand in the afternoon and testified that Hernandez had been a good and dependable worker.
"For me, he was a good guy all his life," he said through an interpreter.
Santana recalled that he knew Patz - "a good kid," he said - from his visits to the store with his family. He said he never saw Hernandez talking to children at the store.
Hernandez's defense attorneys have placed the blame on another man, Jose Ramos, who dated a Patz family babysitter and was long considered the prime suspect in the case. Ramos has spent 28 years in prison in Pennsylvania for sexually abusing boys.
In the aftermath of the boy's disappearance, President Ronald Reagan signed into law the Missing Children's Assistance Act. Patz was one of the first missing children whose picture appeared on a milk carton.
The trial in state Supreme Court is expected to last three months. (Reporting by Natasja Sheriff; Editing by Ellen Wulfhorst, Jonathan Allen and Eric Beech)

Related
Popular in the Community