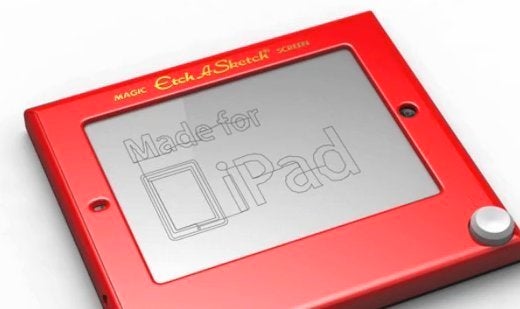 To the imaginative eye, an iPad sort of already looks like a high-tech Etch A Sketch. Now, a Mountain View, Calif.-based team is trying to complete the illusion with Etcher, a Kickstarter project that's seeking to recast the modern device as the classic Ohio Art Company toy.
While the idea has been tried before, Etcher isn't just another Etch A Sketch app: It's an immersive nostalgic experience that takes full advantage of the iPad's functionality.
There's a bright red slip-on cover with two knobs that control the app's cursor, and it's strategically slotted to allow use of the iPad's cameras, sleep and home buttons, volume controls and audio jack.
Not only does Etcher emulate the look and functionality of a real Etch A Sketch, it also lets users save and share their art on social networks and create time-lapse videos of drawings.
And of course, when you're done, you can shake things up and start all over again.
The team behind the Etcher, which is led by Ari Krupnik, got an official license to the Etch A Sketch trademark from Ohio Art, the makers of the original toy, so everything is on the up and up. In fact, according to the project's Kickstarter page, Ohio Art "is very enthusiastic about an iPad implementation" and "[sees] it as a way to keep the brand exciting and relevant."
According to the Etcher Kickstarter page, the team will also release an open-source software design kit allowing advanced users to design their own games using Etcher.
Pledges for the Etcher start at $45, which will secure contributors their very own Etcher, "ahead of everyone else, and at a special price."
WATCH: New Etch A Sketch For iPad
REAL LIFE. REAL NEWS. REAL VOICES.
Help us tell more of the stories that matter from voices that too often remain unheard.
BEFORE YOU GO