Co-authored by Douglas Dechow, space writer, librarian, teacher

On May 21, External Tank #94 arrived at the California Science Center, where it eventually will be stacked with the orbiter Endeavour and two test rockets and displayed upright as if ready to launch. Lofty Ambitions was there to see ET-94 arrive because we couldn't imagine more fun for nerds on a Saturday night.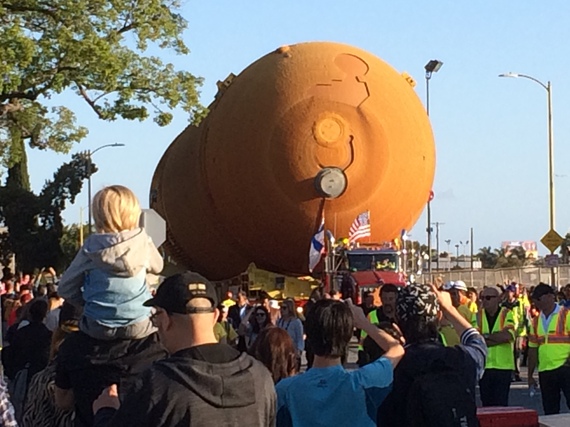 This particular external fuel tank for the space shuttle is the only functional ET in existence. It is a lightweight version built for use with Columbia, but, in 2003, Columbia broke apart on reentry before this tank was used. By the time NASA was flying shuttles again, a super-lightweight tank was the preferred design. In fact, ET-94 was used to study whether the lightweight construction contributed to the Columbia accident. As you can see in our photos, pieces of foam have been removed as part of that investigation.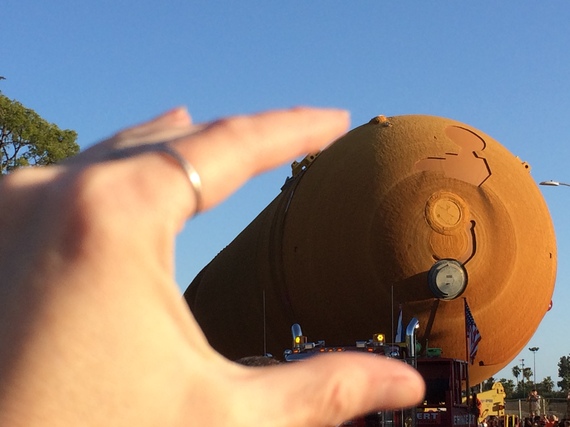 No other external tanks survive because they were all used to launch space shuttles. The external tank was the large orange tube to which the orbiter and solid booster rockets were attached. (The tank on the first two flights was painted white as added protection, but paint added unnecessary weight.) The tank therefore provided structural stability in addition to holding the liquid oxygen and liquid hydrogen that fed the Space Shuttle Main Engines for roughly the first 70 miles of its journey. With the fuel exhausted, the empty tank separated from the orbiter and plummeted back toward Earth, disintegrating on its way through the atmosphere.
ET-94 left Louisiana on a barge on April 12. Later last month, it made its way through the Panama Canal and on to Los Angeles. On its way up the coast, the tugboat pulling the ET rescued four people from a life raft in the Pacific Ocean after their fishing boat had sunk. This tank is 15 stories long, which is longer (though lighter and narrower) than the orbiter that made its way through the streets from LAX to the science center in 2012. Finally, yesterday, aboard a deftly maneuvered transporter, ET-94 made its way through the streets of Inglewood and to the California Science Center at Exposition Park, where we met it up close.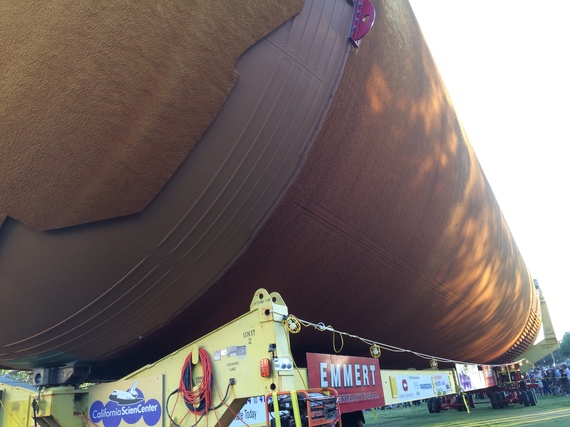 For the time being, according to Aerospace Curator Ken Phillips (in photo with author below), ET-94 will be enclosed next to the Samuel Oschin Air and Space Center, where a window will be added so that visitors to Endeavour will be able to peek out at the fuel tank.
A version of this post with bonus photographs appears at Lofty Ambitions blog.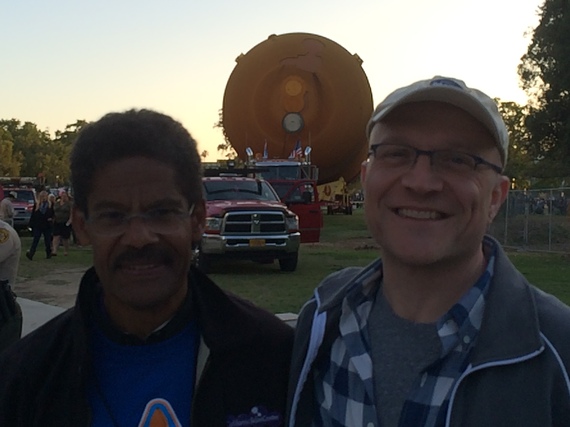 Related
Popular in the Community