Hans von Bülow, the legendary 19th century German conductor, may have had a point when he dubbed Verdi's Requiem an "opera in ecclesiastical garb." Following hard on the heels of Aida, this monumental work has all the majesty, drama, pathos, and pageantry of its operatic predecessor, yet without the necessity of being opulently staged. When the Gazzetta musicale di Milano threw the gauntlet to Verdi to "give new life to sacred music, now fallen to such a low point," the composer not only rose to the challenge, but surpassed all expectations. Indeed, Verdi's Requiem is so overwhelmingly visceral and potent that it seems unimaginable in a traditional liturgical context; as a consequence, it has become a staple of the concert repertoire.
Nevertheless, the composer himself, well aware of the potential theatrical pitfalls in performance, insisted, "One mustn't sing this Mass in the way one sings an opera, and therefore phrasing and dynamics that may be fine in the theater won't satisfy me at all, not at all."
Would that the soloists in last week's Carnegie Hall performance had taken the composer's words to heart. What could have been a sublime and transcendent musical experience was regrettably ruined by an unhappy choice of soloists, the sole exception being British mezzo-soprano Christine Rice, whose warmth and musicality were matched by a sensitive intelligence and keen commitment to ensemble. Her colleagues, however, seemed unaware that they were not entirely alone onstage. On more than one occasion they were not in synchrony with the conductor, leading one to wonder if it would have been more efficacious to use Verdi's own stage setup for the Requiem (as documented in the drawing from life by Tofani of the first La Scala performance), in which he stood to the right and in front of the soloists, facing them and the orchestra.
Powerful Russian soprano Marina Poplavskaya sang every solo as if her very life depended upon it, evidently much more concerned with dramatic delivery than fidelity to pitch, diction, or dynamics. She finally revealed her true diva nature in the concluding "Libera me," during which she shook her long golden mane in her desperate supplications for deliverance from the torments of hell.
Rolando Villazón, who has been hailed by some as one of the great tenors of our time, still seems to be suffering from vocal problems. He sang with a pinched, tight voice, uncertain pitch, and frequent swooping portamenti (whether deliberate [imitating Pavarotti] or inadvertent, one could not judge). Even more frustrating was his treatment of every tenor line as if it were a blockbuster operatic aria, rather than a small part of a greater musical whole.
Bass Mikhail Petrenko's performance was at its finest in his dramatic, remarkably projecting whisper of the word "mors," uttered toward the conclusion of his "Dies irae" solo, "Mors stupebit" ("Death will be stupefied"). Elsewhere, ironically, his beautifully nuanced voice tended to be overpowered by the excesses of the other soloists.
As is sadly so often the case in performances of major symphonic choral works, the vocal soloists (again, with the notable exception of Christine Rice) did not behave as "team players," but as "stars," to all appearances completely oblivious of the larger-than-life context in which they were singing. Fortunately, however, the Verdi Requiem is not an opera, and, consequently, the performance in Carnegie Hall was carried by the stellar achievements of choir and orchestra.
Conductor Yannick Nézet-Séguin, who recently inaugurated his tenure with the Philadelphia Orchestra, chose the Verdi Requiem for his Carnegie Hall debut, thereby also launching the much-anticipated Verdi 200th anniversary year. Noted for his strong affinity to choral music, Yannick showed off his unique gifts to particularly fine effect with the Requiem. Having studied with Joseph Flummerfelt at Westminster Choir College, he has a special relationship with the renowned choral institution. Under Yannick's inspired direction, the Westminster Symphonic Choir gave an outstanding performance, imbuing each word of the text with expressive meaning, while still maintaining utter precision of articulation and diction. The highpoint of the evening was in the magnificent double chorus of the "Sanctus," which seemed to soar into a celestial stratosphere.
Choir and orchestra alike followed Verdi's extreme dynamic indications to the letter, expertly producing the delicate pianississimo (ppp) and explosive fortississimo (fff) called for in the score. One could not have wished for a more perfect combination of forces: the young, flexible voices of the choir, and the lush, richly vibrant tones of the orchestra. The celebrated "sound of Philadelphia" was almost physically palpable in the exquisite acoustics of Carnegie Hall. From the opening, scarcely audible "Requiem aeternam" with its delicate and luminescent transparency, to the fiery, almost deafening "Dies irae," with its inexorable waves of sound, both choir and orchestra meticulously followed Yennick's score-faithful direction, creating a spine-tingling atmosphere that was electrifying in its intensity.
It is no small feat for an audience to remain attentive and reverently quiet throughout a performance of Verdi's Requiem, which, by its very nature, precludes any possibility of an intermission. So it was particularly impressive and telling that, at the conclusion of the work, complete and utter silence reigned in the hall for a full minute or more, as Yannick froze, baton still in the air, devoutly savoring the profound emotions evoked by the music. Clearly, the public was equally moved by the catharsis of the piece. It was as if a common spirit held everyone in thrall, and it was perfectly natural and fitting to breathe an interior, silent, communal "Amen," before erupting into the tumultuous, appreciative applause that such a magnificent and memorable performance deserved.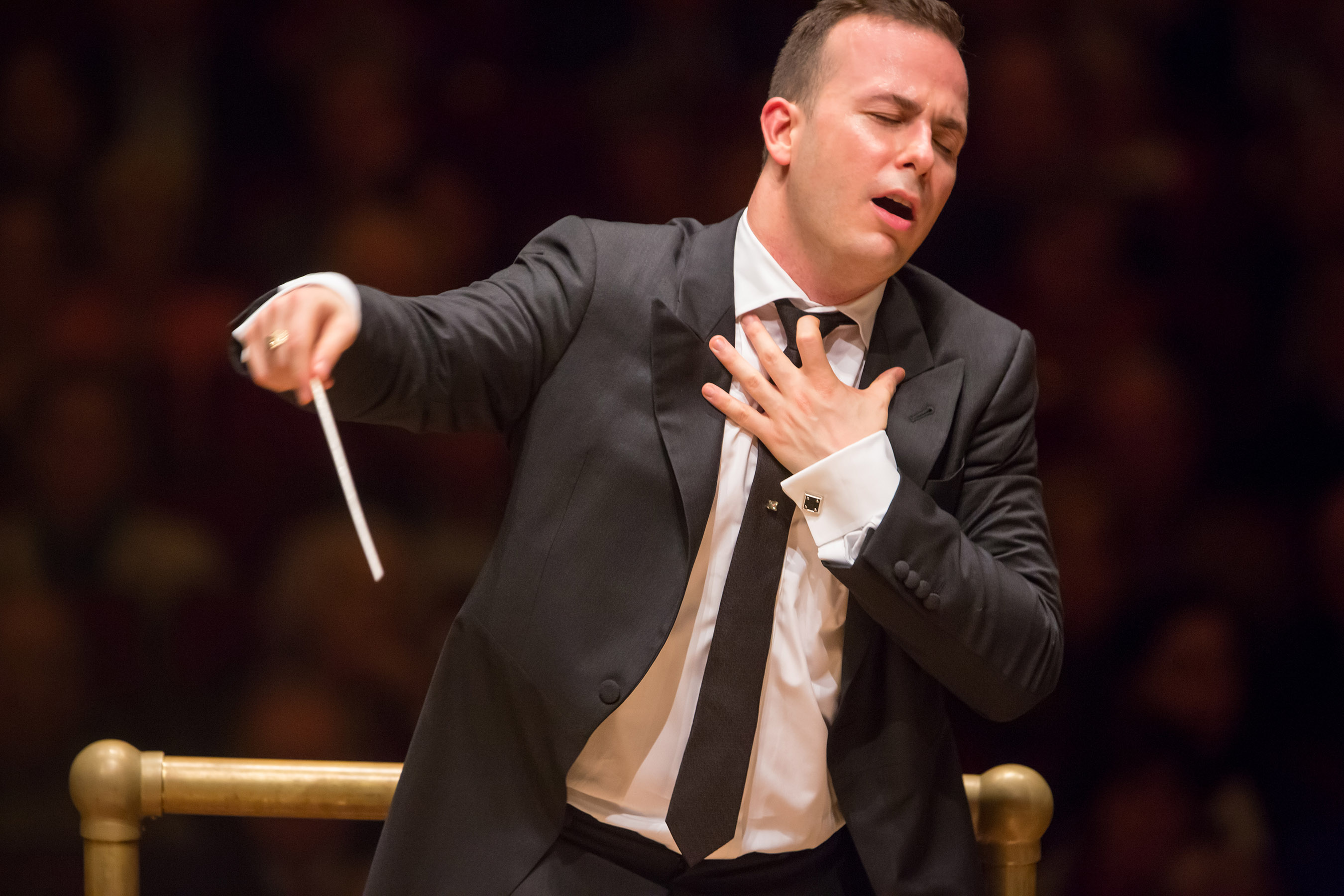 Image courtesy of public relations department at Carnegie Hall.
Related
Popular in the Community