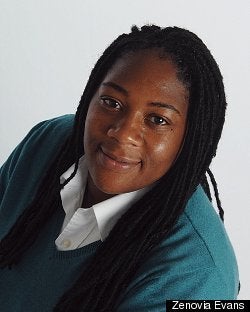 Support for Ethan Haines, the unemployed-lawyer-on-hunger-strike whom Huffington Post e-interviewed at the start of the strike, has backfired as USA Today revealed "his" true identity yesterday to be Ms. Zenovia Evans, an employed 28-year-old graduate of fourth-tier Cooley Law School.

Evans gained some attention in early August when "he" allegedly went on a 30-day hunger strike until ten randomly-selected law schools handed over their graduate employment statistics to a new law school watchdog, Law School Transparency. Evans blogged about the strike and ranted about law schools at UnemployedJD.com.
But after USA Today revealed her true identity-- with her permission-- Evans' cause for law school transparency appeared to be lost in the scope of her deceit:
For instance, Evans says she owed "more than $150,000" in student loans. But Volokh Conspiracy did the math: "Cooley's current annual tuition is $30,644, with discounts of 25-100% available for students with high LSATs (starting at 149, with an additional 10% discount for Michigan residents)," VC writes.
A commenter on VC scoffed at Evans' hunger strike, which apparently allows V8 juice and smoothies: "Fruit juice breaks a hunger strike; it's full of sugar. You don't starve to death while consuming calories."
Above the Law had to disable its comments section when commenters turned nasty about Evans' body size.
Even Mary Beth Marklein, the reporter who wrote the USA Today piece, admitted that many of Evans' claims were blatant lies in her blog:
Though her website says she is unemployed, Evans is an independent contractor (which means no benefits) for a personal injury law firm, earning about $600 a week to hone her legal skills while also pursuing an MBA at the University of Colorado in Denver...she was scheduled to take the bar exam in July, but postponed it to next February. She decided instead to stay in in London (on a study abroad program).
Meanwhile Law School Transparency, a non-profit two Vanderbilt law students attempting to gather accurate graduate employment data, is trying to disassociate itself from the anti-Evans dialogue. Also commenting on the VC blog, LST writes:
It's important to us that we are not grouped with the many disgruntled law school graduates raging against the "law school scam." We are driven by our desire to improve the employment information available to prospective law students so that they can make informed decisions.

Although Evans appears to be one of the luckier law school graduates, her Ethan Haines alter-ego resonated deeply among the growing number of resentful, unemployed law school graduates.
Twelve percent of 2009 law school graduates are still unemployed, up from 8 percent in 2007, according to a November report from the American Bar Association. The average law school loan is $59,324 for public schools and $91,506 for private schools.
And yet-- the number of law school applicants for this fall rose 2.2% to more than 87,000.
Are you a law grad disenchanted with the law school system or looking for work? E-mail college@huffingtonpost.com to share your story.
Related
Popular in the Community