They call it "acid" -- but it's not what you think. And that confusion may have cost a young Missouri student his life.
Ethan Rickman, a high school freshman from Northland, Mo., died last week after taking "acid," a synthetic hallucinogenic drug made to mimic the effects of LSD.
Rickman was rushed to an area hospital Oct. 4 after Platte County sheriff's deputies received a call about an unresponsive teenager. The 14-year-old died at the hospital. Another 14-year-old, who has not been identified, was also treated for the drug.
KCTV reports that two other teens now face drug charges related to the death. According to court documents, Krista Meeks, 17, allegedly sold six hits of a "research chemical drug" known as "acid" to Rickman and the other teenager Oct. 3 in order to settle a debt with 18-year-old Jamell Montgomery.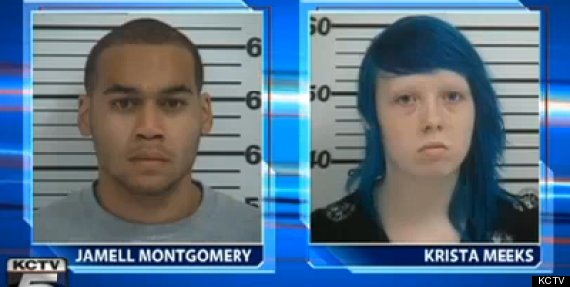 Jamell Montgomery and Krista Meeks face drug charges in a Missouri teen's death
Court documents say the copycat hallucinogen has effects so "harsh and violent" that the young woman, who admitted to being a heavy drug user, said she refused to try it.
Montgomery and Meeks are both charged with felony distribution of a synthetic controlled substance. Meeks also faces two marijuana-related misdemeanor counts.
A statement released by the Park Hill School District called Rickman "a bright, talented, fun-loving young man who played in a band," and noted that "his family donated his organs, which are already saving a life."
Law enforcement told KSHB that police have seen an increase in the availability of synthetic drugs such as "acid" on the market and in schools, in part because they are cheaper than their organic counterparts. The side effects of those drugs are also far more violent and dangerous.
In September, the horrific homemade drug krokodil was reported for the first time in the U.S. with two related cases in Arizona. The "flesh-eating" drug, which in some cases reportedly causes users' flesh to rot off the bone, was also reported outside Chicago this week.