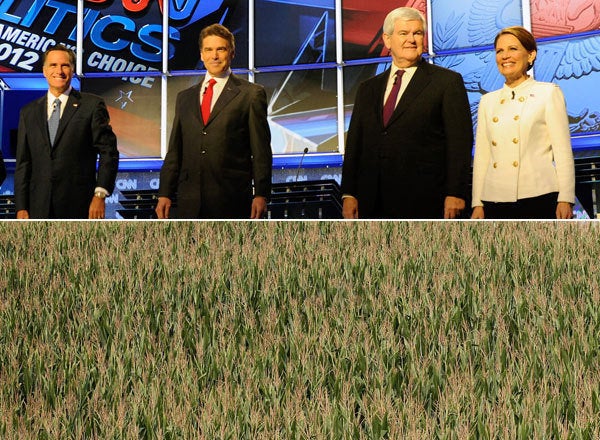 Two months away from Iowa caucuses, GOP candidates are making their pitches on a key energy issue in corn country.
Several Republican presidential candidates attended a forum on Tuesday, voicing their views on ethanol subsidies. An Omaha World-Herald report shows four GOP hopefuls going against government assistance, headed by Texas Gov. Rick Perry.
"I do not believe the bureaucrats in Washington, D.C., ought to be picking winners and losers in the energy sector," Perry told the crowd in Pella, Iowa -- located about 40 miles southeast of Des Moines.
Rep. Michele Bachmann (R-Minn.), Rep. Ron Paul (R-Texas) and former Sen. Rick Santorum (R-Pa.) echoed Perry's sentiments, going against ethanol subsidies. ABC News highlighted Bachmann's belief that energy industries "need to stand on their own."
Standing on his own on the subsidy side was former House Speaker Newt Gingrich -- a candidate with a political history in this area. BusinessWeek notes that Iowa farmers have benefitted in the past from ethanol subsidies generating greater demand for corn.
But to Gingrich, the decision has national security implications. Back in 1984, he voted in favor of ethanol subsidies. Today, he still sees positives from a global standpoint.
"We decided it was better for money to go to Iowa than to Iran, better for money to go to South Dakota than to Saudi Arabia," said Gingrich at the Iowa forum. "I still believe that and I'd like to see some kind of encouragement for every vehicle to have flex-fuel capabilities and every gas station to be a fuel station not just a gas station."
Missing from the scene was Mitt Romney -- a candidate who has been noncommittal on ethanol subsidies. Back in Mid-October, the former Massachusetts governor addressed the issue, telling the Des Moines Register:
"I'm not running for office based on making promises of handing out money. And you're not looking for that, but I don't want to suggest, 'Hey, I have money for everything. More money for schools, new projects, economic development, more money for farmers.' We're going to have to live within our means."
Spokesperson Eric Ferhnstrom clarified Romney's position in an email to HuffPost, adding: "He supports ethanol but he doesn't believe any subsidy is permanent."
Back In July, an Iowa Republican poll showed that a majority of self-described state Republicans placed spending cuts as a bigger priority than ethanol subsidies. On Jan. 3, county conventions will be the deciding factor, as the Iowa caucuses kick off the 2012 GOP primary season.
Related
Popular in the Community