The currency community is tight-knit and passionate, that's one thing we can all agree on. Shortly after this morning's piece went up regarding my concerns about Barry Silbert promoting Ethereum Classic, a number of you brought some information to the fore that I was unaware of.
Barry Silbert, founder and CEO of the Digital Currency Group and creator of the Bitcoin Investment Trust, has already faced S.E.C. action over a strikingly similar event that involved the promotion of so-called "BIT Shares."
Although some sources believe a less connected man would have done jail time, Silbert's firm managed to extricate itself from the fiasco with only a disgorgement and a cease-and-desist order from the Commission. You can read the full case law here. Although there are several interesting parts, this one is most relevant, found on page 3: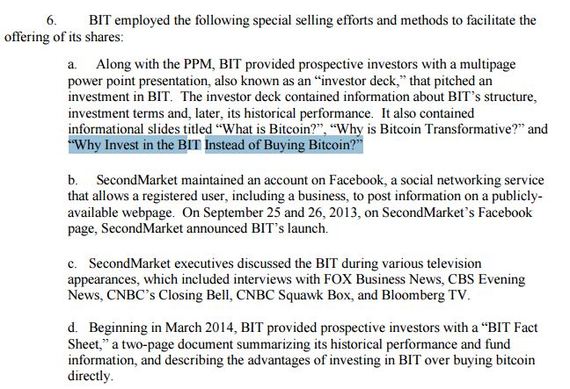 It is troubling to some in the community that Silbert attempted to divert enthusiasm for Bitcoin, the popular intermediate commodity money mined by computers the world over, into excitement for the "BIT" - which had redemption restrictions and other issues.
Some feel Silbert is orchestrating a classic "Pump and Dump" by using his name and connections to legitimize the trading of a failed orphan chain as a viable alternative to Ethereum, and there are concerns that since Silbert's group has already attracted S.E.C. scrutiny in the past, if he were to dump his Ethereum Classic tokens at any time, it could trigger unwanted additional scrutiny and regulation for the larger cryptocurrency industry.
Now is Ethereum itself a legal asset? Within the highly regulated State of New York, Governor Cuomo himself has stated that some exchanges operating in New York are authorized by the NY State Department of Financial Services (NYDFS) to trade in Ether:
Where does this leave Ethereum Classic? Cryptocurrency is still an unregulated market, but it's likely that if things don't end well for Classic token holders, the S.E.C. or other regulators may have more to say about cryptocurrency - and at least for some in the community, attracting regulators' ire is far from ideal.
If Mr. Silbert was so "philosophically" enchanted by whatever it is he sees in Ethereum's orphan chain, some industry watchers feel he should have kept it to himself, rather than pumping it from his personal Twitter account: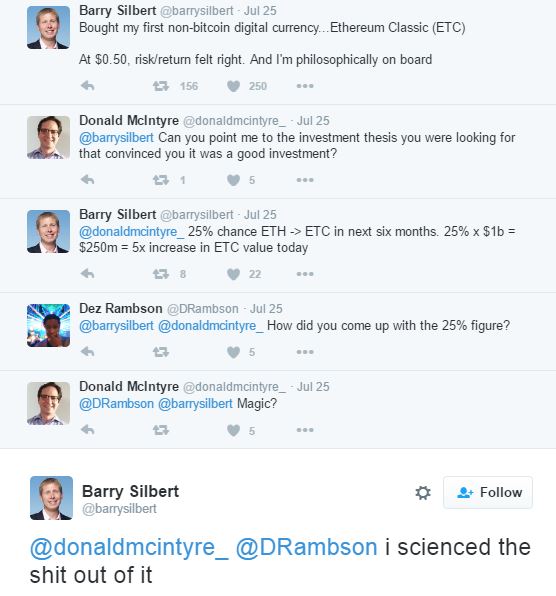 You can read our earlier story on Ethereum Classic and Mr. Silbert here.
Full disclosure: At time of publication, I hold some bitcoin and ether as I research and use both technologies frequently.
Popular in the Community