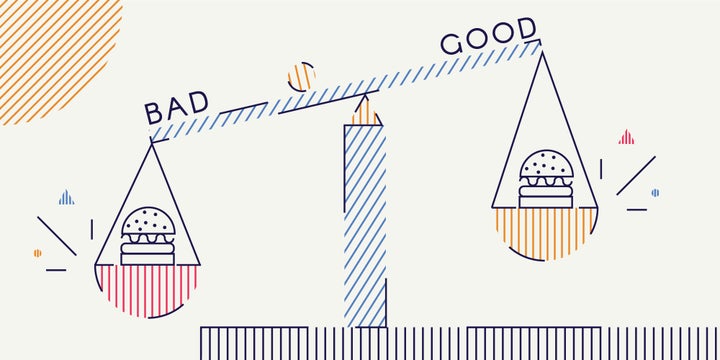 As I walked up to the banana pileup, I knew I was in trouble.
Sure, those things are an excellent (and affordable) healthy snack, but they are almost universally sourced from producers with serious ethical issues.
Yet I still wanted them. What would Michael Pollan do?!
Sheepishly, I scanned the banana barcode using HowGood, a free app intended to help shoppers make more ethical food purchases. I'd been using the app all week to try to make all the "right" choices at the grocery store.
The app revealed, unsurprisingly, that the bananas did not meet HowGood's sustainability standards, but there were no other banana options in the store. There were also no other options that met the app's standards, it turned out, in two other stores where I looked for a better alternative.
Eventually, I bit my lip and bought some verboten bananas.
The app that led to my banana boondoggle was created by brothers Arthur and Alexander Gillett in 2007 with the aim of creating an unbiased, one-stop source of information about food companies' ethical practices and histories, cutting through the confusing web of product labels, academic studies and Internet hot takes to separate the greenwashers from the genuine foodie heroes.
The app relies on a research team — which includes input from hundreds of scientists, academics, farmers and grocers — that has rated over 200,000 products across 70 different indicators that fit into three broader categories. They include how the products are grown, how they are produced or processed, and how the company operates.
Those ratings are boiled down to one of just four ratings — "good," "great," "best" or, if a product is determined not to meet standards in all three categories, no rating whatsoever.
Easy, right? HowGood co-founder and CEO Alexander Gillett admitted to HuffPost that simplicity was the goal.
"For each of the different included inputs, the idea is to take all the complexity of the food system and simplify it so you don't have to have a Ph.D. in each of these fields or understand the difference in every single input to be able to vote with your dollars," Gillett said.
The ratings can be accessed using the company's smartphone app, which debuted three years ago and has been slowly attracting an audience and investors ever since, bringing in a new round of funding in the range of $4 million this year.
Using the app, shoppers like me can scan any product with a barcode or search the HowGood database to quickly view product ratings.
Some grocery stores — about 257 across 26 states — are even working with the startup to display the ratings next to products' price tags, with more to come, according to Gillett.
"The shelf labeling is going about as fast as we can do it," Gillett added, noting that licensing the app's ratings for the in-store labeling is the startup's primary source of revenue.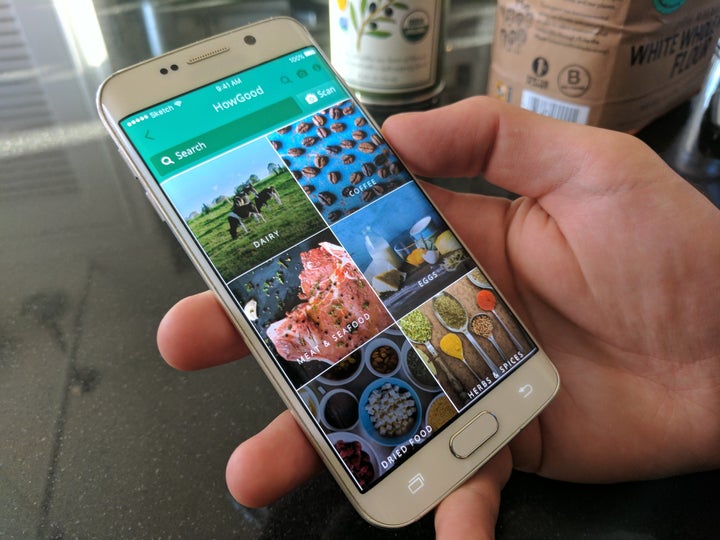 For now, it appears the HowGood rollout hasn't made much of a dent in the Midwest, where I'm based. The nearest store already sporting HowGood shelf labels was more than an hour's drive away.
Without shelf labels to rely on, I was left scanning each product that piqued my curiosity, a process that felt time-consuming and grew increasingly frustrating when the app began to time out. Then, in large sections of the first store I visited, my phone lost signal altogether, which rendered the app useless.
At two other stores where my signal was stronger, however, I was able to easily compare ratings on products like different brands of coconut oil (all of them were "great") and feel-good frozen entrees from the likes of Amy's and Evol (some of them, surprisingly, better than others).
When my phone had a strong signal, the process was certainly quicker than scrolling through pages of Google search results and looking for insights into company practices.
But what about situations — such as my own personal bananagate — in which shoppers have no highly rated options to choose from? And how reliable are these ratings in the first place? Experts in food ethics admire the effort behind the app but aren't so sure.
Dan Crossley is the executive director of the U.K.-based Food Ethics Council, a nonprofit group.
Crossley said he feels that tools like HowGood hold a lot of potential to help shoppers make more informed decisions in the grocery aisle, but noted that past attempts at developing these sorts of ratings have come up short because the science behind the ratings often isn't robust enough to capture the nuances inherent in our food system.
He said he wasn't sure if HowGood has succeeded where many others have failed. The result could even do more harm than good.
"Well-intentioned simplification can end up resulting in greater confusion," Crossley added.
Lauren Ornelas, the founder and executive director of the food justice-oriented Food Empowerment Project, was also concerned that the work could be oversimplifying the issue at hand.
In response to concerns about the ways in which most commercial chocolate is sourced, Ornelas' organization launched its own "chocolate list" and an accompanying app about six years ago that identifies which chocolate brands their group has reviewed and recommends.
Researching that project, Ornelas added, was a huge undertaking for their small organization. And it was a process that revealed many products are neither "good" nor "bad" — most fall in a gray area in between. That gray area, she said, is less evident in the HowGood approach.
"This makes something that's very complicated seem very simplistic," Ornelas told HuffPost.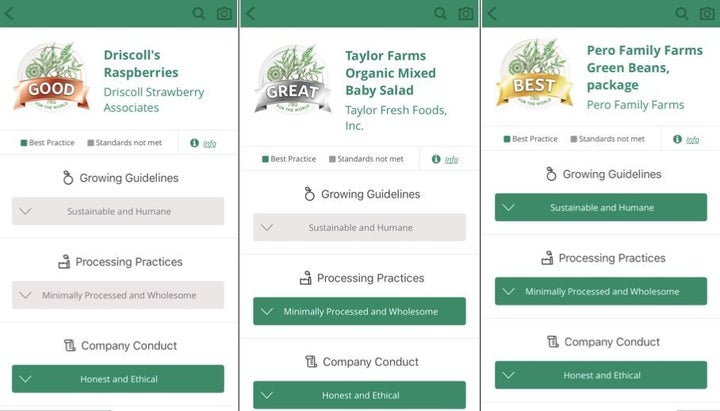 One particular rating in the app also caught Ornelas' eye: Driscoll's raspberries were rated "good," owing to the brand's high company conduct score — but the company has been the subject of widespread allegations of farmworker abuses and calls for a global boycott of its products.
The surprising rating made Ornelas question who might be weighing in on the app's product ratings.
"Who is setting this criteria and deciding what's the best one out there?" Ornelas added. "If you're claiming to be any type of entity that's forcing companies to be more transparent, you have the responsibility to be more transparent yourself."
In response to a question about the Driscoll's rating, Gillett said that seemingly controversial companies can sometimes rate better than anticipated using their system because the companies are being compared to the rest of the industry — in other words, everyone is being graded on a curve.
"Oftentimes it's the case where a company has problems in one area and needs improvement but it's just a well-publicized version of that and the rest of the industry is performing worse," Gillett explained.
In addition, Gillett said the company welcomes input from users concerning product ratings and considers that input when it is reviewing ratings, a process that automatically begins anytime a product's ingredients or sourcing change and is also carried out manually on a regular basis.
There's still plenty of reason to be skeptical of all of this.
Paul Thompson, a philosophy professor at Michigan State University who has been studying food ethics issues for 35 years, admitted that the HowGood app was "doing a pretty fair job of covering the bases" on a wide range of food ethics issues. If it becomes more widely used, he said, it could encourage more food companies to embrace better practices.
But still, Thompson said, a more just food system probably won't be achieved through an app — or through more "woke" shopping habits in the first place.
"Anyone who seriously thinks that an app is going to make their food decisions for them is not really engaged in food ethics," Thompson added. "Food justice usually is about building relationships on a local community level. Maybe I'm old-fashioned, but I still think that a relation mediated by an app is not really a relationship."
Personally, I share Thompson's skepticism. The app wasn't particularly easy to use and I'm unsure how many shoppers would take the time to go to three different stores in search of an ethical banana. I'm even less sure that the number of people making such an effort would hit a critical mass capable of shifting the entire food system.
But would it hurt if some people do? Probably not.
Gillett, for his part, remains optimistic.
"You can really make a difference in peoples' lives by switching from one product to another and supporting the companies with the best practices," Gillett added. "We're empowering people to engage and help move the needle."
Joseph Erbentraut covers promising innovations and challenges in the areas of food, water, agriculture and our climate. Follow Erbentraut on Twitter at @robojojo. Tips? Email joseph.erbentraut@huffingtonpost.com.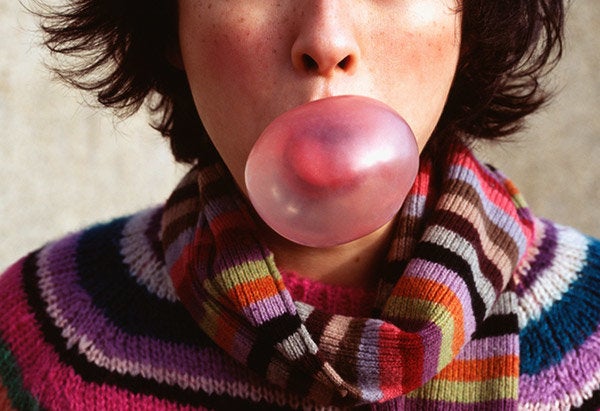 Sneaky Tips For The Grocery Store
Popular in the Community