Fashion can lead us to a cultural revolution where what we wear can be sustainable, with a story, representing our values and dreams. Simonetta Lein
There are some people that you immediately feel are changing something. You sense their energy, you go trough their story and you know you are witnessing something as big as a dream. There is nothing more fascinating than seeing someone who dares to follow a wish and make it reality. Especially when a woman gives me that feeling, I feel particularly proud: her name is Ilaria Venturini Fendi.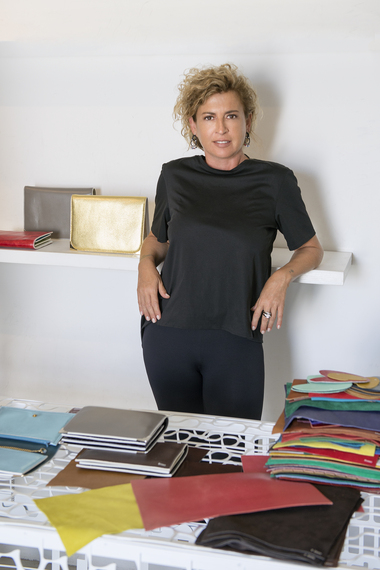 When you were a child, did you wish for the career and for the life that you have manifested today?
Even when I was a child, I always thought I would live doing something related to nature. I liked to spend most of my time outdoors and I was happy when I could go with my father -a business man with a great love for the countryside- for long walks immersed in nature. Horse-back riding has always been my favorite sport and I had a horse that died at 30 years old, he was really important in my life. As far as I remember when I was little, I had never thought about being a designer or having a career in fashion. After my father died when I was ten years old, I started to spend more and more time with my mother in her atelier. All types of creative people were coming and going all day long and I started to become fascinated about her job.
It seemed almost natural that at a certain point I will join her world. I studied design and then went to Paris for a internship at Chanel with Karl Lagerfeld. I then joined my family firm, Fendi, struggling and working hard, becoming first a Creative Director of Fendissime Accessories (at that time it was Fendi's young line) and later a Shoe Designer for Fendi. I was able to learn from the best and I am aware that it is the know-how I acquired thanks to the tradition of my family that enables me to do what I do today.
My career was full of exciting moments and great rewards. From my point of view it was also a sort of "golden age" of fashion, with great inspiration, incredibly clever creative people, and new challenges that made it exciting and innovative. However, I had two babies and started feeling the need for more time for myself, while the fashion system was beginning to change as well with me. Globalization was taking over and everything was becoming too accelerated and demanding. In fashion, more dates were introduced to the calendars, more shows, collections became outdated the very moment they were presented...It was frustrating to think that what you thought up, designed and created with such effort was doomed to be old news in six months.
I have always loved my line of work, because there is nothing better than a creative job, but I was feeling that it no longer made sense if it had to be that way. I wanted to dedicate more time to my family and go horse-back riding over the weekends, enjoy nature, going for walks, breathing fresh air. For a long time I have been looking for a small, relaxing place near Rome that I could buy to keep my horse and make the old dream of owning my little piece of land come true. However I could never find what could fit in my dreams. Until I came across I Casali del Pino: the farm I decided was going to be mine the moment I first laid my eyes on it. It was the turning point of my life, the love at first sight with this piece of land just outside of Rome, forgotten and neglected for many years but preserved from urbanization because of its location in a green archaeological protected area. It gave me the enthusiasm and also the courage to leave my family company - that in the meantime had been sold to the French group LVMH - and start a new life.
I studied to become a farmer, and I immediately decided I wanted to do all organic agriculture, which took more than three years. I bought my own milking sheep - now there are more than a thousand of them - and I started to think of the renovation of rural buildings, that I wanted to be carried out with sustainable architectural solutions. Fashion seemed to be a beautiful but distant memory. During the long winters when the soil was regenerating and there wasn't much to do in the farm, I started to miss my old job, the thrill of creation, the excitement of making ideas become something real. When a friend of mine - president of an Italian NGO - engaged me in some projects for women's rights, he showed me a few bags created for their mission: a campaign against female genital mutilation. At that point I had the idea that those bags could be customized by adding different materials I had easily accessible. Some people are used to having their clothes custom made. Through the years I kept up the habit of having my bags made by some of the artisans I used to know. So I brought the bags to them and by adding scraps of fur, leather, pvc and other fabrics each bag became a one-of a kind masterpiece. I went to see another friend, Massimo Degli Effetti, he owns one of the best stores in Rome, and I asked him if he was interested in having some of these bags in his store. He took ten and they sold out right away. It was exactly like ten years ago, right before Christmas! I was also able to give the NGO a contribution made from the profits of the bags, this way we were all happy.
I was the happiest because I understood that this could be my own way of not giving up fashion, of still being involved in a creative job that allows me to uphold my principles, expressing the person that in the meantime I had become. I merged my beliefs for a more sustainable world, in which the protection of the environment would join the idea of greater social justice in society. For my brand I chose a name that so many people found a bit strange and uncommon, but that I would never change because it expresses so much of myself: Carmina Campus, sounds Latin and it's a bit like "chants of the fields"...
This is how I became equally passionate for creativity and nature, they both contributed in shaping my character, taste, education and attitude towards life.
**I couldn't take my eyes off the page reading Ilaria's story, imagining dad and mom Fendi teaching her all that she knows, and realizing how much courage she had in exploring and reinventing herself, launching a brand that is a statement as a fashion invention and as a human message.

Name a wish that you had for your life or for humanity that finally came true.
On a personal level, my dream has always been to have my own piece of land, and I feel lucky because it became a reality. But for humanity I am very worried because there's not much time left before the damage of climate change becomes irreversible. This would be a disaster for every individual and from all points of view, environmental, economic and social. For the future of humanity my wish has not come true...I do hope that since we are on the verge of a new era, in a moment of transitory but crucial change, people including my children, will be able to live in a better world, where the mistakes we have been making will be very quickly mended.

If you were granted one wish for humanity or for our planet, what would it be?
There are so many problems to solve and it's difficult to name just one: hunger, wars, depletion of resources, global warming, climate change... They are critical issues for the future of humanity, all related to each other, global and interconnected. They can no longer be dealt with separately, because it's not just a matter of keeping the world clean. You cannot think of creating development in poor countries if progress means making the same mistakes we have already made in developed countries, causing pollution, consuming resources, creating injustice. New models of development are needed. I wish I could finally see governments and people all united and focused on the real problems

** Ilaria had an important project in Africa, a part of her view about new models of sustainable development - that should also include the fashion industry.
It all started because the first Carmina Campus bag was desined to promote a human rights campaign for women. This imprinting effected the whole concept, making the engagement in projects based on social utility a fundamental feature of the brand. A few months after the first Carmina Campus styles were designed, I took a trip to Cameroon, invited by a Cameroonian doctor and a team of researchers from the Tor Vergata University in Rome, with whom the doctor was collaborating on a project regarding honey and bees. To help improve their beekeeping techniques, Tor Vergata University asked me to collaborate, hosting some training sessions at my farm. I was later invited to Cameroon to see the results of this collaboration. When I was there I also met a community of women artisans and I thought I could start a working project for Carmina Campus with them. But in spite of the great enthusiasm and the good results in terms of creativity that I was having with semi-finished items (machine embroidery and other one-of-kind textile decors) used to enrich my special "made in Africa" line, the project was very hard to manage. Every time I left I was never sure of what I would find upon my return.
I was emotionally involved but also felt frustrated in my attempts to create a long term, self sustaining working project, capable of becoming a successful trading enterprise. I realized I lacked the support of a reliable organization on site. The lesson I learnt is that in Africa you can't just improvise, problems can get worse instead of improving if you don't know the proper way to approach situations. It was very sad, but after three years of great effort I had to give up. I then accepted the invitation by the ITC, to continue my work in Africa moving to a hub located in Nairobi, Kenya. There, under the responsibility of Simone Cipriani, a community mostly made of disadvantaged women, was already manufacturing textile items. With the ITC I shared the same philosophy which can be summed up by the motto "Not charity, just work" (so often printed on my bags), that very well expresses the project's objective focused on the creation of job opportunities for future independent micro-entrepreneurs. I must stress the fact that this kind of initiative has nothing to do with de-localizing production in poor countries to make higher profits. I invested a lot in training, personally going back and forth several times during the year with my collaborators, creating video tutorials and providing all the possible support to increase the workers' know-how. They were guaranteed by the ITC fair labor working conditions and a social agenda (including free education and health care) available to all the workers' family members, thus multiplying the benefits of the program. According to the agency' reports on the project's impact, the women in the program have been actually able to significantly change their living conditions.
My greatest satisfaction was to see how, thanks to this program, the workers were able to manufacture a Carmina Campus line entirely Made in Africa with materials that were locally sourced, even if not reused (because there is nothing to reclaim and reuse in Africa). I am also proud of the fact that my contribution to the project was not only my expertise, but also helped the African artisans to re-discover their innate skills and crafts, (too often lost as collateral side effects of "progress"). For instance, I encouraged them to express their creativity freely designing the machine embroidery that I used so often in some of my bags.
**I am just mesmerized simply by reading about your adventures dear Ilaria, all the good you have done, the fact that you stayed true to yourself and contributed making a concrete impact on planet Earth. As a woman and a human being: THANK YOU.

If you could go back in time and ask one question from anyone from history, who would you want to meet and what question would you ask?
As it is often happens to women, I am fascinated by men of outstanding intelligence and Albert Einstein has always been an iconic reference for his incredible scientific contribution to knowledge. Love is the answer, is a sentence often attributed to him. If I could be so lucky to meet him today. I would like to ask him if he might eventually find an equation, a scientific approach, that could make this assertion become a mathematical result, that could solve all of humanity's problems.
Please tell me what influences your unique sense of style?
My sense of style in my personal look is the fusion of my two worlds. I like to buy clothes of underground designers because I admire their cleverness, but my preferred outfit is jeans and boots. Regarding my designing style, I was born in a family that made me get accustomed to high quality manufacturing. My concept is to match this fundamental approach with my personal choice of materials - often poor and not specifically employed in the fashion industry - that are the special feature of Carmina Campus.

Who is your favorite fashion designer or brand right now and why?
I have always liked Japanese designers and I still do. In the rest of the fashion world right now there's such confusion that I can't say a I have a favorite brand or designer. Generally speaking I still see little awareness towards social and environmental problems, while fashion could do so much to be the vector of a cultural revolution and promote the idea of ethical fashion becoming the rule, not the exception. I have hopes and expectations for new, emerging designers.

What is your fashion mantra?
Save waste from waste. What I try to do with Carmina Campus is to show that wasted materials can possibly be turned into objects of design. Creating without destroying is something we need to learn.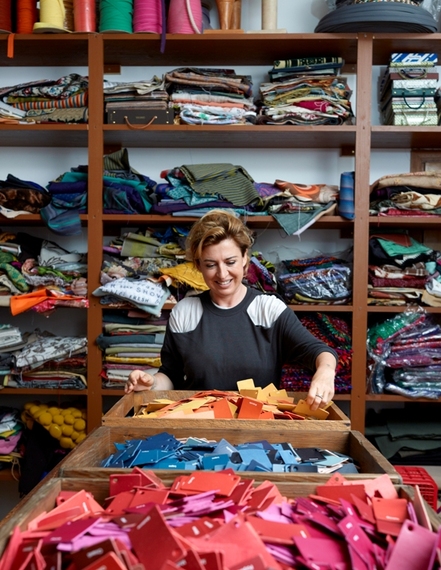 What is your final message for our readers?
It's time to attribute different values to consumption goods if we still want to consume. Things should be beautiful but also good, we should be able to aspire to the same degree of aesthetics and ethics. To reach this objective, we must realize the power we have. We think that as individuals there's not much we can do to change this world because things are too big for us. Instead, acting from the bottom up, we gain a power that can really make the difference. Demand has the power to change things. Let's decide for our future.
Thank you Ilaria for all that you have done, being an inspiration to women entrepreneurs, showing how fashion can make a difference. From the heart of fashion, thank you.
As always, make your wishes come true.
From Philadelphia, Simonetta Lein The Celebrity

Simonetta Lein For Carmina Campus By Ilaria Venturini Fendi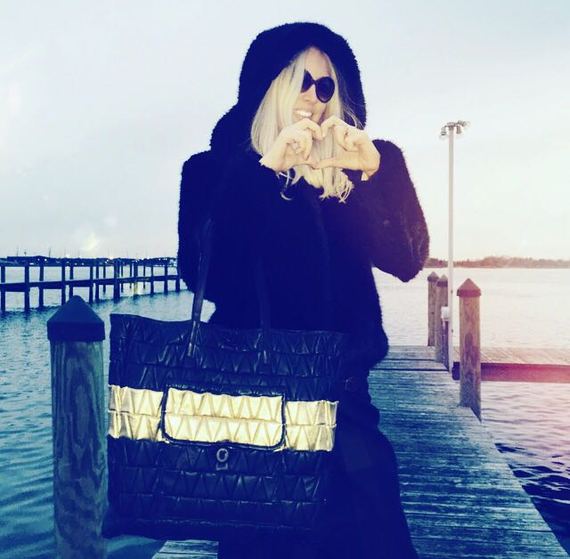 Calling all HuffPost superfans!
Sign up for membership to become a founding member and help shape HuffPost's next chapter