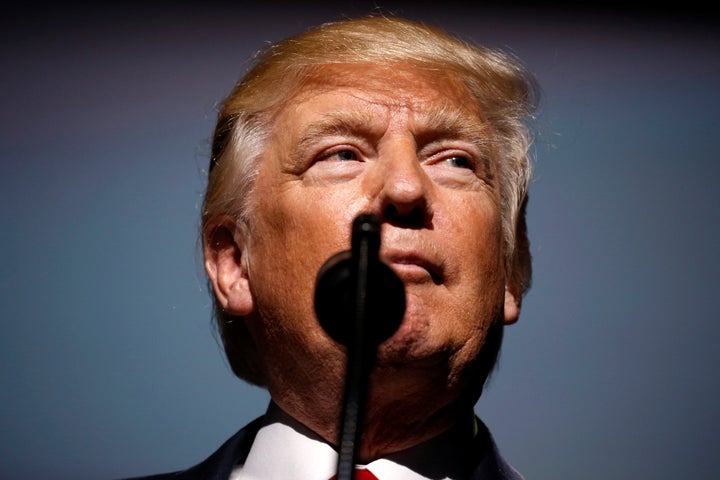 WASHINGTON ― Some of the Trump administration's nominees have pushed back against the government's ethics requirements with "a ferocity we've not previously seen," Walter Shaub, the director of the U.S. Office of Government Ethics, told a top White House lawyer in an email this week.
"That's not the case," Shaub wrote in an email sent to Stefan Passantino, the White House deputy counsel, on the same day, and subsequently obtained by HuffPost.
In addition to alleging pushback from some nominees, Shaub shared an OGE document illustrating that in its first 100 days, the Trump administration has lagged far behind the Obama administration in terms of sending nominee reports to OGE. The document also showed that OGE is clearing the reports for the Trump administration at a faster rate than it did during the Obama administration, even though these reports are more complex.
Shaub asked Passantino to share the document with Priebus "on the chance he is just misinformed." (The White House did not respond to a request for comment for this article.)
Before the White House can fill senior-level jobs, it must send nominees' financial disclosure reports to OGE and the applicable agency to ensure completeness, and to identify and resolve potential conflicts of interest consistent with ethics laws.
As of April 25 2017, OGE has received only 46 percent of the nominee reports as they had received by the same date in 2009.
There are about 92 nominee reports that OGE has received but not finished going through. The office said it received 75 percent of those reports within the past 30 days.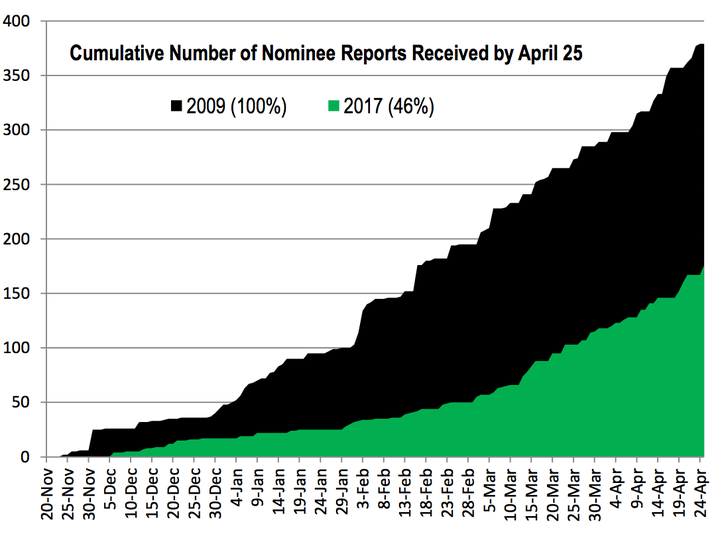 "When we geared up for the Obama transition, everybody knew that they needed to get that paperwork in and ready to go," Virginia Canter, who served as White House associate counsel to former Presidents Barack Obama and Bill Clinton, told HuffPost. But emails show that when OGE tried early on to make contact with the Trump transition team, aides were unresponsive.
On top of that, "we've been clearing nominees faster than we did in the last administration, which has been quite an accomplishment given how much more complex these nominees reports are," Shaub wrote in his email on Wednesday.
Trump ― who has set the tone for his administration by refusing to divest his own business interests or release his complete tax returns ― has nominated billionaires with enormously complex holdings to key Cabinet positions. A nominee, particularly one with complicated holdings, will often go through multiple rounds of questioning before they are cleared by OGE.
The "primary factor" that determines how fast OGE can clear a nominee is the person's "responsiveness," Shaub wrote in his letter. 
If a nominee is reluctant to agree to the legally required steps to resolve a conflict of interest, that can hold up the process. An OGE spokesperson did not respond to a request for examples of how nominees may be pushing back. But there are a few public examples of nominees whose holdings could have caused problems with OGE. Commerce Secretary Wilbur Ross has kept his stake in a shipping firm that has ties in China. And Trump's pick for deputy secretary of commerce, Cubs co-owner Todd Ricketts, withdrew after reportedly failing to unravel financial holdings to OGE's satisfaction.
Shaub acknowledged that some nominees have been "very responsive." And he told Passantino that OGE has "appreciated the help you've personally given us in pushing a few of the nominees who have been the slowest to respond to questions about their disclosures."
But, he added, "the last thing we need for the morale of our nominee reviewers is to have the Chief of Staff to the President smearing them with false information."
Clarification: This article has been updated to reflect that the OGE figures compared completed reviews of nominations in 2017 to those in 2009, not to an absolute number of possible nominations.
Calling all HuffPost superfans!
Sign up for membership to become a founding member and help shape HuffPost's next chapter