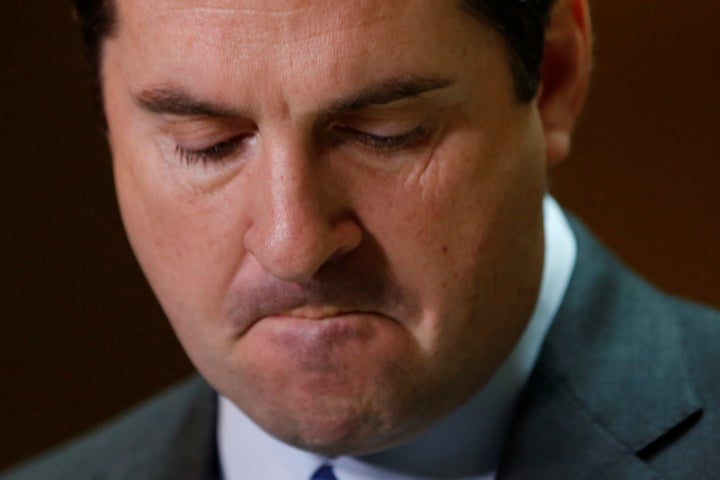 A watchdog group has filed a new ethics complaint against House Intelligence Committee Chair Devin Nunes (R-Calif.), alleging he leaked confidential information.
The complaint, filed by the Campaign for Accountability, which describes itself as a "non-profit, nonpartisan watchdog organization" on its website, calls on the Office of Congressional Ethics to investigate whether Nunes or committee staff leaked closed-door testimony of the head of the company that produced the bombshell dossier of Russian information on Donald Trump.
Parts of the confidential testimony apparently were "selectively leaked" to discredit Fusion GPS and to "retaliate against Fusion for its role in investigating" Trump and his campaign's ties to Russia, according to the complaint. It alleges the leak further aimed to "deter the firm from engaging in any continued investigation."
This month, a transcript of the entire testimony of Fusion GPS co-founder Glenn Simpson with the Senate Judiciary Committee was released by Sen. Dianne Feinstein (D-Calif.), the top Democrat on the panel, at Simpson's request.
Simpson believed the transcripts would provide a more accurate picture of what he said, rather than selectively leaked bits to put the company in a bad light. The full transcripts included information about Trump's possible Russian connections.
The Campaign for Accountability complaint also says Nunes or his staff "improperly obtained" information about the identity of Fusion's bank from the Senate Judiciary Committee. Nunes subsequently issued a subpoena for bank records without anyone's approval — and likely leaked the bank's identity to the press, the complaint says. Nunes recused himself from the House Russian probe in April after officials revealed he was under investigation for possible leaks.
Nunes went after the bank's records in an attempt to identify who had hired Fusion for the dossier, the complaint says. Fusion GPS was paid during the GOP primaries by the conservative website Washington Free Beacon. Once Trump won the primary, the research was funded by Hillary Clinton's campaign and the Democratic National Committee.
Nunes' office didn't immediately respond to the complaint.
Nunes has been embroiled in controversy over a secret memo he reportedly orchestrated that alleges the FBI abused its surveillance powers investigating the Trump campaign's involvement in Russian election interference.
Last month, the House Ethics Committee cleared Nunes of an earlier complaint alleging he had disclosed classified information.