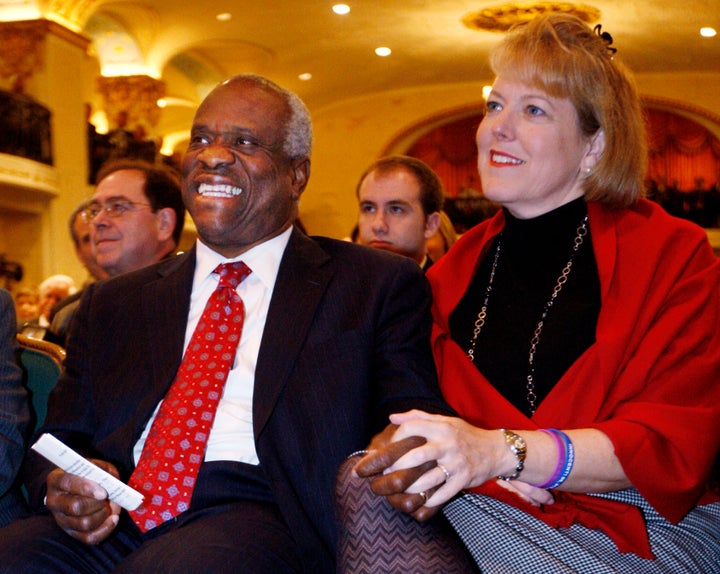 WASHINGTON -- House Democrats are ratcheting up the pressure for a formal investigation into Supreme Court Justice Clarence Thomas for failing to disclose information relating to his wife's earnings -- as much as $1.6 million over the past 13 years -- on his annual financial disclosure forms.
House Rules Committee ranking member Louise Slaughter (D-N.Y.) and Rep. Earl Blumenauer (D-Ore.) on Wednesday sent a letter to the House Judiciary Committee calling for hearings "on the pattern of potential ethical lapses" by Thomas, who, after years of filing his financial forms properly, stopped disclosing his wife Ginny's employment status every year between 1997 and 2011. During that time, the letter states, his wife made at least $1.6 million, based on reports from outside groups.
"Public records clearly demonstrate that Justice Thomas has failed to accurately disclose information concerning the income and employment status of his wife, as required by law," reads the letter to House Judiciary Chairman Lamar Smith (R-Texas) and ranking member John Conyers (D-Mich.). "In addition, news reports indicate that Justice Thomas may have also failed to report gifts from wealthy supporters and inappropriately solicited donations for favored non-profit organizations."
The Huffington Post later caught up with Conyers and asked if he supported the idea of holding hearings to examine Thomas' disclosure practices. "I'm open to that," he said.
Thomas' disclosure errors first came to light in January, when he sent a packet of letters to the Committee on Financial Disclosures requesting amendments to his disclosure forms for the past 21 years. He wrote that he "inadvertently" left out information about his wife's employment during those years "due to a misunderstanding of the filing instructions."
In his letters, Thomas lists all of his wife's former employers and the years that she worked for each one. Most notably, her past employers included The Heritage Foundation, where she made hundreds of thousands of dollars between 2003 to 2007 alone. Democrats have noted that The Heritage Foundation was a major opponent of the Affordable Care Act, an issue the Supreme Court is expected to rule on by next summer, and have suggested Thomas may need to recuse himself from related cases that come before the court given his wife's activities.
Supreme Court spokeswoman Kathy Arberg told The Huffington Post that Thomas' errors were "inadvertent" and that he, like other justices, isn't required to report how much money his wife makes, only where she makes it.
"Please note that the financial disclosure forms require only the source of a spouse's income, and not the amount of that income," Arberg said in a Wednesday statement. "The Justice has had no further comment."
But Democrats say the point is that Thomas may have deliberately withheld information required by federal ethics laws, and because the high court isn't subject to a comprehensive code of judicial ethics, there is no recourse for investigating the matter.
Slaughter and Blumenauer are both cosponsors of legislation that would apply the code of judicial ethics for federal courts to the Supreme Court, and set up a formal system for recusal by Supreme Court justices.
"We're talking about breaking the law," Slaughter said Wednesday of the gaps in Thomas' disclosure forms. "We're not trying to adjudicate his innocence or his guilt. But we want the people who are capable of doing that to get to it."
Wednesday's letter is just the latest effort by House Democrats to build momentum for a formal probe of Thomas. Last week, Slaughter and 19 other Democratic lawmakers called for a Justice Department investigation on the matter. On Tuesday, Slaughter sent a letter to the Senate Judiciary Committee urging the panel to raise the issue of ethics when two justices testified before the committee on Wednesday on an unrelated issue.
As of Wednesday morning, Slaughter only had 10 signatures on her letter seeking a House Judiciary Committee probe on Thomas. But among them, for the first time, were two members of leadership: House Democratic Caucus Chairman John Larson (D-Conn.) and Vice Chairman Xavier Becerra (D-Calif.).
Democrats are certainly feeling emboldened by the recent momentum on the issue.
"I, in recent months, have been asking myself... why isn't something happening?" Blumenauer said at a Wednesday press conference. "In recent weeks, we have gone ahead and just taken action ourselves. ... It's part of a process that I think is going to build and should build because there is a disturbing pattern here. Nobody is unaccountable in our system of government."
Government watchdog groups are also gunning for an investigation. Common Cause and Alliance for Justice on Wednesday sent a joint letter to the Judicial Conference urging the matter be referred to the attorney general for possible action under the Ethics in Government Act. The Judicial Conference is required by law to refer matters to the attorney general when it has "reasonable cause" to believe any judge or justice willfully failed to make required disclosures.
"There is now more than enough evidence to merit a formal inquiry as to whether Justice Thomas willfully failed to make legally required disclosures, perhaps for as long as 13 years," Common Cause president Bob Edgar said in a statement.
Common Cause has been pressing the Judicial Conference for some kind of action on the issue since February, to no avail. But after it sent a letter last month that included details from newly-found copies of Thomas' old disclosure forms showing that he previously filled out the forms correctly and then stopped doing so, the Judicial Conference replied on Sept. 26 that it was referring the matter to its Committee on Financial Disclosures.
"This new evidence makes the case for a formal investigation compelling," Edgar said. "We believe the Judicial Conference will act."
This article has been updated to include comment from John Conyers.

Popular in the Community