David Apol, acting director of the Office of Government Ethics, called on Kevin Minoli, the EPA's top ethics official, to investigate three areas of concern involving Pruitt's living arrangements, use of taxpayer dollars and staffing decisions, according to a letter first obtained by The New York Times.
"The success of our government depends on maintaining the trust of the people we serve," Apol wrote in the letter, which was sent to the EPA on Monday, according to the Times. "The American public needs to have confidence that ethics violations, as well as the appearance of ethics violations, are investigated and appropriately addressed."
Apol also raised concerns about Pruitt's use of taxpayer dollars for travel, security and some of his employees' salaries. Pruitt's frequent and expensive trips to and from his home state of Oklahoma were the subject of an EPA inspector general probe last year. Pruitt has also been scrutinized over his security detail, which includes roughly 20 full-time, round-the-clock security guards ― three times as many as his predecessor had.
The EPA should also investigate whether employees were "reassigned or demoted" for challenging Pruitt's potentially unethical behavior, Apol wrote. The Times reported last month that at least five EPA officials were "reassigned or demoted, or requested new jobs" after raising questions about Pruitt's "spending and management."
"If true, it is hard to imagine any action that could more effectively undermine an agency's integrity than punishing or marginalizing employees who strive to ensure compliance with the laws and regulations that safeguard that integrity," Apol wrote in his letter to the EPA.
Minoli responded to Apol's request with a letter of his own, stating that EPA's ethics officials lack "independent investigatory authority." 
"We referred your letter to the EPA [Inspector General]," Minoli wrote. "As always, the EPA's office stands ready to assist the IG in any way."
A representative from the EPA's Office of the Inspector General did not immediately respond to HuffPost's request for comment.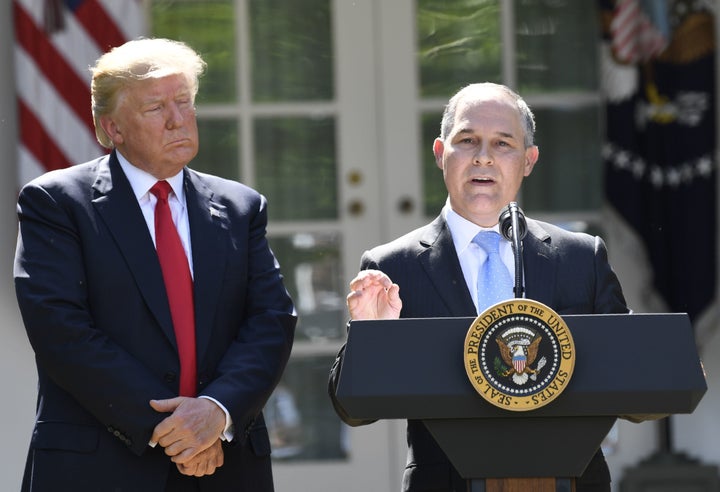 The Office of Government Ethics does not have the authority to discipline Pruitt, the Times noted, though the agency can request that President Donald Trump punish a federal official found to be in violation of ethics rules.
Pruitt has come under fire for at least 23 ethics issues, and the White House announced Friday that it would conduct a review of Pruitt's conduct. But Trump has defended his EPA head, tweeting Friday that Pruitt was "doing a great job."
Democratic lawmakers and a handful of Republicans, including Reps. Carlos Curbelo (R-Fla.) and Elise Stefanik (R-N.Y.), have called on Pruitt to resign in the wake of his ethics scandals.
This article has been updated with Minoli's response. 
REAL LIFE. REAL NEWS. REAL VOICES.
Help us tell more of the stories that matter from voices that too often remain unheard.