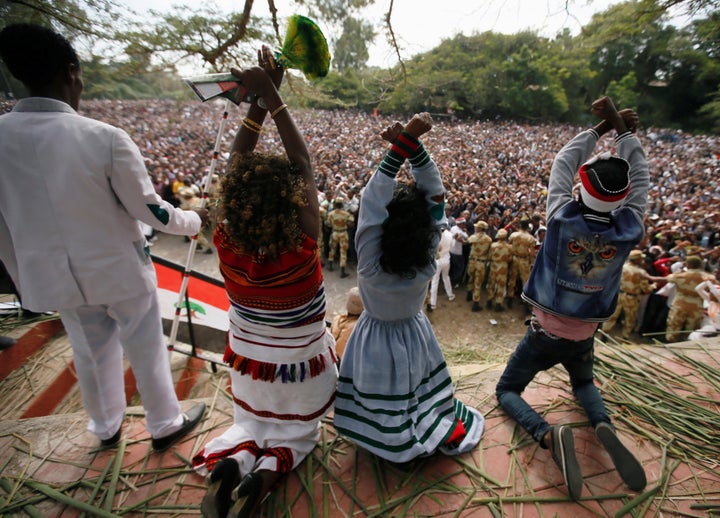 ADDIS ABABA, Oct 9 (Reuters) - Ethiopian Prime Minister Hailemariam Desalegn declared a six-month state of emergency on Sunday, saying it was to restore order after weeks of protests that have resulted in deaths and damage to mostly foreign-owned factories and flower farms.
Last week, protesters also destroyed scores of vehicles, adding economic casualties to a rising death toll in a wave of unrest over land grabs and rights.
"A state of emergency has been declared because the situation posed a threat against the people of the country," Hailemariam said on state-run television.
"The state of emergency is vital. It is essential to restore peace and stability over a short period of time," he said, adding the ruling Ethiopian People's Revolutionary Democratic Front (EPRDF) coalition was also looking at reforms, and planning to hold talks with opposition parties.
Hailemariam said the state of emergency was effective from Oct.8.
The violence has put a shadow over a nation where a state-led industrial drive has created one of Africa's fastest growing economies, but where the government has also faced rising international criticism and popular opposition to its authoritarian approach to development.
Last Sunday, at least 55 people were killed in a stampede in Ethiopia's Oromiya region that was triggered when police used teargas and shot in the air to disperse anti-government protesters at a religious festival.
That has added the toll to more than 450 the number of people rights groups and opponents say have been killed in unrest since 2015. A U.S. researcher was killed on Tuesday when her car was attacked by stone-throwers near Addis Ababa.
The government says the toll cited by critics is inflated.
Related
Popular in the Community