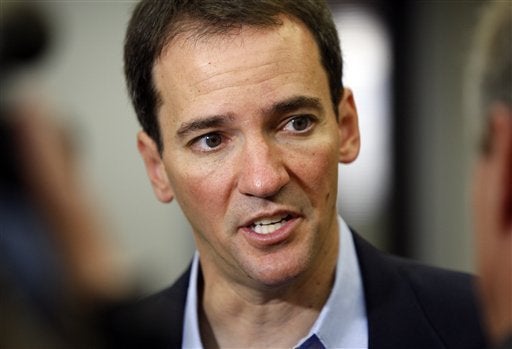 I arrived in Addis Ababa on Saturday night, 23 hours after leaving Denver. The Frankfurt airport now seems as distant as its charm.
This is my third trip to Africa in the last two years, the first since joining International Development Enterprises. IDE equips the world's poorest farmers with the technology and training they need to lift themselves out of extreme poverty. I came to Ethiopia to meet some of our field staff and the families we serve.
Nearly four million people live in Addis Ababa. That's not hard to imagine as we make our way from the airport. Cars converge from every direction. The stoplights don't work, but the horns do. We share the road (if that's the phrase for such an uneasy truce) with donkeys, horses, goats, rickshaws, taxis, trucks, and pedestrians. After our first adventure in an Addis intersection, I'm the only one who still wants to ride shotgun.
Look up in Addis, and chances are you'll see a scaffold. On just about every block, a wooden latticework (eucalyptus, mostly) of ladders and walkways sprouts from the side of a building. The construction sites boast pictures of Ethiopia's future, bright and gleaming: office towers, condominiums, a "School of Tomorrow." People sleep, unconvinced, on the dusty streets below.
It's almost midnight by the time I stagger into bed at the Harmony Hotel. A warm breeze ripples the curtains of the window, carrying with it a low, undulating tune: a call to prayer.
The city rumbles to life early the next morning. We leave Addis for the Central Rift Valley, 90 miles to the south. Most of Ethiopia's 85 million people live in the countryside, subsisting on small patches of farmland. We head for the town of Ziway, passing mud huts with thatched roofs or, in some cases, corrugated iron. Cattle use the same route and occasionally wander across our way, slowly turning their enormous heads to gaze at us without concern.
Our group is too large to avoid attention. Forty of IDE's trustees, staff and spouses fill three white Toyota vans and an SUV. A pickup truck carries our luggage, piled under a tarp.
The procession draws stares from the farmers and schoolchildren who line the road. The children chase our caravan, laughing and shouting, "You! You!" When we slow down in Ziway, the boldest boys approach the windows. They rub their stomachs, point at their mouths, and then cup their hands in a plea for money. Some peer into the van and ask for a "Highland," a water bottle they can refill or perhaps resell for a birr.
IDE began working in Ethiopia five years ago. We've reached more than 27,000 households since then, increasing their income by a total of more than $13 million. For IDE, that represents a 3-to-1 return on our investment. For the families we serve, an extra few hundred dollars a year can mean the difference between bare survival and the ability to treat an illness or send a child to school.
Roughly half of our customers earn less than $1 per day; the rest earn between $1 and $2. They lease the land they farm, typically no more than an acre. Farmers rely on rainfall from June until September. But it's dry now, and without irrigation, little will grow here.
That's why IDE promotes water pumps. One model uses a pair of long levers called treadles. Stepping on them drives pistons, which create enough suction to pull water from a depth of 20 feet. Another model, more popular here, wraps a rope, studded with washers, around a tire. Cranking the tire on a metal frame can lift water from up to 40 feet. IDE trains local residents to manufacture the pumps and then enlists micro-lenders to make them affordable. Field staff map the water supply, train teams to dig wells, and help farmers form cooperatives to market their produce. The farmers -- and the farms themselves -- are the best salesmen; rows and rows of neatly planted tomatoes, onions and peppers promise higher incomes.
Some of our most successful customers have already traded up, replacing their manual pumps with motorized ones. On a handful of farms, IDE is piloting solar steam pumps. A broad reflector, six feet in diameter, opens to the sky, its silver petals glistening in the sun. The sun's rays boil the water in a small metal tank, powering an engine that can then operate virtually unattended. It's easier to imagine Ethiopia's future here than on the billboards back in Addis.
It's dusk now. We'll spend the night in Waliso, a town in Ethiopia's highlands. The Negash Lodge, once home to Haile Selassie, rambles through the woods. A small group of monkeys greets our arrival, hooting their derision from the trees around us before they tumble to the ground. Snub-nosed hornbills and large black-and-white kuras glide overhead, sending a cascade of cackles through the leaves.
The farms yield a delicious dinner: chickpeas, lentils, carrots and potatoes, along with lamb, fish, beef and rice, all mopped up by injera, Ethiopia's spongy bread. Night falls, wrapping a dark blanket around our campfire. The logs hiss and crackle in the cool air. We trade stories with our Ethiopian colleagues. They are justifiably proud of the progress they've made in a few short years. We've learned just enough Amharic to say thanks.
Calling all HuffPost superfans!
Sign up for membership to become a founding member and help shape HuffPost's next chapter