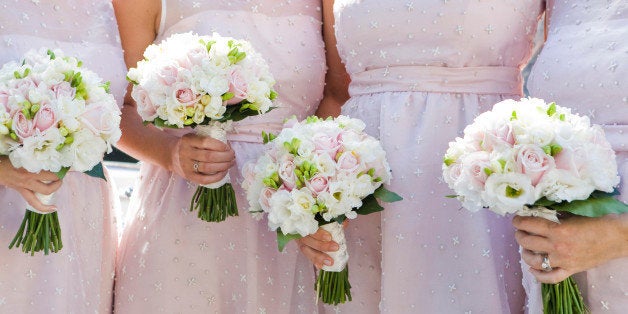 Sometimes, when planning a wedding, it is easy to feel overwhelmed. The bride finds herself with months of decision-making, but it's not just about the venue, the dress and the food. The people she surrounds herself with are critical in making the wedding a success: choosing the bridesmaids is therefore a big decision.
Do I have to?
Deciding on members of the bridal party often comes down to a mix of choice and obligation. There are friends, sisters, sisters-in-law and cousins, as well as nieces, nephews and children of close friends to choose from. Inevitably, not everyone can be included: aim for a balance. This may be a combination of young and old(er), a mix of ultra-organised and less reliable friends, or a true best friend with a lesser-known sister-in-law.
Adults Only?
Some brides decide that they do not want any children to be their bridesmaids or pages. The wedding may be strictly no-children, or sometimes younger brides have fewer friends with children. After all, not everyone wants a gaggle of children nearby when they are feeling nervous on the morning of their wedding.
The perfect child?
Inspirational photos of the bride surrounded by cherub-like children in pretty pastel-sashed dresses spring to mind but, in reality, lots of children are hard work. Boisterous or very young children will be harder to manage on the day; quieter and shyer children may feel overwhelmed.
Will they let me down?
Asking friends can be complex. There are the obvious choices: those who will handle responsibility, and be organised, confident and reliable. But not all of our friends are like that. There are our best girlfriends who we know, deep down, may be late for a dress fitting or not take much interest in the planning. Does it matter? As long as the bride manages her own expectations and at least one of the bridesmaids is genuinely up to the job, then probably not.
Who's the boss?
A chief bridesmaid is essential for managing and coordinating the bridal party. She will also work closely with the best man and other key members of the wedding party. She must be prepared to take on the role, and have an understanding of the importance of the wedding day to the bride. She should be capable and calm under pressure.
What's the truth?
The bride must be honest and upfront from the start. For example, will the bridesmaids be expected to pay for their own dresses? Who will be responsible for organising a hen party? Will there be travel and hotel costs for the wedding? If expectations are discussed early on, then the bride can hope to avoid any complex or confrontational situations.
What a success!
The bridal party should offer the bride the chance to have fun, and to spend time and make memories with her nearest and dearest. This may be an unforgettable hen party, an adorable moment with a child bridesmaid or simply experiencing the best moments of the wedding day with her best friends, from the morning through to throwing the bouquet. If things are considered carefully and expectations managed, then this should be perfectly possible.