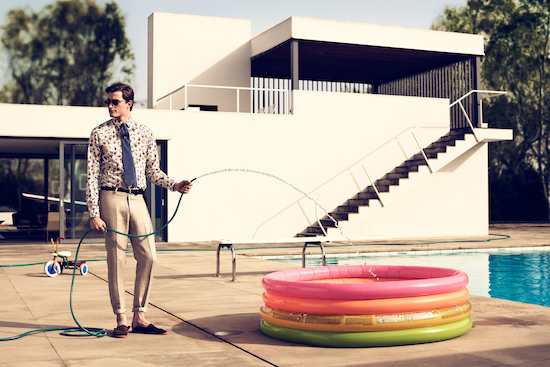 If there was a noticeable change in this Spring Summer 2017 showing at menswear fair Pitti Uomo, it was a welcomed return to easy silhouettes. This meant jackets with a slim fit but cut fuller, trousers that featured a waistband that lay higher on the waist and some subtle pleats.
It is in the midst of this new look that Swedish shirt brand Eton caught my eye. I mean, when we dress we can only be as comfortable as we feel and the closest thing to our body is what sets the tone for all other apparel to come. Then, once that has been achieved, for me it's always time for some socially conscious thinking, to accompany the trendsetting styles. It's my own motto, the "3 Cs of Fashion": Conscious, classy and comfy.
Eton is the perfect combination of all that, and more.
While in Florence, I felt their wonderful vibe everywhere. Inside the main building of the Fortezza da Basso, they welcomed me into their lively booth with open arms and took the time to explain both the mission of their latest campaign and their inspirations. Then, later that same evening, I attended their Swedish Midsummer's event on the rooftop of the Westin Excelsior, overlooking all of Florence, which came complete with flower crowns for the ladies and a fragrant cocktail featuring freshly squeezed apple juice with mint leaves and strawberry slices. It's not hard to see why they've quickly become one of my favorite brands, and I'm not even their target demographic. Or am I?
You see, Eton this season -- after their relaunch in 2016 with a campaign bearing the tagline "be a new gentleman" -- is about teaching men how to be their best selves, in and out of their shirts.
During a fascinating conversation with Brand Director Johan Falk, he elaborated, "we are obviously very proud of coming from Sweden -- and we're very proud of the men's ideal that we have in Sweden." Then Falk continued, saying "Sweden is in the forefront when it comes to gender equality. There is still a lot more to do but compared to most other countries, we're able to share in the responsibilities for family, women are empowered at work. So what we did with the relaunch is we told a story about our values and put it in the context of a Swedish man, the ideal Swedish man."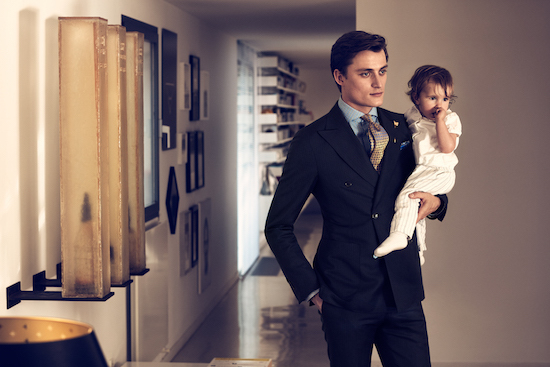 Explaining that as shirtmakers, the company has "more of an opportunity than most other companies," to help men examine what ideals and standards best serve their purpose in this world, Falk also went on to say that as "a menswear brand we have the opportunity to say, hey guys, maybe you should reevaluate your role, and look at the way you could take responsibilities in your family situation. It's product, yeah, but in the world today there are loads of problems and it's everyone's responsibility."
Eton is available in 42 markets, with an even distribution between the Nordic states, the rest of Europe and the US. Which means that the look of the shirt has to vary from what a Swedish man would wear to feel at ease in his newfound role as a "Latte Papa" (a term used for stay-at-home dads) to what a man on his way to work on NYC's Wall Street would like, to what an Italian will button up to for a summer aperitif.
That's where Eton Creative Director Sebastian Dollinger comes in. Dollinger is part rockstar, part longtime Eton employee -- he admitted his first job at age 15 was in the Eton stockroom -- all rolled into a wonderfully creative package. "I found inspiration growing up in rural Sweden." Dollinger admitted, continuing, "when you go to school in Sweden there are posters everywhere of birds, frogs and things like that. And those posters from the 50s, are there to teach the kids what birds, nature we have in Sweden. I wanted to find peculiar things from my childhood to put into tailoring."
He also searched into his family's past, most specifically went into his grandparents' summer house, and explained, "in Sweden, in the 50s and 60s, at the peak of social equality, everyone had a summer cottage, small, and all had a wardrobe." He continued, "Swedes don't boast, but what they did is they hid these wallpapers in the cupboards, so when you opened up your wooden wardrobe, you would find this kind of wallpaper." The result are these beautifully whimsical prints, what Dollinger perfectly describes as a "Swedish 'Liberty' waiting to unfold," that have ended up on button down shirts, on cotton scarves and even on a foulard that happened to find its way to me, and I now wear with gusto and pride, knowing the history of the design.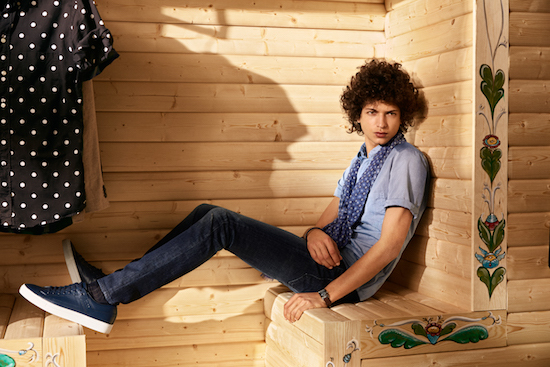 Other inspirations for the designer included his own friends, whom Dollinger admitted "are not shirt people, they don't like wearing shirts," and so he solved that problem by creating a button down that wears like a t-shirt, comfortable, easy and in a light cotton that feels like heaven on the skin. In simple colorations of black, white and denims, this wonder shirt is, in Dollinger's words, "lighter than a t-shirt, it fits better and it's more breathable, comfortable and there is no reason for my friends not to wear them."
Last but not least, he showed me the Eton wildcard, their version of a Hawaiian print featuring strong women by artist Joakim Sundholm. Gone are the girlie images of 1950s prints, sexists and "dated" as he called them, replaced instead by what Dollinger wanted to name "the feminist print," then adding, tongue in cheek, "but that's a loaded statement."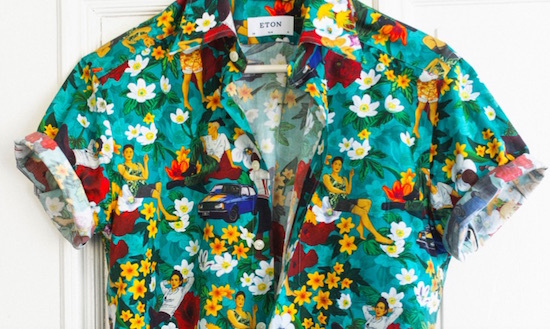 Ending our conversation with Dollinger's thoughts on the business of fashion and how perhaps, both buyers and brands have lost the joy needed in this fascinating world, which the customer still understands, and possesses. "I think there's a nervousness in the fashion business which doesn't allow people to be themselves, I don't think fashion is a happy place," he stated, then adding, "at the consumer level, they get it. It's a different take on it, the consumer has more playful eyes towards clothing if they're not too much into fashion. In the end of the day it's just what you wear, it doesn't really define you as a person. It's not even important. I love doing it because it's fun."
To bring it all home for me, he turned the tables and added, "you could write about anything in the world, you're a writer, a journalist and you choose this or it chose you, because you think people can make a difference." I did, and I do.
And I believe wholeheartedly that brands like Eton make a difference every day.

All images courtesy of Eton, used with permission.
Popular in the Community