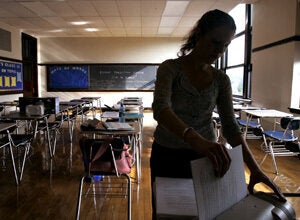 The Educational Testing Service is a non-profit with a policy arm aimed at influencing legislation around childhood education. ETS has just released Parsing the Achievement Gap II -- a five-year update on its landmark study. The first release sent shock waves through the educational system citing biological, cultural and even language skills factors in the gap between minority and white students on standardized tests like the AP and SAT.
Asked if the report was geared to promoting the test, and deflecting blame for poor performance to mom and dad, ETS' Mike Nettles said the achievement gap report was mainly to tell Congress that more focus is needed on how to fix the problems. Pre-K reading programs, more nutrition and school meals funding and even reducing gang violence were cited.
The press conference at the National press Club was a highly "managed event" -- with three ETS PR people, an internal video shooting team, and an audience chock-a-block with support for educational reform. Since reporters don't like to be managed, told were to sit as moderator, and asked for a pre-review of the questions, the debate moved quickly to the Department of Education spokesman who was spoiling for a fight.
Marshall S. "Mike" Smith, senior counsel to Secretary of Education Arne Duncan, and a former Clinton Deputy Education Secretary, seemed to differ on the import and meaning of this new Educational Testing Service report. He called for a laser focus on "turning around 1,000 schools" and closing language and fluency gaps as the number one objective.
Richard Coley, director of the Education Testing Service's policy information center, wrote Parsing the Achievement Gap II -- a follow-on report to an ETS research product delivered in 2003 that makes clear 16 predictive factors for determining success in secondary education. Many of them environmental. Joining Coley and Smith were Nettles, senior v.p. of ETS for policy and research, and Edmund Gordon, professor emeritus of Teacher's College at Columbia.
"Research has found a difference in the effectiveness between teachers," said the ETS report, "with less than five years of experience than teachers with more. White students were less likely to have inexperienced teachers than Black or Hispanic." Rigor of curriculum showed racial and socioeconomic disparity. Fear and safety at school also weighs more heavily on minority kids.
Smith said: "Teachers, young teacher experience, has no effect beyond the third or fourth grade," challenging the report." Smith said the Education Department spends $100 billion per year on children; but noted disparity of spending $18,000 per child in nearby Arlington County Public Schools versus $6,500 in East Palo Alto, California's system.
Both ETS and The Department of Education said reading to kids early in life and developing strong language skills is critical to higher achievement. ETS "left some of the variables out of its report," Smith commented. "Like a caring adult for a child to talk with about their work. That is not reflected here." Poverty has increased over 18% since the initial report five years ago. That has a "huge effect on society," said Smith.
Smith noted, "God knows we need a comprehensive healthcare program." If we cannot achieve it, "we don't even deserve to be a society."
"Don't take any of these indicators too seriously," added the Education Department spokesman. "Reading books will help close these language barriers. Speech and fluency in the language also promotes higher test performance."
Smith also said "students need more control and context over why they are learning something."
Ed Gordon noted that "government has not responded deeply enough or in a comprehensive way" to reforms provided under both the 1964 Civil Rights Act and equal opportunity amendments. He felt society needs to value teachers and create learning opportunity outside of school. Nothing new about that!
NOTE - Copies of the ETS report "Parsing the Achievement Gap," are available for free download at www.ets.org/research/pic.
Editor's Note: Mike Smith, Huffington Post columnist and a Washington-area public affairs exec, is not related to Mike Smith of the Dept. of Education.
Calling all HuffPost superfans!
Sign up for membership to become a founding member and help shape HuffPost's next chapter