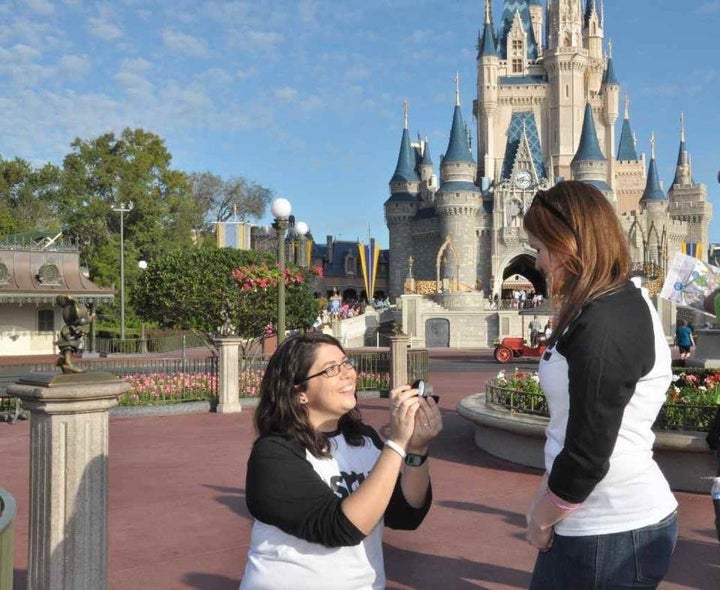 An Etsy seller based in California has reportedly refused to design the guestbook for a same-sex wedding because it goes against her Christian beliefs.
The first few message exchanges were friendly, Howard said, but when she mentioned she was gay, the communication paused. Eventually, Pale Designs owner Jessica Fong sent back the following response, which Howard reproduced in the body of the Facebook post:

After talking with my pastor and praying about the situation, I decided that I shouldn't design your guestbook for you.

Please know that I did take this into much thought though. Because I am a Christian and I believe that marriage should be between a man and a woman, I feel that designing a customized guestbook for you two will be against my belief and will mean that who I am and my business supports gay marriages.

In an email to HuffPost, Howard said she was "outraged" by the incident.
"Our stance is that she's allowed to believe whatever she wants," Howard wrote, "but why does that excuse discrimination? What if she had refused service because we were black? Or Jewish? Or disabled? anything else? Why is it okay because it's sexual orientation?"
Howard described herself and her fiancee as "church going Christians" themselves -- a factor that made Fong's message all the more frustrating, she said.
"We didn't ask her to accept us or 'support' us, we simply asked for a product and we were denied that service as though we were less than," she said.
When the couple reached out to Etsy, they were directed to its website, she said. A representative for the company emailed HuffPost the following statement:
As you can imagine, legal issues, such as matters concerning discrimination, are often very complex. We respect each community member's right to their personal opinions and beliefs, and with 25 million members around the world, expect that some members may disagree with each other. The opinions and beliefs of members may not reflect those of Etsy, Inc. or Etsy employees. If a member thinks that discrimination has occurred and constitutes a legal infraction in their location, they may choose to address the issue directly with the other party, or contact an attorney for legal assistance.
On its Terms of Use page, Etsy states users must abide by "any applicable law, statute, ordinance or regulation (including, but not limited to, those governing export control, consumer protection, unfair competition, anti-discrimination or false advertising)." However, it also says a seller reserves the right to refuse service as long as it is communicated through proper channels.
At the same time, state law varies widely in terms of business transaction protections for the lesbian, gay, bisexual and transgender (LGBT) community.
For example, New York state's Sexual Orientation Non-Discrimination Act "prohibits discrimination on the basis of actual or perceived sexual orientation in employment, housing, public accommodations, education, credit, and the exercise of civil rights" but does not necessarily cover private business transactions.
Editor's Note: The text has been updated to include additional information from Etsy.
Support HuffPost
Every Voice Matters
Popular in the Community