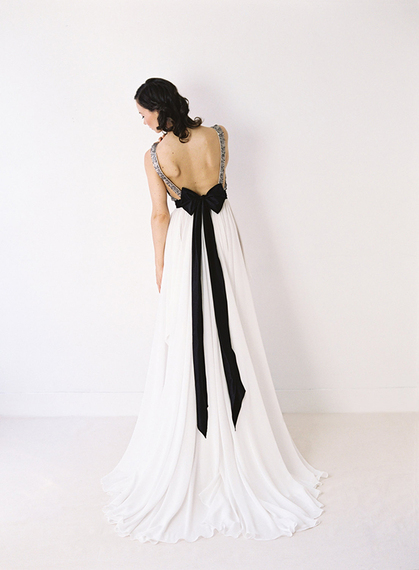 When starting the search for the perfect wedding dress, most brides round up the ladies, make sure the strapless bra is on, and start hitting the bridal boutiques. While the initial excitement of trying on wedding dresses is a given, after you try on that 17th wedding dress... you can start to imagine how it could get old really quickly.
Well brides, it's the 21st century and we have the technology to make this process better. How? Shopping for your wedding dress online. Yes, it's possible and it's actually awesome. Not does shopping for your wedding dress online mean you can stay at home in your slippers with a mug of tea (YES!), but it also means you'll have a wider array of dresses to browse.
One of the best online places to shop for your wedding dress (or anything wedding-related!) is Etsy, but with so many boutiques and dresses on this artisan, indie e-tailer, it can be hard to find the true wedding dress gems. But never fear! We've put together this handy Etsy wedding dress guide so you can stop searching and start shopping for that perfect gown.
Leanimal designer Leanne Marshall keeps brides looking classic and girly, while still keeping her dresses fresh and not too traditional. From hand-beaded details to lovely lace accents and pin-tucked bodices, brides are sure to love Leanimal's pretty gowns.
If you're a bride who is looking for beautiful gown with an edgy attitude, Ouma may be the boutique of your dreams. Designer Monique Sandoval mixes tulle and sequins, and loves playing with unexpected details like leather and ombre.
There's something about Jillian Fellers' designs that conjure up visions of a romantic Victorian-era love story. With delicate silk, chiffon and crepe dresses that are cut and draped with a vintage vibe, a wedding dress from Jillian Fellers is the stuff every hopeless romantic dreams of.
The Art Deco wedding trend isn't even close to being over -- and for good reason! Gorgeous vintage-style dresses like the ones designed by Rebecca Shoneveld continually breathe new life (and extreme prettiness) into this chic wedding style. That hand-beaded lace gown below? We die.
If your bridal look will be all about the tulle skirt and your favorite top, look no further than Dark Pony Designs. Specializing in tulle skirts of every length and color, Dark Pony Designs is the place to complete your unique bridal look.
Surprising, exciting and always 100 percent chic, wedding dresses from The Flower Bride are perfect for brides who want to do something different and fashion-forward. Details like peplum, boho cotton lace and silk rosettes all make an appearance in her current selection of wedding dresses, and they look so good.
A wedding community crowd favorite, Grace Loves Lace is an amazing boutique filled with breathtaking dresses that feature (you guessed it!) lots o' lace. Brides rave about GLL's fresh and modern approach to lace wedding gowns, which breathes new life into the traditional wedding style.
One of our newest Etsy obsessions? Truvelle! Designer Gaby Bayona's modern designs effortlessly combine stunning simplicity with a bit of whimsy. The result? Blush sequins, long romantic ribbons, understated and pretty lace... we could go on and on.
And if you're not convinced yet that Etsy is truly one of the best wedding dress shopping destinations yet, then consider this: most of these gorgeous dresses run for less than $2,000. Yes, you heard us right. For a fraction of what you would pay at a traditional wedding dress boutique, you could get a handmade, one-of-a-kind wedding gown that you'll not only love on your wedding day, but you'll also love looking back on.
Would you buy a wedding dress from Etsy? If you're an Etsy bride, what was your experience like? We'd love for you to share your thoughts with other brides in the comments!
Image via Truvelle on Etsy
Related