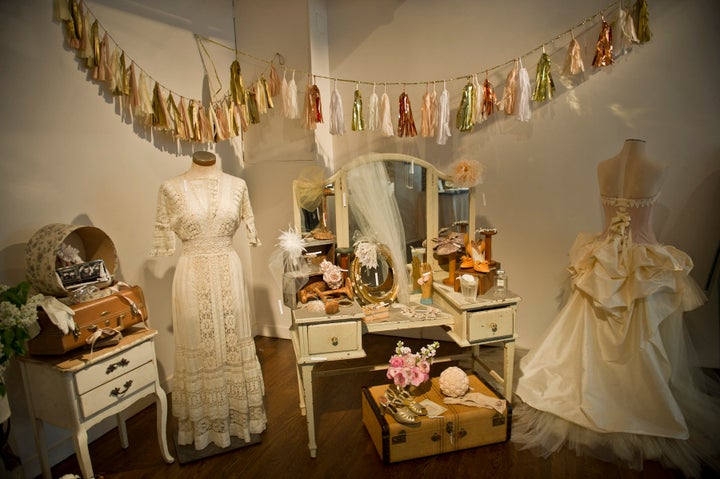 You may have already spent a good amount of time browsing through the vintage and hand-made goods available on Etsy while planning your wedding, but there's a new reason to visit the site for inspiration: the online marketplace has launched a full-blown weddings hub with blog posts, real-life wedding stories, and a gift registry.
HuffPost Weddings recently got a sneak preview of the latest wedding trends Etsy is showcasing. Here are nine of our favorites:
1. Think Outside the Floral-Bouquet Box
When it comes to what you're going to carry when you walk down the aisle, now is a good time to rethink what "flowers" can be made of: fabric, paper and even colorful broaches are fun alternatives to traditional bouquets. And unlike real bouquets of real flowers, these keepsakes can withstand the test of time.
2. Interactive Save-the-Dates
Save-the-dates have come a long way from just informing your guests of when and where you're getting married. From a lottery ticket-style card where your guests play a scratch off game to reveal the date, to a viewmaster packed with pictures of you and your groom, there are increasingly creative ways for guests to get enthused about the Big Day.
3. Moving Away from White
"Dresses that aren't just white are trending," said Adam Brown, a public relations manager with Etsy. Think pinks, blushes and muted colors. And a one-piece bridal pantsuit (sans jacket) is another way the bride can make a strong statement.
5. Bridesmaids' Gifts... Personalized
You can thank your bridesmaids for all the ways they've kept you sane with gifts of a more personal nature than the standard pair of matching earrings. One option is to have a picture of the two of you added to the inside lining of a clutch purse by ANGEE W. If jewelry is the way you want to go, try a customized locket with a surprise for your friend inside. "The seller will print a small little message, perhaps a joke that you guys have," said Dayna Isom, a public relations coordinator with Etsy.
6. New Shoe Clips, Not New Shoes
If you want your bridesmaids to wear similar shoes for consistency -- but don't want to ask them to buy new ones -- adding flower petal clip-ons can bring together the look of your bridal party without everyone needing to wear the same pair.
7. Speaking of Shoes, Bridal Booties Exist
Having fun with what's on your feet is one way to jazz up a simple dress, or complement a more adventurous one. Open-toed lace and crochet booties by KAArtist are a surefire way to add some personality to the rest of your ensemble.
8. The Ring
Antique-looking rings have been popular for some time now, but a few designers are going in the opposite direction with contemporary rings. "The kind of minimalist, sleek, modern style is, I think, definitely making a comeback," said Nicole Smith, a merchandising specialist with Etsy. On top of that, Kate Middleton's sapphire seems to have opened the door for all the colors of the engagement ring rainbow.
9. Don't Forget to Thank the Groomsmen
In the same way that the bride doesn't need to carry flowers down the aisle these days, the groomsmen don't need flowered boutonnieres pinned to their lapels, either. Pin-ons of the non-floral variety can double as keepsakes. And they can be just as personalized as those bridesmaids gifts. Case in point: a guitar pick boutonniere for the musician in the group.
Below, photos from the Etsy Weddings Hub.