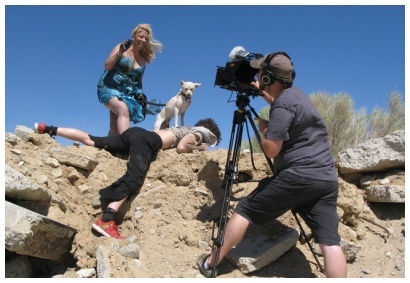 The comedy team of Etta Devine and Gabriel Diani already have a bit of notoriety attached to them: Their Kickstarter campaign for The Adventures of Huckleberry Finn (Robotic Edition) -- which proposed to publish an edition of the Mark Twain classic with all occurrences of the N-word replaced with the word "robot" -- attracted no little attention and enough supporters to not only push them to their goal, but well beyond. With that success under their belt, they've embarked on a less unorthodox, but hopefully just as entertaining, Kickstarter campaign for a new end-of-the-world comedy, Diani & Devine Meet the Apocalypse. With a solid technical crew and a cast that includes Deep Space Nine's Armin Shimerman, Buffy's Harry Groener, and Legend of Korra's Janet Varney, the project is already well-positioned to bring some mirth to unrestrained devastation, disease, and despair.
Since I'm presently running my own Kickstarter campaign, I was eager to talk with people who had successfully traveled down the crowfunding road and could, hopefully, shed some light on the process. In this episode, Etta and Gabe talk about their film, its inspirations and challenges, and also what it takes to get the crowd to pitch in on a creative project.
Click on the player to hear the show, or right-click the link to download.
REAL LIFE. REAL NEWS. REAL VOICES.
Help us tell more of the stories that matter from voices that too often remain unheard.