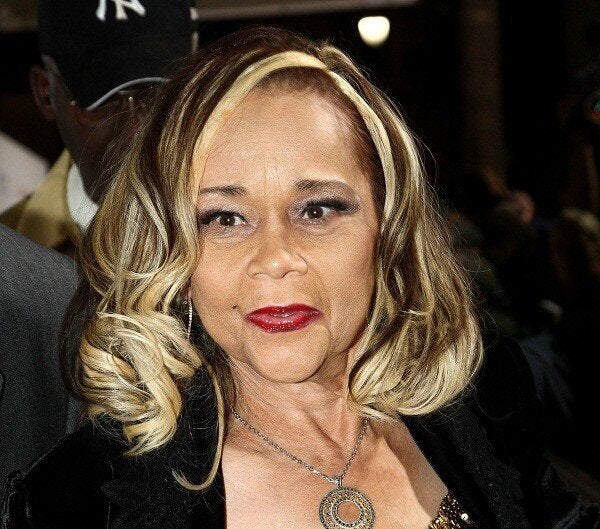 Talk about "born to sing the blues."
She was named Jamesetta Hawkins. Her mother was 14 and completely uninterested in the parenting grind. She never knew who her father was (although, decades later, she was semi-reliably informed he was Minnesota Fats, the legendary pool hustler). Her childhood, she said, was like a series of one-night stands; she was passed from relative to relative. The one constant was singing. At five, she joined a gospel choir in Los Angeles -- and was soon proclaimed a prodigy. At 15, she and two friends formed a vocal trio. They got noticed -- their recording of "Roll With Me, Henry" (a title so sexy it had to be renamed: "The Wallflower") went to #2 on the R&B charts. Etta was, at 16, touring with Little Richard.
Her follow-up single, "Good Rockin' Daddy," was another hit. It took her only a few more years to get to Chess Records, the Chicago-based label that knew how to get great records out of blues artists. At 22, Etta James had a big voice --- and a big, brassy personality. And she had History; she'd been a professional musician for six years, she'd been around. Leonard Chess liked "triangle" songs, and he found a great one for Etta's Chess debut: "All I Could Do Was Cry." The set-up: Etta watching her lover marry another woman. The refrain: "I was losing the man that I loved, and all I could do was cry." Etta needed only one take. When she was finished, she was crying --- and so were some of the engineers.
Success can be harder than failure, especially for musicians. Etta's response to busted romance was to take drugs. "Some people can't work high, but I can," she boasted. "I may be one of those singers who has enough power to overcome the fog and filters of drugs." She couldn't overcome the cost of drugs, however; she was arrested for writing bad checks. But she kept pumping out the hits: "I'd Rather Go Blind" and "Tell Mama." After a few lost years, Etta re-connected with Chess Records. By 1978, she was the opening act for the Rolling Stones.
I own most of the Etta James catalog. I sample it often, for a woman who lived this hard -- who loved and lost and paid the price for everything she got and a lot she didn't -- oozes the kind of wisdom you don't find in books. That was the thing about Etta: She had total credibility. She lived the blues, and you'd best believe she was going to tell you about them, and in the bluntest (and thus, most poetic) way possible. (If you ever saw Etta live, you know that she was a great deal raunchier than the new kids).
"The blues is my business, and business is good," she sings, and that's true of all the CDs she released since 1989. For me, the best is Seven Year Itch. [It's a fortune on CD. [To buy the MP3, click here.] After that, it's a coin toss. Life, Love and the Blues is pretty great. [To buy the CD from Amazon, click here. For the MP3 download, click here.] Of equal merit, Love's Been Rough on Me. [To buy the CD from Amazon, click here. For the MP3 download, click here.]
Jealousy, anger, revenge ("feel like breakin' up somebody's home"), lust -- this is Shakespearean stuff. So lower the lights. Stop all conversation. Etta James was a presence. To hear her is be shaken, stroked and -- not least -- schooled.
Calling all HuffPost superfans!
Sign up for membership to become a founding member and help shape HuffPost's next chapter