* EU Commission welcomes countries' engagement with ICAO
* ICAO alternative could allow EU to waive its scheme
* Many environmentalists doubt ICAO can deliver
* U.S. official says implementing plan would take time
WASHINGTON, Aug 2 (Reuters) - Seventeen countries opposed to an EU law that makes all airlines pay for carbon they emit on flights to and from Europe reaffirmed they want to keep working on an alternative plan at the U.N. global aviation body, a senior U.S. official said.
The European Commission has repeatedly said the only grounds for waiving its scheme, which has stirred threats of an international trade war, would be if the U.N.'s International Civil Aviation Organization (ICAO) could come up with an equally effective world-wide solution to rising airline emissions.
The U.S. State Department and Department of Transportation concluded on Wednesday a two-day meeting of countries opposed to the EU's emissions trading system (ETS) without a joint declaration, but planned to address the greenhouse gas emissions issue within the ICAO.
"In a nutshell, the meeting confirmed the very solid and strong opposition to the ETS, but also indicated that there is a lot of interest among countries in continuing to work on the suite of activities in ICAO," the senior U.S. official told a news briefing.
Joining the United States at the meeting were Australia, Brazil, Canada, Chile, China, Colombia, India, Japan, South Korea, Mexico, Nigeria, Russia, Saudi Arabia, Singapore, South Africa and the United Arab Emirates.
The talks differed from previous meetings of opponents of the EU scheme in that it did not draw up retaliatory measures and its stated goal was to spur efforts for a constructive solution.
The countries aim to implement the goals and actions they agreed to at the 2010 ICAO assembly. These include a voluntary target to cap net carbon emissions by 2020, national action plans, improving air traffic management, and an emissions standard for aircraft, the meeting chairman's summary said.
There was also broad agreement that they would continue to develop market-based measures to curb emissions, the senior official said.
But he said work on the feasibility and on implementing an international emissions trading or carbon offsetting system would take "a substantial period of time".
"I don't have any basis for projecting whether there will be any agreement by the time of the 2013 assembly," the official said, referring to the body's next meeting of all 190 members late next year.

The European Commission has repeatedly said it is keen for ICAO to devise a global scheme to curb rising levels of airlines emissions and it only introduced its law because years of ICAO talks had been unproductive.
"Noteworthy that there was no agreed statement from the meeting and nothing new on substance. Good that parties promise to engage in ICAO - the EU has done so for years. But will they engage more? How will they make ICAO deliver? Still many unanswered key questions," said Climate Commissioner Connie Hedegaard.
"We welcome that the participants of the Washington meeting expressed their commitment for concrete action and progress at the ICAO, but what we need is to see this materialise in practice. What we need are actions not words," Commission spokesman John Clancy told reporters in Brussels.
Many environmental campaigners are sceptical about the ability of the ICAO to deliver an effective global alternative and were highly critical of proposed blocking legislation passed by a U.S. senate committee earlier this week.
EU Parliament Environment Committee Chairman Matthias Groote said the Senate bill was a distraction and could impede progress on a global ICAO framework.
"The U.S. bill to allow their airlines to flaunt (sic) EU legislation is disrespectful and counterproductive," he said in a statement. "The EU and the U.S. fully agree that an agreement within ICAO is the best solution, so let's work in this direction in good faith."
Democratic Senator Claire McCaskill's office said the bill she sponsored with Republican Senator John Thune would help, not hinder the ICAO's efforts.
"The McCaskill-Thune bill complements those efforts quite nicely. It shows the U.S. is serious about addressing the issue," the senator's office told Reuters.
McCaskill's staff expects to make progress moving the bill forward in September, with the goal of putting it up for a vote on the Senate floor.

Related
Before You Go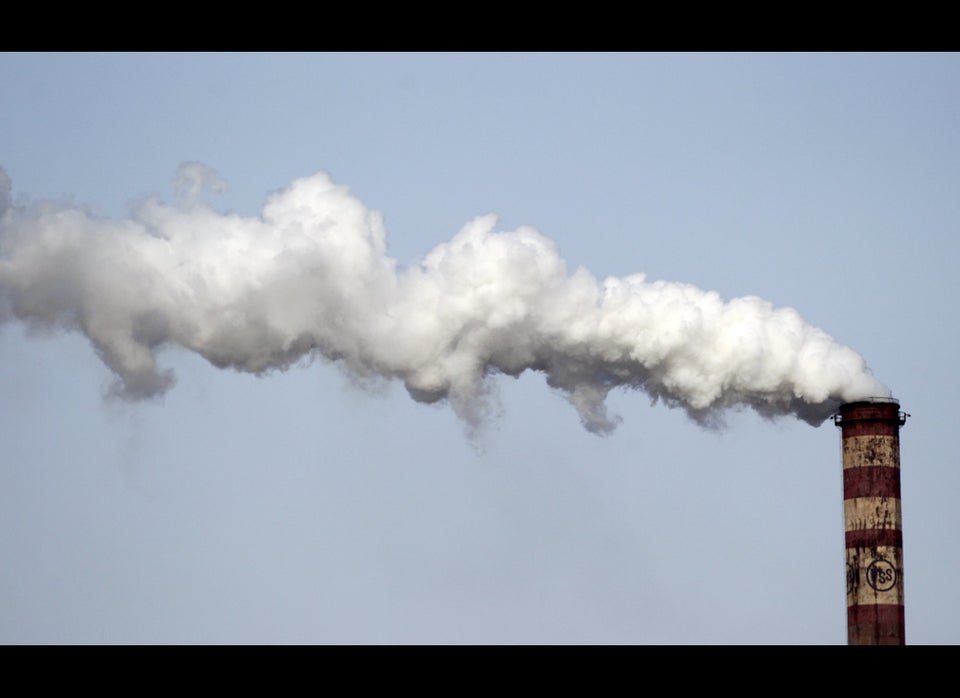 Top 10 Most Polluting Countries (2010)
Popular in the Community