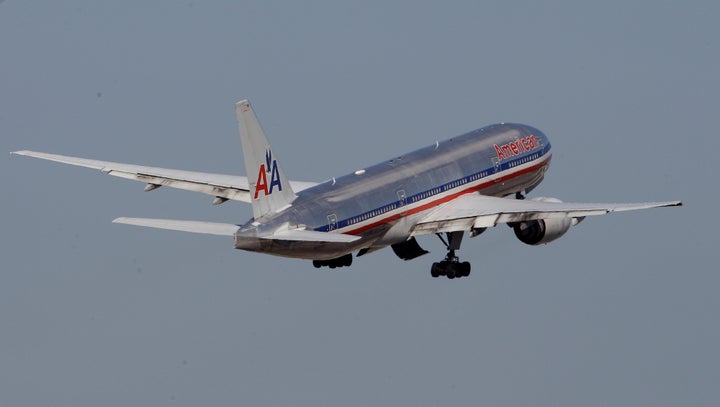 America's airlines are at it again. Barely a year after quashing European efforts to reform the transatlantic Open Skies treaty -- a lop-sided agreement which gives U.S. carriers unfettered access to Europe, while barring our airlines from operating domestic flights in the U.S. -- America is now bellyaching about EU efforts to curb global warming.
When Phase II of the EU's Emissions Trading Scheme (ETS) comes into force next year, it will at long last hold the aviation sector accountable for its CO2 emissions. The scheme has gradually been rolled out across Europe since 2005, allocating carbon permits to large companies and forcing them to purchase extra credits if they exceed their allowance. By attaching a financial incentive to energy efficiency, the ETS is estimated to have delivered annual emissions reductions of 2.5 to 5 percent since its launch.
The cap-and-trade mechanism may have some flaws, but there is one significant factor working in its favour. Whereas domestic taxation like the UK's Air Passenger Duty simply pushes traffic across borders, with the ETS there is nowhere for airlines to hide. Every carrier landing on EU soil is held to account -- and that's something America, China and Russia are none too pleased about.
"The demand we made is that the EU ETS should not apply to US carriers," one American official protested after talks in Oslo last month. He went on to rather comically insist that Barack Obama's administration did not object to the scheme in principle, but simply its inclusion of foreign companies -- an odd distinction to make in an industry as quintessentially global as international air transport.
The long-running dispute entered a new stage on Tuesday when the European Court of Justice began considering a complaint lodged by three U.S. airlines -- United, Continental and American. They will argue that the EU's jurisdiction stretches only as far as its borders, and that Brussels has no right to levy fees on tailpipes spewing out pollution over international waters. The inescapable fact that we all breathe the same air seems depressingly lost on them.
You may remember that in 2009, Obama's bid to hammer out a successor for the Kyoto Treaty was marred by incessant Chinese objections. How curious, then, that when it comes to European policy these powerhouses are so quick to reach a consensus. Beijing's approach may be more refined than Washington's, with Chinese carriers wafting their chequebooks over the shadow of Toulouse-based Airbus' order-book, but the substance is all the same.
Mindful of the gathering storm, the EU has made a last-ditch attempt at compromise by offering to let the U.S. develop its own comparable CO2 scheme -- safeguarding the environmental benefits while keeping monetary transactions entirely out of Brussels' hands. America's response has been muted at best. "I understand that the U.S. has no intention whatsoever to table any equivalent measures," a spokesman for the European Commission said this week. "But you should ask them."
And if America's companies are acting like bullies, their European counterparts doubtless fit the bill of subservient cowards. It's "madness to risk retaliation" from global powers, shrieked Airbus CEO Tom Enders. "We cannot afford a trade conflict of this magnitude," added Virgin Atlantic's Steve Ridgway. Former British Airways boss Willie Walsh, who now heads up parent company IAG, concurred: "It is unacceptable that airlines face the prospect of retaliation because of the actions of the EU. Plan B for me would be to restrict the scheme to intra-Europe."
British Airways, by the way, inked a partnership with American Airlines last September, securing an estimated £350 million in operational synergies.
The European Commission has rightly rejected any such dithering, insisting that Phase II of the ETS will go ahead as planned and that no market distortions favouring U.S. carriers will be permitted. Notwithstanding its defiance, though, history shows that America has a knack for getting its own way when it comes to global aviation. Roughly half of the world's bilateral air treaties currently involve the U.S. as a signatory, and its dominance on the economic stage means that counterparties invariably have more to lose than gain by breaking ranks.
Europe's abandonment of reforms to the 2008 EU/U.S. Open Skies treaty was largely driven by tacit American threats to suspend anti-trust immunity for transatlantic tie-ups, most analysts say. Tight regulation had been the reason BA and AA took 14 years to gain approval for their partnership -- and none of Europe's consolidation-hungry carriers want that protectionism to return.
But beyond the brinkmanship and legal wrangling, Europe's path is clear. The ETS has committed to cutting emissions 21 percent against 2005 levels by 2020, and to this end aircraft on the continent must cap their emissions at 95 percent of 2004-06 levels for most of the next decade. This is not an unrealistic goal, given advances in engine efficiency, nor is it one which endangers the sector's recovery. No-one said tackling climate change would be easy.
Calling all HuffPost superfans!
Sign up for membership to become a founding member and help shape HuffPost's next chapter