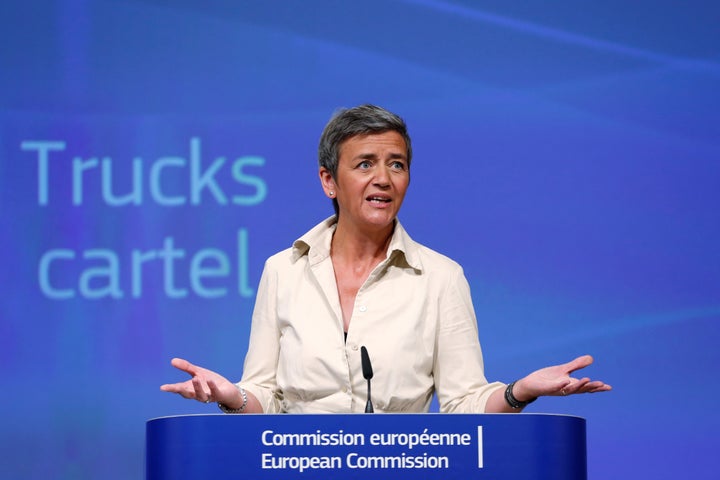 BRUSSELS - Daimler, Paccar and two other truck makers were fined a record 2.9 billion euros ($3.2 billion) by EU antitrust regulators on Tuesday for taking part in a 14-year cartel.
The European Commission said the companies fixed prices and coordinated on the timing of introducing new emission technologies in 1997 and on passing on costs of those new technologies. Its overall fine was more than double the previous record for a group operating a cartel in the EU.
Daimler received the biggest fine at 1.01 billion euros, while Volkswagen-owned MAN escaped a penalty because it had alerted the cartel to the European Commission.
"It is not acceptable that MAN, Volvo/Renault, Daimler, Iveco and DAF, which together account for around 9 out of every 10 medium and heavy trucks produced in Europe, were part of a cartel instead of competing with each other," European Competition Commissioner Margrethe Vestager said in a statement.
Volvo, Sweden's biggest company by revenue, received a 670.45 million euro fine and Iveco, which is part of Italian truck and tractor maker CNH Industrial, was fined 494.61 million euros.
DAF Trucks, owned by Paccar, was handed a penalty 752.68 million euros. The four companies admitted wrongdoing in return for a 10 percent cut in the penalties imposed. Scania did not settle and will continue to be investigated.
"Truckmakers have to change, but so do regulators; they need to create competition on environmental performance."
The highest fine prior to the truckmakers' sanction was 1.4 billion euros levied against a TV and computer monitor tubes cartel in 2012.
Campaign group Transport & Environment's director William Todts said regulators should do more to improve the environment.
"Truckmakers have to change, but so do regulators; they need to create competition on environmental performance. Introducing fuel economy standards is one key way of doing that," he said.
Truck makers have invested heavily in recent years to make their engines compliant with so-called Euro VI standards, which focus on reducing health-threatening nitrogen oxides.
The Commission has introduced more stringent regulation to curb pollution of health-threatening nitrogen oxides and introduced it in stages. So-called Euro 1 standards were unveiled in 1993 and since the start of 2014 any new vehicle must comply with Euro VI standards.
The more stringent emissions standards have forced truck makers to invest in expensive technologies such as exhaust treatment filters.
(Additional reporting by Alissa de Carbonnel and Edward Taylor in Frankfurt; Editing by Philip Blenkinsop and Susan Fenton)
Related
Popular in the Community