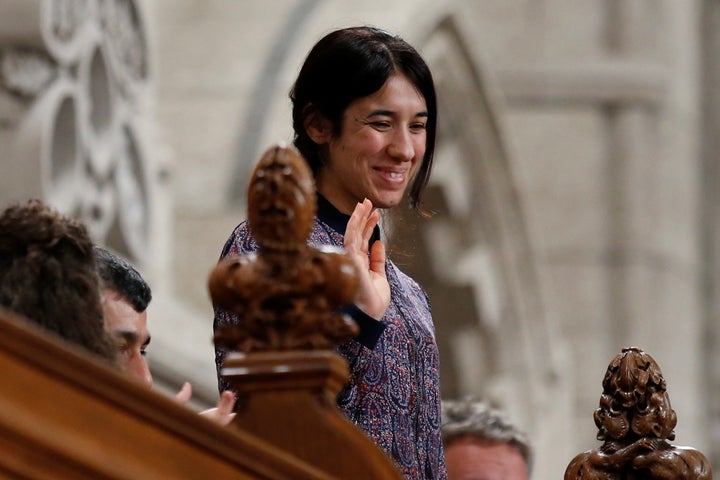 BRUSSELS (Reuters) - The European Parliament on Thursday awarded its Sakharov Prize to Nadia Murad and Lamiya Aji Bashar, two Iraqi Yazidi women who were held as sex slaves by Islamic State militants and have campaigned for human rights since escaping.
Murad and Bashar were among thousands of women and girls abducted, tortured and sexually abused by Islamic State fighters after the militants rounded up Yazidis in the village of Kocho, near Sinjar in northwest Iraq, in 2014.
The Yazidi are a religious sect whose beliefs combine elements of several ancient Middle Eastern religions. Islamic State considers them devil-worshippers.
Islamic State insurgents overran Sinjar in August 2014, systematically killing, capturing and enslaving thousands of Yazidi inhabitants
Murad, now aged 23, was held by IS in Mosul but escaped her captors in November 2014, reached a refugee camp and eventually made her way to Germany.
She has since become active as an advocate for the Yazidis, and refugee and women's rights in general, as well as campaigning against human trafficking.
She has briefed the U.N. Security Council on the problem of human trafficking and last month launched Nadia's Initiative to help victims of genocide. She has called for the massacre of Yazidis to be recognized as genocide.
Bashar, 18, was captured in the same raid as Murad and also kept as a sex slave by IS. She escaped in March but was badly disfigured and blinded in one eye when a landmine went off as she fled. Two companions were killed.
She now lives in Germany, where she has undergone rehabilitation for her wounds, and works as an advocate for the Yazidis.
Mass Yazidi graves have been uncovered in the area north of Sinjar mountain, which was taken from IS in Dec. 2014. Kurdish forces retook Sinjar town in November 2014 in a two-day offensive backed by airstrikes from a U.S.-led coalition
U.N. investigators said in a report in June that Islamic State is committing genocide against theYazidis in Syria and Iraq to destroy the religious community of 400,000 people through killings, sexual slavery and other crimes.
Such a designation, rare under international law, would mark the first recognized genocide carried out by non-state actors, rather than a state or paramilitaries acting on its behalf.
The Sakharov Prize for Freedom of Thought, named after the late Russian dissident and scientist Andrei Sakharov is awarded each year by the European Parliament. Set up in 1988, it honors individuals and organizations defending human rights and basic freedoms.