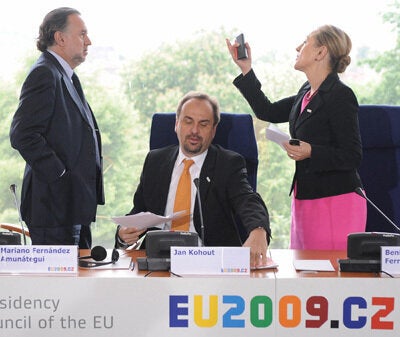 The European Union has agreed to expand its effort in combating drug trafficking and violence in Central and South America, reports AFP. The region is a major center for drug transit and desperately needs help combating the growing business of selling and consumption.
"The EU has expressed solidarity and a readiness to help tackle the security situation" in the region, Czech Foreign Minister Jan Kohout, whose country holds the rotating EU presidency, told reporters.

European ministers discussed issues ranging from crime to development cooperation with counterparts from Mexico, Chile, Central American countries associated in the System for the Central American Integration (SICA) and South America's MERCOSUR.
Nicaraguan State Secretary Valdrak Jaetschke Whitaker told journalists today that Central America was not a direct producer of drugs, but it was a transit area between drug producers and their consumers from the EU and the USA.

The EU-Mexico Joint Council mentioned fight against narcotics and organised crime in a joint communique that stressed strategic partnership in many areas. Mexico and the EU consider fight against transnational organised criminal activities in all their forms a fundamental priority, the statement says.
This decision by the EU comes in the midst of the new US drug czar Gil Kerlikowske banishing the idea of a "war on drugs." In constrast to the EU, it Kerlikowske is ready to approch the country's drug problem with a more moderate approach, dealing with the problem as a matter of public health rather than criminal justice, as the Wall Street Journal reports.
In his first interview since being confirmed to head the White House Office of National Drug Control Policy, Gil Kerlikowske said Wednesday the bellicose analogy was a barrier to dealing with the nation's drug issues.

"Regardless of how you try to explain to people it's a 'war on drugs' or a 'war on a product,' people see a war as a war on them," he said. "We're not at war with people in this country."
REAL LIFE. REAL NEWS. REAL VOICES.
Help us tell more of the stories that matter from voices that too often remain unheard.