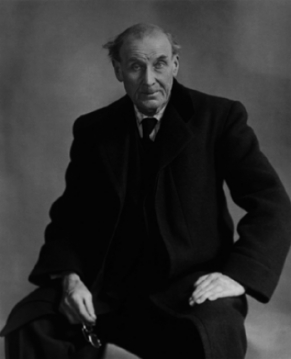 Portrait of Eugène Atget by Berenice Abbott (1927), Collection of the Musée Carnavalet, Paris
In Paris in 1924, Berenice Abbott, a young American artist, was working as an assistant to the famous portrait photographer Man Ray. In Man Ray's studio, she saw some photographs by an elderly French neighbor of Man Ray's, Eugène Atget, and she was stunned:
The impact was immediate and tremendous. There was a sudden flash of recognition - the shock of reality unadorned. The subjects were not sensational, but nevertheless shocking in their very familiarity. The real world, seen with wonderment and surprise, was mirrored in each print. Whatever means Atget used to project the image did not intrude between subject and observer.
Abbott visited Atget, and bought several of his prints. In 1927, he agreed to sit for her; the exposures she made are the only formal portraits ever made of Atget. When she returned to show him the prints, Abbott was dismayed to discover he had died.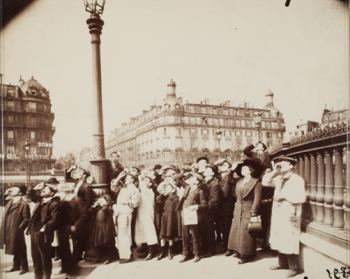 "L'éclipse, avril 1912," Collection of the Musée Carnavalet, Paris
Seeking out the friend of Atget who had inherited his possessions, Abbott purchased what remained of his work, about 1,500 glass negatives and 8,000 prints. She then began a remarkable campaign, that she would continue for the rest of her life, to gain attention for Atget's art. Thanks to her efforts, Atget is now widely recognized as one of the giants of the early history of photography, and one consequence of this is a magnificent exhibition, "Eugène Atget/Paris," at Paris' Musée Carnavalet.
Little is known of Atget's life, because he was not considered an artist, by others or even by himself. In 1926, Man Ray reproduced an Atget photograph -- a group of pedestrians shading their eyes as they looked at the sky, watching an eclipse -- on the cover of a Surrealist magazine. When he told Atget of his intention, the older man replied, "Don't put my name on it. These are simply documents I make." Nearly 50 years later, the self-promoting Man Ray was still amused as he told this story, explaining, "You see, he didn't want any publicity." Man Ray described Atget as "a very simple man, almost naïve, like a Sunday painter, you might say, but he worked every day."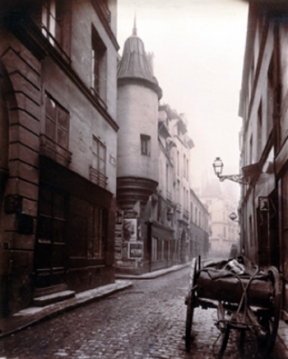 'Rue Hautefeuille, 6e arrondissement, 1898.' Collection of the Musée Carnavalet, Paris.
The conceptual Man Ray, who devoted his art to expressing his own ideas, could not understand the tireless efforts of the experimental Atget, who devoted nearly four decades to traveling daily by bus and subway all over Paris, carrying a bellows camera and wooden tripod that weighed more than 40 pounds, in order to document the appearance of Old Paris. Atget sold thousands of prints of street scenes and architectural details to museums, libraries, and other institutions. In the process, he created a body of work that inspired many great experimental photographers, from Berenice Abbott to Walker Evans, Edward Weston, Ansel Adams, and many others.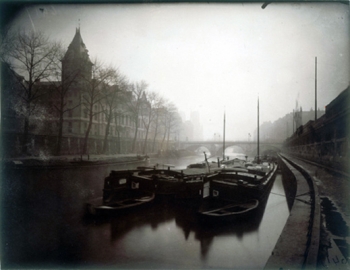 "La Conciergerie et la Seine, brouillard en hiver, 1er arrondissement, 1923," Collection of the Musée Carnavalet, Paris

The Carnavalet Museum, devoted to the history of Paris, owns nearly 9,000 photographs by Atget, of which 2,300 were purchased directly from the photographer. Interestingly, it was only in 1980 that these were given inventory numbers, signaling a changed perception of them, from historical documents to works of art. The current exhibition includes 181 of these. In addition, the 43 Atget photographs that Man Ray bought and placed in an album have been borrowed from George Eastman House in Rochester, and are displayed in France as a group for the first time.
Atget saw every street and building as an individual, and in his photographs each has as much character as a person. If Man Ray was the great portraitist of people, Atget was the great portraitist of buildings. A pompous art historian once objected to this use of the word portrait, insisting that a portrait could only be an image of a person. He was wrong: the Oxford English Dictionary defines a portrait as a delineation of any object. But genuinely to understand this, the pompous scholar should see this exhibition: each building, street, and alley has its own personality in Atget's world.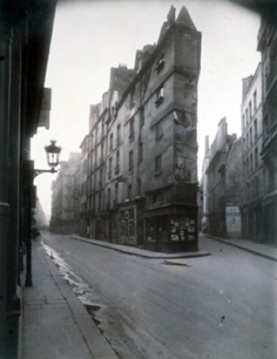 "Angle des rues de Seine et de l'Échaudé, 6e arrondissement, mai 1924," Collection of the Musée Carnavalet, Paris
Atget saw the city from close up: he did not photograph panoramic views or landscapes. He photographed subjects in detail, and no detail escaped his eye. Every building, every shop sign, even every cobblestone is sharp, clear and distinct.
His use of light was magical. His images often moved back into shadow, creating an enigmatic quality, as the viewer is drawn to look more closely, to see what lies behind the image. Atget's Paris was an ancient city of small scale. He rarely photographed large buildings or famous landmarks, and he avoided such modern monuments as the Eiffel Tower and the Arc de Triomphe. His Paris was a private city, with no palaces, and few churches. His art gained in power as he grew older: John Szarkowski observed that "Much of Atget's most beautiful and original work was done in his last years, as he approached seventy. This is exceptional in the history of photography."
In the early decades of the 20th century, Eugène Atget did not see Paris as a vast, sprawling modern metropolis, but rather as a series of individual ancient streets and buildings, and he recorded his vision with infinite care and patience, for little material reward and less recognition. His photographs still provide the shock of reality that Berenice Abbott experienced in 1924. "Eugène Atget/Paris" is a superb exhibition in the elegant setting of Old Paris. If you see it, you may never again see Paris, or any city, in quite the same way.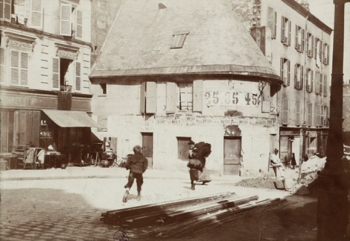 Pavillon dit de "La Belle Gabrielle," Collection of the Musée Carnavalet, Paris
Related
Popular in the Community