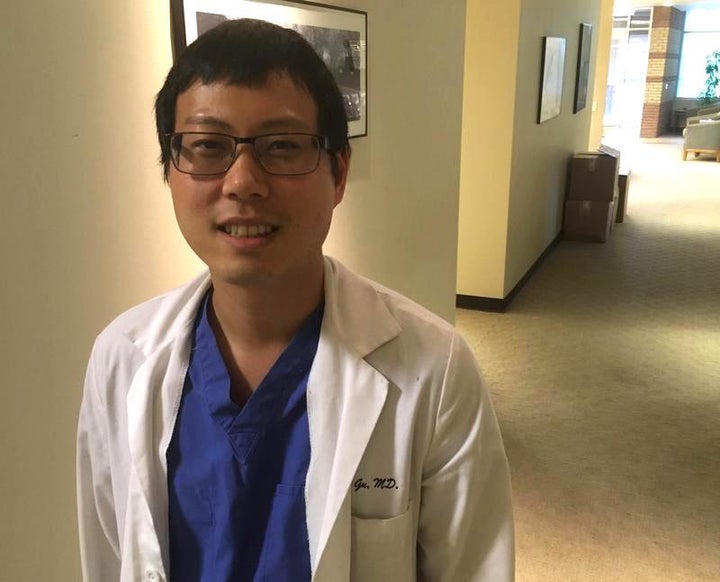 WASHINGTON― Dr. Eugene Gu, a 30-year-old surgical resident at Vanderbilt University, is on the verge of his second major scientific breakthrough.
While doing side research as a surgical intern in 2014, Gu became the first person to successfully implant the heart and kidney of a human fetus into a rat. The organs actually grew inside the rat and sustained its life ― a result that could have enormous implications for the treatment of life-threatening birth defects.
"This is the 21st century! Instead of studying cells in a dish, like Louis Pasteur used, why don't we have a whole human heart?" Gu said in a phone interview, his voice crackling with excitement. "Having a whole organ working for you ― beating, surviving, growing ― that's really powerful in science. It has a potential to cure a lot of diseases."
Gu, who was awarded a prestigious Howard Hughes Medical Research Fellowship when he was 25, says his ultimate goal is to transplant healthy fetal organs in utero to babies with fatal congenital diseases, so they can survive to adulthood with fully functioning hearts and kidneys. He also hopes to grow human organs in animals that biomedical researchers could then use to develop cures for heart disease, the leading cause of death in the world, and end-stage renal failure, the No. 1 reason patients are on transplant waiting lists.
"I want to someday end the organ donor shortage," he said.
But Gu's research hit a snag in April of this year when two armed United States marshals banged on the door of his studio apartment. It was 10 a.m, and Gu had been sleeping off an all-night trauma surgery shift at Vanderbilt hospital. He had no idea why the police would be at his house and he was afraid to let the marshals in.
"I know my rights," Gu told the marshals. "I'm not going to open the door unless you have a warrant."
"We don't need a warrant," one of the men replied. "This is a congressional subpoena."
The subpoena had come from the House of Representatives' Select Investigative Panel On Infants' Lives, led by Rep. Marsha Blackburn (R-Tenn.). Gu's start-up research company, Ganogen, is one of more than 30 organizations being investigated by House Republicans over the use of fetal tissue from abortion clinics.
Gu obtains the organs he uses in his research from StemExpress, a company that accepts fetal tissue donations from abortion providers and supplies it to biomedical researchers. Republicans in Congress have been on a mission to outlaw the practice, which they describe as "selling baby body parts," since an anti-abortion activist produced a series of heavily edited "sting videos" on Planned Parenthood working with StemExpress in 2015. Planned Parenthood says it sometimes donates, but does not sell, fetal tissue for medical research after an abortion at the request of the mother. The family planning provider is then reimbursed for the costs of transporting and preserving the tissue, which is explicitly allowed by federal law.
Still, Gu's association with StemExpress put him in the cross hairs of anti-abortion politicians, who demanded to see his emails, records of every financial transaction Ganogen made, names of all of his employees, and any equipment or material he purchased with regard to fetal tissue research.
A spokesman for the House panel said the goal of the investigation is to "protect the integrity of research, scientific advancements, and voluntary organ donation in America."
"As you know, at the core of our investigation is a federal statute that prohibits the sale of fetal tissue for a profit," he said. "Evidence uncovered by our Panel reveals that the unethical and potentially unlawful practices of some bad actors, like StemExpress, may be putting important scientific research at risk. Since Ganogen was listed on documents produced to our Panel as a customer who purchased fetal tissue from StemExpress, we subpoenaed the company for information that is pertinent to our effort to get all the facts."
But Gu said the negative attention from Congress has created a "harrowing" ordeal for him. Fellow surgical residents at Vanderbilt became suspicious of him. He said one colleague compared him to Martin Shkreli, the deeply hated pharmaceutical executive who had to testify before Congress after he acquired the manufacturing license for a life-saving anti-parasitic drug and raised its price by 5,556 percent. Gu's academic evaluations turned negative, after years of near-perfect grades, and he says the doctors he was observing in surgery became more demanding and critical of him.
Outside of school, anti-abortion activists began to harass him on social media and send him angry notes.
"I felt under siege," Gu said. "I'm just trying to save people's lives, and now I'm being thrown into this abortion fight as a proxy. I have nothing to do with abortion, I don't encourage abortion ― I just use tissue that would otherwise be discarded. And now I'm painted as this 'baby killer' just for doing research as a medical student."
What's worse, he said, is that the "Panel on Infants' Lives" is actually undermining what he believes could be a groundbreaking medical breakthrough.
"All this controversy and opposition from the Republicans is stymying my research in a pretty significant way," he said, "which is kind of weird because the scientific community is supposed to be immune to political shenanigans and oppression."
The latest controversy over fetal tissue research began in 2015, when the anti-abortion group Center for Medical Progress, led by Daleiden, released a series of secretly recorded videos that purported to show Planned Parenthood officials negotiating the sale of fetal parts. The videos have since been thoroughly debunked, but they generated enough anger among abortion opponents that Congress established a special committee to investigate the video's claims. Republicans accused Planned Parenthood and other abortion providers of selling body parts for profit.
"The weak, the vulnerable, those with no voice — harvested and sold — there is something going on, something that deserves investigating and that demands our best moral and ethical thinking," Blackburn, chairwoman of the panel, said earlier this year.
More than a dozen states also opened investigations into Planned Parenthood, but none of those inquiries turned up any evidence of wrongdoing. And in a surprising turn of events, a grand jury in Harris County, Texas, that was supposed to be investigating the family planning provider instead decided to indict the anti-abortion group behind the videos.
But Republican politicians only ramped up their investigation, issuing subpoenas in March to more than a dozen companies and research organizations that the committee said "failed to fully cooperate" with requests for documents. Gu received his subpoena after he accidentally hung up on a staffer for the congressional panel who had called him for information.
"I hung up the phone because I thought it was a prank call," Gu said. "I didn't know what a subpoena was. I didn't even know how to spell it."
After the marshals visited his house, Gu decided he needed legal representation. But as a graduate student living paycheck to paycheck, he could not afford an attorney. He makes $50,000 a year as a surgical resident, and he uses that money to self-fund his research at Ganogen. When he received the subpoena, he had less than $2,000 in his bank account.
"Eugene is one of the many who has fallen victim to the Republicans' less than objective attack on science and women's reproductive rights."
Gu appealed to Vanderbilt for legal help, but the school declined. Instead, John Howser, spokesperson for the medical center, and another school official called him into a meeting to ensure that he be quiet.
"They told me to make sure I never associate myself with Vanderbilt when I talk about my research," he said. "They advised me to not interact with the media or with congressmen on the Democratic side. Basically they just wanted me to stay silent."
Reached for comment, Howser would not discuss the meeting he had with Gu. He said the school had denied Gu the use of a studio where he was going to do an NPR interview about his research because the studio is "not allowed to be used by employees to promote work performed outside the scope of institutional priorities, or to promote personal interests or projects that are not affiliated with Vanderbilt University Medical Center."
Gu is now trying to transfer to a residency program in California, because, he said, the hostile environment at Vanderbilt had become untenable. California Rep. Jackie Speier, a Democrat on the investigative panel who represents Gu's home district, wrote a letter to potential programs on his behalf in September, saying that his research has made him "a target of discrimination at Vanderbilt due to a witch-hunt in Congress." Speier said she supports "his efforts to transfer to a more supportive residency environment."
"Eugene is one of the many who has fallen victim to the Republicans' less than objective attack on science and women's reproductive rights," she wrote.
The panel is still investigating Gu's company and others. In September, the Republican members voted to hold StemExpress in contempt of Congress because the information the company submitted was incomplete. Democratic members staged a walk-out to protest the vote.
Gu has temporarily suspended his research due to a lack of funds and the toxic political environment. He hopes to be able to resume it when the smoke clears. In the meantime, he wants to shine a light on the ways in which Congress' investigation is intimidating scientists like him into halting their potentially life-saving work.
"I no longer want to remain silent over these abuses directed toward me, toward other researchers, toward women and toward millions of patients," he said.
Popular in the Community