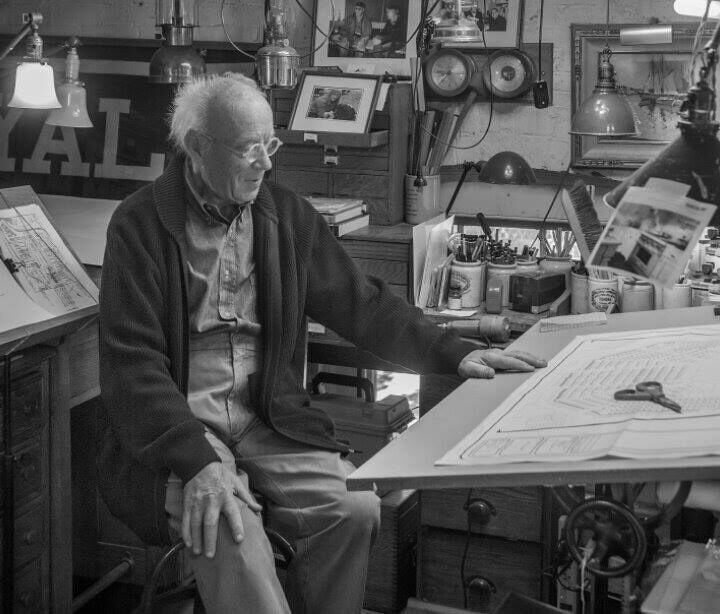 "I don't know, probably forever. Till I drop dead."
Lee, 77, has presided over the "SNL" production design since the sketch series' earliest days. Sometimes he looks around his Rockefeller Center office ― a cluttered workroom shared with the three other designers who work for him ― and tallies the folks who've been around since 1975. 
"It's pretty bleak," he joked, somewhat, on a recent Thursday afternoon. Among the few timeworn veterans are Leo Yoshimura, whom Lee hired in '75 and speaks of with affection, and, of course, the show's overlord, Lorne Michaels, whom Lee speaks of with a fond he-is-who-he-is fraternity. 
Forty-one years after "SNL" grew from risky experiment to cultural institution, Lee and his team have earned their 12th Emmy nomination for the mouthful of a category that is Outstanding Production Design for a Variety, Nonfiction, Reality or Reality-Competition Series. (The Emmys are Sept. 18, with below-the-line prizes awarded the previous night.) Not much about Lee's workflow has changed over the years, except now a larger staff traipses around the renowned Manhattan studio.
By this point, Lee doesn't even stick around to watch the show anymore. In fact, he hasn't in many years. His driver scoops him up promptly at 11 p.m. each Saturday, half an hour before "SNL" airs, and returns him to his home, 180 miles away, in Providence, Rhode Island. Lee ventures back to New York every Wednesday for that week's work. He resides at the storied Yale Club, where Nick Carraway "took dinner usually" in The Great Gatsby. 
During our lengthy stroll through the halls of 30 Rock, Lee recalled a few recent stories from the frontlines of NBC, where he has also designed the sets seen nightly on Jimmy Fallon's and Seth Meyers' respective talk shows.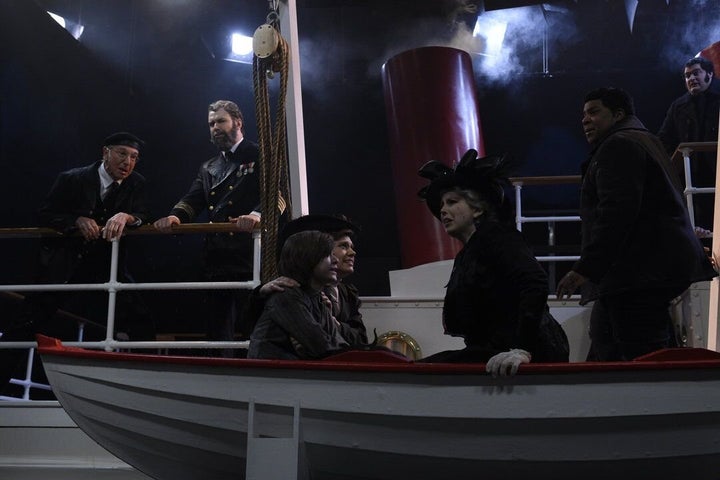 After all these years, people tend to come and go. Lee is unfazed.
Three days before our interview, NBC revealed it would not renew Taran Killam's, Jay Pharoah's and featured player Jon Rudnitsky's contracts for the show's forthcoming 42nd season. Given that Killam and Pharoah both spent six notable years at "SNL," the news came as a surprise ― even for them. But by this point, Lee has understandably grown unsentimental about cast departures. 
"All that means to me is, 'Hmm, I wonder if they want a new Weekend Update set,'" Lee said theoretically. He has sat in the same seat at the weekly read-through since the first day, and he's watched performers shuffle in and out from one season to the next. His only lingering hope is that personnel changes don't mean more work. Last year, for example, he was commissioned to design an expensive digital Update set that went unused because the current construction is more mobile. 
If anything, it's hard for the cast members. "I don't think the boss calls you and says, 'It's been really grand,' or anything," he said. "It's just part of the thing, because remember, in the beginning there was a huge thing where none of us had any representation of any kind. Certain people complained about that because, really, one just counted on Lorne with dealing with our problems."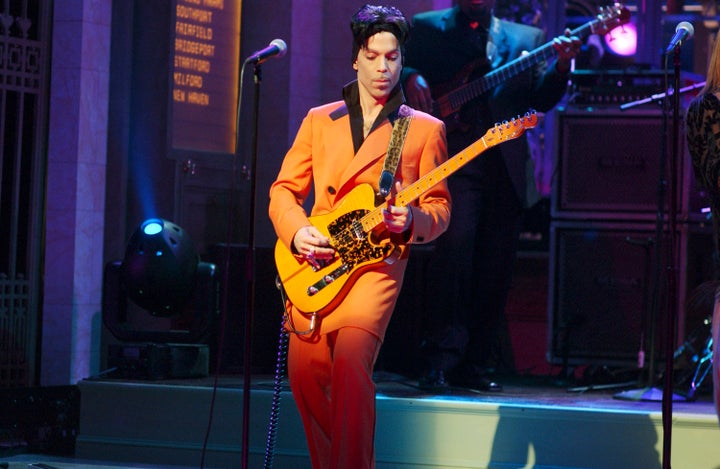 Like just about everyone in show business, Lee has his own Prince story.
Days before Prince was slated to perform on "SNL" in November 2014, no one had any clue what he was planning. Sometimes artists make special requests for the design of their musical set, and Prince's team wasn't communicating. So Lee decided he'd venture out to Paisley Park ― Prince's famed home and recording studio in Minneapolis ― to find out for himself. It wasn't his first time there.
Upon arrival, the gates were locked. One of "Prince's people" told Lee the elusive singer would be awhile, so Lee whiled away the afternoon at a local museum. When he returned, the gates opened, as if propelled by magic. He saw a door propped open by a cinderblock and wandered inside to find a soundstage with cars, motorcycles, instruments and other props scattered about. Lee "waited and waited" for Prince to show up. 
A few hours later, "boom, there he was," Lee recalled. "It was like he just appeared." (This is how a lot of stories about Prince's arrivals go.) Prince and his all-female backing band, 3RDEYEGIRL, showcased the songs that would form the electrifying eight-minute medley they performed on the show: "Clouds," "Plectrumelectrum," "Marz" and "Anotherlove." Then Prince took Lee into an elaborate editing suite filled with monitors to demonstrate the visuals he had in mind. "It was great," Lee said.
"SNL" musical numbers weren't always that complicated. Lee can't remember who first requested ornate staging, but "somewhere along the way, it changed for some crazy rock-'n'-roller," he said. "The whole show has changed that way. It's not a bad thing. The general feeling around here for a musical guest ― I don't particularly agree, but if they want to pay for it, we go, 'Be our guest.'"
Lee, who won Tonys for designing the Broadway musicals "Candide," "Sweeney Todd" and "Wicked," has accumulated a lot of these stories over the years. "People are generally nice," he said. "Paul Simon was the second musical guest, and he's been very helpful to me ever since. I did a number of tours for him. ... One day I was doing 'Sweeney Todd,' and they said, '[Stephen Sondheim] wants to play you some songs,' so you just go over and he plays you some songs. It's, like, fabulous."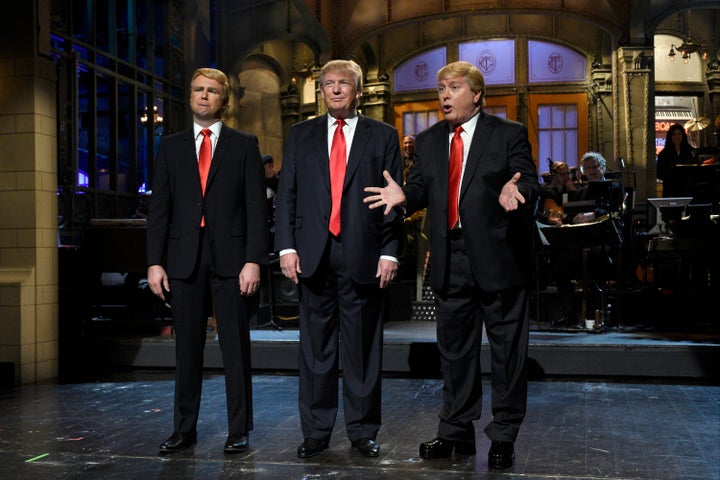 Duty once called him to work on a Donald Trump musical — alongside Trump himself.
Lee agrees it's been a "crazy" race for the White House, even if it didn't bother him that Donald Trump was granted an "SNL" hosting gig in 2015. It probably helps that this isn't his first exchange with Trump. Before the bloviating mogul was a presidential contender, he wanted to bring his life story to Broadway. When "The Apprentice" became a hit in the mid-2000s, Broadway Video ― Lorne Michaels' multimedia production company ― began drafting a potential musical called "The Trump Follies." Darrell Hammond, the go-to Trump impersonator on "SNL," would portray him, and Lee had designed a model for the set based on Trump's $16.6 million Florida mansion. (Trump offered to loan Lee one of his planes to go see the Addison Mizner-designed home himself.) "The front piece is kind of like a 'Phantom' proscenium done through the eyes of Donald Trump," he explained.
Lee partook in several parleys where the Broadway Video team sat on one side of the board room and Trump's legal team perched on the opposite. "There were some great meetings with him, and he'd be like he is now," Lee said. "He'd take a phone call and he'd be screaming into the phone about something, and then the next minute he's a perfectly different person saying what a nice day it is. He was fascinating. ... [The musical] didn't get picked up. I don't know why. It's probably good that it didn't. I mean, you really don't want to be involved with this guy."
But Lee found himself involved with Trump again years later. When Trump walked into the read-through for his "SNL" stint last November, he spotted Lee and gave him a once-over. "I didn't say a thing," Lee said. "I just kind of looked up. And he says, 'Stop.' You can see the wheels spinning in his head. He says, 'Hello.' He remembers. He's not a total dummy. Naturally, he's not qualified, but you can't make this stuff up. I think it will actually be harder for the writers to write comedy, don't you think? Real life has caught up to us."
Without Lee, Jimmy Fallon's "Tonight Show" would look a lot different.
It's stunning how small the sets of "The Tonight Show Starring Jimmy Fallon" and "Late Night with Seth Meyers" feel compared to their enveloping presence on television. Lee designed both. Initially, someone else cooked up the "Fallon" set. "It was universally hated," he said. "They had just spent a million friggin' dollars or whatever, and they basically said to me, 'Do it over.' It was a disaster."
What does one do with a million-dollar deficit? "I said, 'Lorne, what do you want?' He said, 'I think it should be elegant.' That's it. Forget anything. That was the instruction." Lee's first design ― which features "industrial" brick walls and miniature models of iconic New York landmarks, similar to the ones sold at the Museum of Modern Art ― met Michaels' instant approval. 
"When this one came along, Lorne was very happy," Lee said. "He doesn't express happiness very often. It's not his way. But he really liked that one."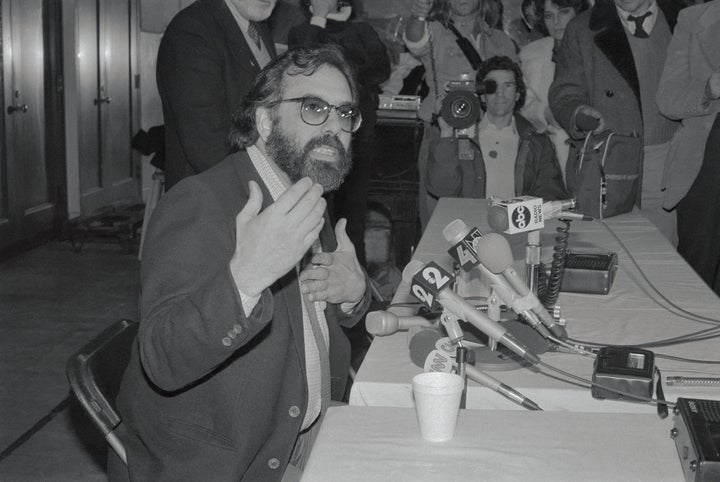 Even Lee's friendship with Francis Ford Coppola has graced the halls of NBC.
Around the same time that 1982's "One From the Heart" was famously bankrupting Francis Ford Coppola's production studio, Lee stepped in as production designer on another troubled Coppola project. The "Godfather" director was producing that year's "Hammett," a Wim Wenders-directed biopic about mystery writer Dashiell Hammett that was reshot almost in its entirety. Lee constructed the streets of San Francisco on a studio lot. "It was kind of a hoot," he said. (From The New York Times' review of the film: "The best things about the film are its atmospheric, slightly stylized sets, which include teeming Chinatown streets and alleys and one old-fashioned opium den.")
Lee and Coppola have remained friends, and now Lee is storyboarding what Coppola calls "live cinema." Outside one of Lee's two offices at 30 Rock is a floor-to-ceiling board filled with images that will lend themselves to Coppola's multi-year project. Most of the photos are snapshots of New York throughout the years of Coppola's 77-year life. The project will use multiple cameras and live editing in a way that bridges cinema and theater. Coppola officially announced the experiment in July, but that doesn't mean Lee understands what he's working on.
"Oh please," he said with a smile when I ask what it entails. "It seems like it's his autobiographical life. I don't think it over. But who knows? I love Francis and it's nice to have him as someone I know. He's one of those legendary guys."
REAL LIFE. REAL NEWS. REAL VOICES.
Help us tell more of the stories that matter from voices that too often remain unheard.
BEFORE YOU GO
PHOTO GALLERY
Jimmy Fallon's Hilarious Late-Night Guests