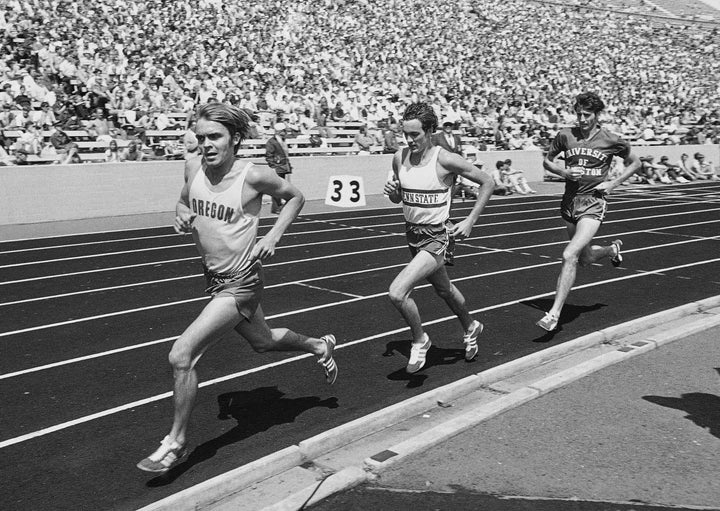 EUGENE, Ore. -- The views in this small city are breathtaking, from the Willamette and McKenzie Rivers to the nearly 400-acre Alton Baker Park with its great oak trees.
But anywhere you look here, the landscape is dotted by runners, mostly clad in yellow or green Nike gear, some young and some old, but all moving fast and looking healthy. This is "Track Town, U.S.A.," which does not just mean that it's the site of the Olympic Trials or that the University of Oregon is one of the great running programs in the country. It also means that just about everyone here runs.
It wasn't always this way. While Eugene, which was settled in the middle of the 19th century, has always had a good climate and beautiful environment for outdoor exercise, it was not until the 1960s that running began to dominate life here.
Geoff Thurner, a former college runner who now works for the University of Oregon's athletics department, explained a bit of the history to me as we ran around town. He credits a trip that Bill Bowerman, a legendary University of Oregon running coach, took to New Zealand some five decades ago with sparking much of the town's interest in running.
While in New Zealand, Bowerman saw first-hand the work of Arthur Lydiard, a running coach who had made jogging so popular on the island country that Bowerman himself couldn't keep up with some of the women and young children. Bowerman returned to Eugene and wrote a book called "Jogging." Janet Heinonen, who has been running in this town since the 1950s, said the book helped "water down the training principles he had for his famous distance runners for the average Joe or Janet."
Bowerman also had a historic run as a collegiate coach; in his 24 years at the University of Oregon, most of which occurred before he co-founded Nike, he trained dozens of Olympic athletes and All-Americans, including the legendary Steve Prefontaine. All this makes it easy to understand why, on Saturday morning, there seemed to be more people running on the roads here than driving.
At the top of one hill, from which you can look down and see all of Eugene and its many parks and miles of trails, Thurner pointed out Pre's Rock. This is the monument to Prefontaine, who died at age 24 but is still remembered as a hero and one of the greatest runners in Oregon and American history. Prefontaine, who had long hair, a full mustache and several national distance running records, was another part of the recipe for the running boom here.
The rock, which marks the site of the car crash that killed him, had fresh flowers and a pair of green-and-yellow running shoes next to it on Saturday. Pre's Trail, just across a bridge from the center of town, is a running trail where athletes currently training for the Olympics pass people in their fifties and sixties, always with a wave.
"It's kind of neat," Heinonen said. "You go for a run and Jordan Hasay gives you a wave and a smile."
Hasay, for those not from Eugene, is one of the top female distance runners in the country.
Related
Popular in the Community